Could the Inhumans movie be in danger? Find out which hero didn't make it into Civil War. David Ayer rejects those Suicide Squad reshoot rumors. A familiar name crops up in the credits of Game of Thrones season six. Plus, teasers for a fan favorite character on The Walking Dead, and a new iZombie season finale clip. Behold, Spoilers!
Star Wars: Episode VIII
Speaking at the MTV Movie awards, Daisy Ridley flatly denied theories that Rogue One's Jyn Erso is Rey's mother:
I'm not being funny you guys, but just because she's white and got brown hair, it doesn't mean she's my mom.
And, in the process, Ridley revealed that not only did she know the identity of Rey's parents—but they are apparently not that important in the grand scheme of things:
I think the amazing thing about VII is that Finn and Rey don't come from anywhere, and they find a place. So to me, it's funny that people think it's so important because I don't really think it is.
G/O Media may get a commission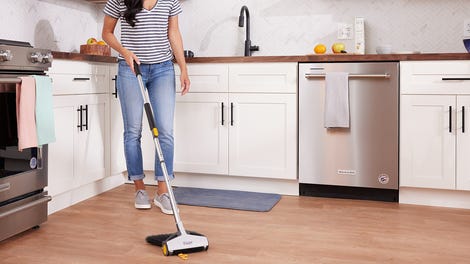 BOGO 50% Off
Flippr - BOGO 50% Off
---
Inhumans
This movie has been delayed again, according to Marvel's Kevin Feige, but it's not due to the Inhumans turning up on television:
Since we made our initial phase three announcement, we added Spider-Man, which was a big joyous coup for us. We added Ant-Man and the Wasp, which was a big fun continuation of that story for us. Walt Disney Company has announced an Indiana Jones film for right around that same time. So I think it will shuffle off the current date that it's on right now. How far down it shuffles, I'm not sure yet.

But it's not a matter of "they're already doing that on TV, we're not doing it?"

No, It's a question of when.
Not having a solid release date any more may lend some credence to those crazy rumors that the movie is completely dead, but Feige's quote doesn't appear to indicate that.
[Collider]
---
Captain America: Civil War
Character bios for the film's cast given to press at last weekend's screenings include a few new details about the heroes—most interestingly, Black Panther:
T'Challa's father, T'Chaka, the King of Wakanda, joins the ranks of those who support government regulation after innocent citizens are collateral damage from an Avengers' mission. But when events turn ugly, T'Challa must reveal himself as Black Panther and follow his own path. With his own agenda driving him, Black Panther aligns with Iron Man to achieve his own deeply personal goal.
Intriguingly, the Vision's entry includes this costume update note, revealing the synthezoid can now project himself a human form... specifically one of Agent Carter's Edwin Jarvis:
Vision has the ability to create a projected disguise he can change at will that makes him appear as he wishes, showing an affinity for Howard Stark's attache, Edwin Jarvis.
So maybe James D'Arcy is in the film as a "Human" Vision at some point? [CBR]
Christopher Markus says that at one point Hope Van Dyne/The Wasp was going to be in the film, but she was written out:
There was a period where we talked about bringing Wasp in. There was actually a draft Wasp was in because she was so almost on the edge of being in 'Ant-Man,' but then you're taking something awesome out of the 'Ant-Man' team's quiver if it's like, 'Well, we're doing her!' Plus she had a similar skill set, so it's like 'Well, maybe we just isolate it to Scott.'
[Collider]
Scott Lang is a bit of a Captain America fanboy in a brief new clip from last night's Jimmy Kimmel.
---
Suicide Squad
David Ayer denies that the new reshoots are being done to add more humor to the film:
---
Teenage Mutant Ninja Turtles 2
Here's a new poster. [/Film]
---
The Defenders
Charlie Cox confirms the crossover series will begin filming later this year:
What we do know is at the end of this year we're going to be making The Defenders and, of course, Daredevil is very much a part of that foursome.

I have no idea what the storyline is going to be for that show. I'm very excited to see how those worlds combine… and interested to see tonally how those shows become one.
---
Game of Thrones
THR has confirmed that Kit Harington's name remains in the opening credits for the sixth season's first episode, screened over the weekend. Presumably this is because he reprises his role as Jon Snow's corpse (something the show has done for dead characters in the past) in the episode, but it might also be because Jon Snow's corpse won't be so corpse-y for long.
Meanwhile, Entertainment Weekly teases that the show's opening episode includes "shocking twists" that even the most ardent speculators are expecting. Make of that what you will! There's more teases at the link.
---
Iron Fist
David Wenham has been cast as Harold Meachum—described as a "ruthless corporate leader" who partnered with Danny Rand's parents at the time of their deaths. In the comics, Meachum was directly responsible for the death of Danny's father, and became a minor antagonist for Iron Fist. [Marvel.com]
---
The Vampire Diaries
Ian Somerhalder has seemingly confirmed that the show's eighth season will be its last, speaking at Walker Stalker Con:
The CW were quick to deny the actor's statements, saying the show's future had yet to be decided. [TV Guide]
---
The Walking Dead
Speaking of social media mishaps, celebrating National Pet Day on social media yesterday, the Walking Dead's official twitter account shared an image from the comics of Ezekiel, leader of a survivor enclave known as The Kingdom, and his pet tiger Shiva, saying that the two would appear in the show's seventh season:
The image was quickly deleted and replaced with a similar post that removed a reference to the characters appearing in season seven. [Comicbook.com]
---
Agents of SHIELD
Here's a brief press release for "Singularity":
The S.H.I.E.L.D. team is left reeling and decimated as Hive continues to sway Inhumans to his side. But there is a sliver of hope as Agents Fitz and Simmons follow a lead that may be able to stop the maniacal Inhuman once and for all, on "Marvel's Agents of S.H.I.E.L.D."
---
iZombie
Rob Thomas teases death in the finale:
Like last year, not everyone survives. That's for sure. I will say there will be blood.
[TV Guide]
Liv pays Major a visit in a new clip from the finale.
---
Hunters
Finally, images from the second and third episodes of the show have been released—you can find many more at the link. [Spoiler TV]
---
Additional reporting by Gordon Jackson and Charlie Jane Anders. Banner Art by Jim Cooke.

Image: Star Wars: The Force Awakens.