A heap of insane Batman v Superman rumors could give away the whole movie. A new rumor teases Iron Fist casting. Could Arrow turn Felicity into a major figure from the comics? Plus, new details on the Doctor Who Christmas Special, The Flash teases a villainous turn, and James Cameron talks Avatar 2. Spoilers Get!

Alien: Covenant
Perhaps unsurprising now that the film has been renamed to feature the Alien branding, but Ridley Scott teases that the film will not just utilise the different evolutionary stages of the Alien creatures, but also their origins:
We'll have them all. Egg, face-hugger, chest-burster, then the big boy.

They're going to go to the planet where the engineers came from, and come across the evolving creature that they had made. Why did they make it? Why would they make such a terrifying beast? It felt bio-mechanoid, it felt like a weapon. And so the movie will explain that, and reintroduce the alien back into it.
[The Wrap]
---
Batman v Superman
A 4chan user purporting to have seen a pre-final cut of the film claims to reveal plenty of details about the film.
G/O Media may get a commission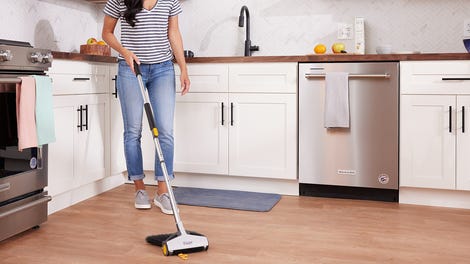 BOGO 50% Off
Flippr - BOGO 50% Off
These include details like the fact that Scoot McNairy is playing the DC comics genius Doctor Will Magnus and Jena Malone is playing Dark Knight Returns' Carrie Kelley, that Lex gets cancer (and loses his hair) from exposure to Kryptonite, Clark and Bruce bond after Bruce has a heart attack (!) and Superman rescues him, and that the end titles feature the long-known superhero cameos, pairing off members of the Justice League (Aquaman and Wonder Woman, Batman and Cyborg, Superman and Flash) in different action scenes.
There's much more at the link, but it would be honestly rather incredible if any of this was true, so take it with a Doomsday-sized pile of salt. [Spoiler TV]
---
Avatar 2
James Cameron offers an update on the film:
I'm in the process of doing another pass through all three scripts right now. Just refining. That's in parallel with the design process. The design process is very mature at this point. We've been designing for about a year and a half. All the characters, settings and creatures are all pretty much [set].
[/Film]
---
Han Solo Anthology Film

Harrison Ford says he has no involvement with the film (or advice for the eventual winner, out of the thousands of actors competing, who will eventually become the young smuggler):
I don't think it's about being like me, it's about us being like Han Solo.

No, I'm not going to do that. Let's make them responsible for those questions you might think to ask me because I'm not involved.
[Reuters]
---
X-Men Apocalypse
Apocalypse gets his Hamlet on in a new poster. [CBR]
---
Star Wars: The Force Awakens
Here's a new IMAX-focused featurette for the film.
---
Arrow

In a speculatory article Comicbook.com posits that after her gunshot injury in the midseason finale, Felicity may become the DC comic heroine Oracle—the alter-ego of Barbara Gordon, who offered technological backup to Batman, the Birds of Prey, and many other heroes after she was paralyzed by a gunshot wound inflicted by the Joker.
It's not based in any confirmed rumor but the pattern fits—and according to Marc Guggenheim, Felicity will get a secret code name in the eleventh episode of the season that features the letter "a" in it. So it's a possibility.
---
Doctor Who

Here's some dialogue teasers from the Christmas Special, "The Husband of River Song":
Now you've met me, you'll do your very best to forget me.

Don't use my name, ever.

You are being watched by four billion people.

If you die this day, the galaxy will drown in tears.

I'm actually murdering someone.

I wondered why we didn't share a bathroom.
More at the link. [Blogtor Who]
And some more general teases for the episode:
Booze turns up in an place on board the TARDIS

The Doctor must have been reading Douglas Adams again.

River doesn't have a conscience any more.

The events of The Time of Angels/Flesh & Stone were made into a movie apparently.

A moment that occurred in The Next Doctor happens again. With two extra.

More at the link once more. [Blogtor Who]
---
Iron Fist
As part of a larger piece arguing for lead character Danny Rand to be recast as an Asian-American in the Netflix series (in the comics, Rand is white), The Hollywood Reporter includes a claim from sources that, at least at some point, Marvel and Netflix were considering a similar course of action:
Sources have told The Hollywood Reporter that the clamor actually reached the ears of Marvel and Netflix, who met with Asian-American actors in consideration for the lead, but that the series, which finally revealed its showrunner on Monday (former Dexter executive producer Scott Buck), is now leaning toward keeping Iron Fist white. Marvel declined to comment on that detail.
---
Luke Cage

Mike Colter sets up where Luke is after the end of Jessica Jones:
Luke Cage is going to find Luke right after Jessica Jones, uptown. He's licking his wounds I would say and he's trying to figure out what is his next step and it's hard because he doesn't know where to go from here. He's lost a lot and he's basically in a state of turmoil.
---
X-Files
The cast and crew tease what's ahead for the X-Files mythos in a new featurette.
---
Westworld
Here's a new poster for the show, via HBO Brasil.
---
The Flash
And finally, set pictures from a currently filming episode have made their way to social media, depicting Grant Gustin and Danielle Panabaker as what appear to be the Earth-2 versions of both Barry Allen—wearing a spiffy suit, bow tie, and glasses—and Caitlin Snow—done up in a new costume for her villainous comic book alter-ego, Killer Frost. According to some fan reports scenes being filmed included this alternate Barry dodging "ice blasts" from Caitlin, but whether or not he was using the Flash's superspeed to do so was not mentioned.
---
Additional reporting by Gordon Jackson and Charlie Jane Anders. Image: Alien 5 preliminary concept art.