We'd known that legendary designer Massimo Vignelli was sick: His son issued a plea to designers who were influenced by him to send him a letter, which surely flooded his home with well-designed well-wishes over the past few weeks. This morning, Vignelli passed away at the age of 83. Here, we've collected a handful of his most iconic contributions to design.
The design world is abuzz with memories of the Italian-born, New York City-based Vignelli. Designer Michael Bierut, who worked for Vignelli for 10 years, remembers his boss and mentor:
From Massimo, I Iearned that designing a book wasn't about coming up with a clever place for the page numbers. He taught me about typography, about scale, about pacing, about refinement. I learned to think of graphic design as a way to create an experience, an experience that was not limited to two dimensions or to a momentary impression. It was about creating something lasting, even timeless.
Timeless is probably the best possible word to describe Vignelli's style, and that's evident in seeing just how long his work has stuck around in our cities, stores, and houses. Let's take a look back at 10 incredible designs that Vignelli created over the course of his long career, many of which were in collaboration with his wife and partner Lella Vignelli—and some of which you might have in your home right now.
New York City subway map
G/O Media may get a commission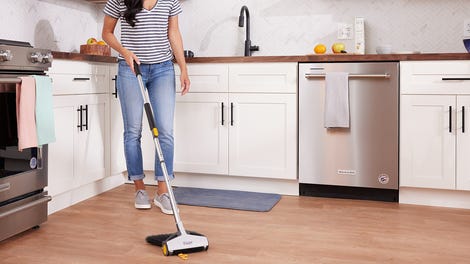 BOGO 50% Off
Flippr - BOGO 50% Off
New York City in the 70s was not the city that it is today—the subway in particular was seen as dirty and dangerous. But Vignelli helped to transform New York City into a colorful, easily navigable place by skillfully rebranding its transportation system.
His map of the subway, which he created in 1972, became known as a work of art that not only helped New Yorkers get around, it also went home in the pockets of tourists as a souvenir. Even though it has become known as one of the greatest graphic design works of all time, the map was extremely controversial because it took many liberties with New York's geography for the sake of Vignelli's extremely tidy design scheme: everything was made to sit at 45- or 90-degree angles and the graphics didn't adhere to typical map iconography (water was beige!). In 2011, the MTA asked Vignelli to reimagine his map—technically a diagram, he said, not a map—for the digital age. It's not the map you see at stations today, but it still holds up.
New York City subway signage
The distinctive signage system of New York City's subway is also thanks to Vignelli, who came up with the sleek branding guide. In 1966 the brand-new MTA was inheriting several train systems that would come together as one transit authority and needed to unite all the lines as a unified group. Although his original designs featured white signs with black lettering (which were quickly swapped to white-on-black as a graffiti deterrent), the system exists today with pretty much exactly the same signage.
The guidelines have also been extrapolated to other elements to NYC life, from the city government's branding to the new pedestrian wayfinding maps. In essence, Vignelli came up with a graphic language that would come to define an entire city.
Washington DC Metro signage
After his success in New York City, Vignelli was summoned to DC to help brand their fledging system. Because of the grand modern architecture that was created as part of every station, it was important that the branding had a very light touch that would not interfere with the overall aesthetics.
Vignelli designed porcelain enamel pylons which would include all the relevant information and complement the look of the platforms. In addition to the signage, it was Vignelli who suggested they name it simply the "Metro" instead of a string of acronyms.
American Airlines logo
In 1967, Vignelli was introduced to the fledgling airline by industrial designer Henry Dreyfuss, who was acting as a consultant to American at the time. Upon Dreyfuss's recommendation, Vignelli was recruited to design the logo and branding for the growing airline.
Last year, American proved that it had no respect for great design, replacing Vignelli's timeless branding with a crappy, vaguely abstracted eagle beak sailing over a field of blue and red. It was one of the worst branding decisions ever made. Vignelli, not surprisingly, didn't like it.
Ford logo
Another logo by Vignelli that proved to have staying power was the mark he created for the Ford Motor Company in 1966. Part of a larger corporate overhaul of the company's branding, the logo has remained relatively untouched (except for some 3D effects) for over 50 years—no small feat.
National Park Service branding
This summer as you snatch up those distinctive little guides which welcome you to every national park in the country, thank Vignelli and his keen organizational eye. Faced with the challenge from the National Park Service to gather spotty and disparate information from hundreds of parks in 1977, Vignelli came up with his "unigrid" guidelines, which created a flexible yet rigid system to design each brochure. It's still in use (and largely unchanged) today, and one of the most beautiful and distinctive examples of federal government design.
Heller Dinnerware
Those of a certain age will likely remember the colorful, stackable plates which were a standby of summer barbecues and pool parties. In 1964, Vignelli designed a plastic dinnerware set for Heller, a new furniture company, which ended up becoming a global splash and put the brand on the map. Besides the ultra-functional, unbreakable material and cheery colors, the dinnerware stacked seamlessly and ingeniously, making for easy transport and storage.
The original sets are popular at thrift stores and flea markets, but you can buy a brand-new set in white from Design Within Reach. These were our "kids'" plates growing up, and I remember always fighting for the magenta plate at dinner.
Bloomingdale's Big Brown Bag
Photo by John Catbagan
If you visited any major U.S. city after 1973, you'd see a ubiquitous yet somewhat anonymous brown paper bag clutched by the hands of shoppers everywhere. The "Big Brown Bag" was originally designed by Vignelli (who also designed the Bloomingdale's logo) to transport bulky sheets and pillows from the store's linen department, but soon customers were requesting them to carry purchases of any size.
Its understated glamour became embraced as a status symbol, a way to show that you'd been on a Bloomie's shopping spree—it's even used as the "shopping cart" icon on the store's website. Today, you can buy all sizes as reusable versions in vinyl.
St. Peter's Church
The multidisciplinary talent that the Vignellis brought to their projects can be experienced in person at St. Peter's Church, a gorgeous Modernist space in Midtown Manhattan. Tapped to design the interiors in 1977, they created colorful geometric textiles for the pews and even designed the distinctive pipe organ. The Vignellis continued to design custom accessories for the church over the years, including candle votives, flower stands, and tables. If you ever find yourself in the neighborhood, it's absolutely worth a visit to sit and reflect in an environment where every element is so thoughtfully designed.
Design Is One titles and graphics
Of course the Vignellis would design the titles for a documentary starring themselves and their work—of which there are many, many more examples that I haven't included here. If you haven't seen the film yet, it's a delightful way to remember Vignelli's legacy and his outsize personality. He will certainly be missed, but his impact will continue to be felt throughout the world.