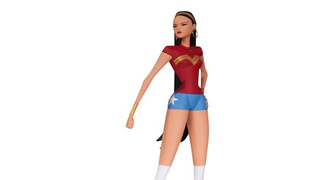 Remember when Robert Valley's gorgeous shorts for DC Nation blew our minds with their great new take on Wonder Woman? Well, rejoice - Valley's Wonder Woman is finally getting some merchandising love.
The statue is DC Collectibles latest entry in their Wonder Woman 'The Art of War' statue line, and while it's sadly not a poseable figure, it's still a mightily impressive looking piece of kit. Check out the video below to see more:
It's something DC have been doing for a long time, but I really appreciate their recent focus on capturing a specific creator's style in a figure or statue. It's nice that we can get huge swathes of merchandise that are all visually unified, but it's even better when you get something that stands out and looks unique like this does.
Now I just want even more of those animated shorts.
---
You're reading Toybox, io9's blog for all things pop culture. From merchandise to awesome fan creations, TV recaps and critical commentary on the hot topics of the day, you can find it all here!