This week's television rules! There's the long-awaited Robot Chicken Star Wars special. Henry Rollins wants to know if you have the "warrior gene." Big Bang Theory does the JLA! Plus live(ish) comedy from Ricky Gervais, Jeff Bridges...and Monty Python.
Deadly Mississippi Tornado Kills More Than 2 Dozen | Extreme Earth
Monday:
At 8 PM, The CW has the first night of its week-long marathon of The Vampire Diaries, if you've gotten behind on your vampire crack. It's pretty much either that, or Mariah Carey's Christmas special.
National Geographic has a special called When Rome Ruled: Doomsday Pompeii, focusing on the final hours of the doomed city before the volcanic eruption. That's at 9 PM.
We're not listing movies as a matter of course any more — but when there's something special, it's worth the occasional mention. At 3:35 AM, Showtime is showing Zerophilia, one of the strangest — and most provocative — queer movies we've ever seen. (Watch a clip from it, plus learn more about it, here.)
G/O Media may get a commission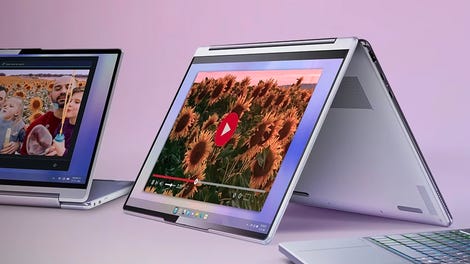 up to 70% off
Lenovo Spring Clearance
Tuesday:
The Vampire Diaries marathon continues on the CW, but sadly there's no new No Ordinary Family.
There is, however, a new Tower Prep at 9 PM on the Cartoon Network! "The gang discovers that they've all been having the same strange dreams involving a yellow elevator. Upon investigating the dreams, they discover the hidden place where new students are brought to Tower Prep. At the same time, Ian and Gabe get a new roommate, who Ian suspects may be a spy sent by Headmaster to thwart their plans."
Tower Prep Ep 109 Clip 1 640x480
Tower Prep Ep 109 clip 2 640x480
Tower Prep Ep 109 Clip 3 640x480
Tower Prep Ep 109 Clip 4 640x480
What makes people act aggressive and/or batshit insane? Find out in The Explorer: Born to Rage?, a documentary about whether there's a single gene called the "warrior gene" that causes impulsive behavior. Punk rock icon Henry Rollins interviews gang members, bikers, fighters and an ex-Navy SEAL, plus Buddhist monks and scientists, to learn the truth. Don't make Henry Rollins angry — watch this program on National Geographic at 10 PM.

Wednesday:
How can MythBusters top last week's appearance by President Obama? With Seth Rogen! Rogen joins with Adam and Jamie for a special Green Hornet-themed episode, in which they test some myths that hit as hard as a gas gun. (??) Here are the details:
The MYTHBUSTERS team, with Seth as their assistant, tackles two pivotal scenes from the film. First up is "Explosive Escape," where The Green Hornet and his tech-savvy sidekick Kato are buried alive in the Green Hornet's iconic car Black Beauty and blast their way out using the car's built-in rockets. Adam, Jamie and Seth re-create this explosive silver screen scene… with a little TNT party.

Then, in "Elevator Car Cut," Seth requests that Kari, Grant and Tory take on another action sequence from the movie, where The Green Hornet and Kato again find themselves in a jam. After being shot up by bad guys they crash into an elevator. As the elevator ascends, it slices the car in half, leaving them to escape in the front half of the car. To test this scene, the team build their own elevator from 3 ½ tons of steel, chop a car in half and take half a car to the racetrack. Will any of these results be Hollywood ready?
Here's a clip:
Another late-night movie that we have to plug: 12:01, which has almost the same plot as Groundhog Day and had the misfortune to air on television around the same time as that film's release, is on Syfy at 3:00 in the morning. Featuring Commander Koenig himself!
Thursday:
This week's Big Bang Theory is particularly noteworthy. The gang finds a "Super" use for Penny's new boyfriend Zack when they all decide to go in costume as the Justice League. That's on CBS at 8 PM.
And then at 9 PM, there's a two-hour season finale of Burn Notice. Brennen tries to force Michael to kill government agents. Then Michael's world collapses as a tactical team comes after him and everyone he cares about.
And History has a new Ancient Aliens at 9 PM, followed by a new Brad Meltzer's Decoded.
Friday:
It's the midseason finale of Sanctuary, on Syfy at 10 PM. Dr. Magnus tells Adam Worth she's setting off for the Hidden City to find the cure for their radiation illness.

Another must-see rarely shown film: IFC is showing Monty Python Live at the Hollywood Bowl, featuring different performances of some of their famous sketches, performed in front of a live audience. That's at 8:15 PM and 2:00 AM.
Saturday:
Ricky Gervais is back with another HBO special, Ricky Gervais: Out of England 2, and since he frequently includes some pretty geeky or science fictional humor in his work, we thought we'd mention it here. That's on HBO at 10 PM. Judging from this review of the live show this is based on, there'll be a lot of material based on the science book Biological Exuberance.

The Dude himself, Jeff Bridges, is on Saturday Night Live, and there may be some amusing Tron-related moments. Or not.
Another late-night movie I feel the need to plug: Dagon, one of the best films based on the works of H.P. Lovecraft, is on Syfy at 3 AM. (Sadly, they may have to trim this scene slightly.)
Sunday:
It's Leverage's turn to have a two-hour season finale. Here are the episode descriptions:
The Big Bang Job: The team infiltrates a Department of Defense research lab in order to stop Damien Moreau, the villain they have been working to catch all season, from murdering a brilliant engineer and auctioning her work off to international terrorists.

The San Lorenzo Job: The LEVERAGE team follows Moreau to San Lorenzo only to find that Moreau is the chief advisor to the current President. In order to take Moreau down, the team must first take over the country.
But the big deal of the evening is the one-hour Robot Chicken Star Wars Episode III special — based on the trailers we've seen so far, we can't wait to see the whole thing! Check out a promo: