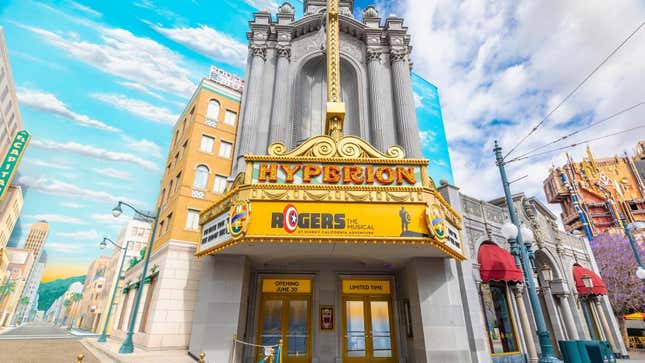 Steve Rogers will really find out if he could "do this all daaaaaay" in Rogers: The Musical, the previously announced special one-act show coming to Disney California Adventure. Its limited run will be June 30-August 31.
The Marvel Studios in-universe parody show about Steve Rogers—which apes Lin-Manuel Miranda's Hamilton, and appeared in Hawkeye's opening episode on Disney+—has become real. The musical project came to fruition with the efforts of Disney Live Entertainment in partnership with writer Hunter Bell, star and book writer of the Tony Award-nominated [title of show], and will feature five all-new songs with music by Grammy-winning composer Christopher Lennertz, and lyrics by Lennertz, Jordan Peterson, and Alex Karukas. The show will, naturally, feature fan-favorite numbers "Save the City" from Hawkeye (written by Marc Shaiman and Scott Wittman) and "Star Spangled Man" (written by Alan Menken and David Zippel) from Captain America: The First Avenger.
Assemble your friends if you plan to see it when it premieres at the West Coast park, because you're going to need an Avengers-style plan. And yes, that means technology is involved. You'll be able to access viewing areas for Rogers: The Musical through the Disneyland app's virtual queue system, which will distribute reservations for Rogers: The Musical each day beginning at 10:30 am PT for the first two show times of the day, and 2:00 pm PT for the remaining show times of the day. If you're old-school like Steve and Bucky, you can try for tickets on standby on a first-come, first-served basis, if they're available after the virtual queue reaches capacity; check at the Hyperion Theater before Rogers: The Musical begins for any walk-ups. For diehards, there will be a special Rogers: The Musical "Premium Viewing Experience" package that comes with perks like a themed popcorn bucket and priority choice of seating in the theater.
Rogers: The Musical is set to be performed multiple times daily, Tuesday through Saturday during the limited engagement—but be sure to check Disneyland.com before booking your trip to make sure it's running while you're there. If you go, be sure to sample the Steve Rogers-approved Disney foodie treats being offered as part of the opening, which will coincide with the Fourth of July weekend, at select locations around Disney California Adventure Park.
Click through for a preview of Rogers: The Musical and its patriotic snacks!