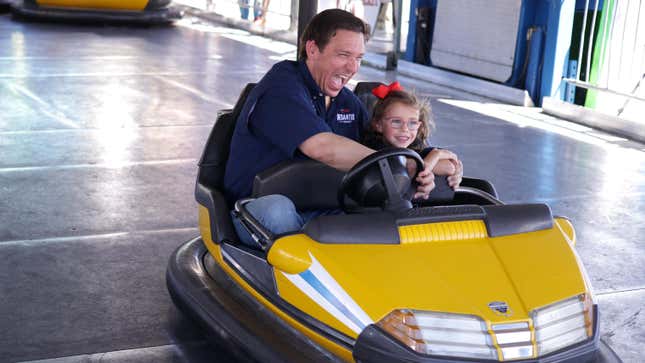 In a move right from the playbook of little guys who taunt jacked up dudes a bar, Politico reports that Ron DeSantis has said that he's ready to "move on" from his lawsuit with Disney... but, buddy, that's not up to you any more, especially not in a legal battle you started.
Twitter Is Shifting Right | Future Tech
Disney has sued various elected officials, including DeSantis, alleging that he has used his position as Florida's governor to violate Disney's first amendment rights via government retaliation. This all comes from the fact that Disney said they would be politically opposed to Florida's "Don't Say Gay" bill, more officially called the "Parental Right in Education Bill," which sure sounds nice until you realize that it will harm queer children who might not be in a household that is safe for them to exist.

Basically, after all the kerfuffle over gay rights, which Disney was firmly in support of, at least on paper, the Florida State Legislature repealed the Reedy Creek Improvement Act, which had, since 1967 allowed Walt Disney World to operate under a unique taxing district under special governance. Disney alleges, that DeStantis did this as a form of retaliation. The complaint says that DeSantis is in part responsible for a "campaign to weaponize government power against Disney in retaliation for expressing a political viewpoint unpopular with certain State officials."

This comes during DeSantis' campaign for president in 2024, where I have to assume that being sued by one of the most beloved entertainment companies on the globe probably won't help his campaign much. A few weeks after the suit was filed, DeSantis said that there was "zero" chance Florida would "[back] down." Well, so much for that.
DeSantis said that Florida has "basically moved on" from the lawsuit. Whatever that means. Is he tired of it? Is he going to re-instate the Reedy Creek Improvement Act? Will he stop talking about Disney or attempting to police the private lives of queer children? Considering that earlier this summer he signed four intensely homophobic bills into laws, I doubt it. Regardless, going from a "we're going to fight" to "we've moved on" in less than three months is absolutely the height of schadenfrude. Seems like he's realized that he helped instigate a fight with a guy better funded and better equipped to be a bully than he is.
---
Want more io9 news? Check out when to expect the latest Marvel, Star Wars, and Star Trek releases, what's next for the DC Universe on film and TV, and everything you need to know about the future of Doctor Who.