The Wall Street Journal is reporting that Google is in talks with satellite-TV provider Dish Network, with the intention of joining forces to create a "new wireless service that would rival the networks of wireless carriers such as AT&T and Verizon".
Citing "people familiar with the discussions", the Journal goes on to suggest that Dish is in fact just one of the companies that Google has been talking to about the project—though other discussions are their infancy. The rumor comes on the back of Google successfully rolling out its gigabit fiber in Kansas City homes ealrier this week.
Though famous for its TV services, Dish has been vocal in the past about wanting to partner up with another company in order to build a wireless data network with the spectrum its's been acquiring since back in 2008. While Google has no expertise in wireless infrastructure and doesn't control any of its own spectrum, it sure has cash to throw at a project like this.
And money might be required. Because most of Dish's spectrum is actually earmarked purely for satellite use, and it still needs to convince the FCC that it should be allowed to use it for a ground-based cellphone network. Partnering up with Google could, perhaps, motivate the FCC to allow the switch to happen. Or put them off. Hard to tell.
G/O Media may get a commission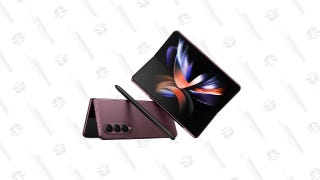 Save Up to $300
Galaxy Z Fold4
What isn't hard to tell is that such plans fit right in line with Google's growing ambition to control increasingly wide swathes of the technology market. With the web seemingly signed off, it's already made a good start on hardware, and infrastructure appears to be next on the list. But is it too much, too soon? [Wall Street Journal]