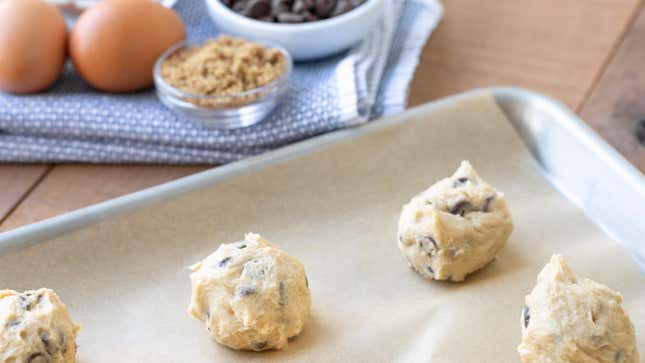 A popular brand of flour appears to be the culprit behind a nationwide outbreak of Salmonella bacteria. The Centers for Disease Control and Prevention is warning the public to stay away from certain lots of Gold Medal Unbleached and Bleached All Purpose Flour, while General Mills has issued a voluntary recall of the affected products. At least 13 infections have been reported across the country, with several people hospitalized as a result.
Does Beyond Meat's Plant Have a Mold Problem?
CDC officials first reported the outbreak in late March, which is being caused by a strain of Salmonella Infantis. The earliest cases date back to December 2022, with the last reported in early March. As of the latest update on May 1, 13 cases have been reported in 12 states. No one has died so far, but at least three people have been hospitalized. Because cases of food poisoning typically clear up on their own without added medical help, it's likely that the outbreak is much bigger than documented, the agency notes.
Initially, the CDC did not identify a root source of the outbreak, though flour was quickly seen as a likely suspect. Most of the interviewed patients reported eating raw dough or batter just before they got sick, with flour being the only common ingredient between them. Now, the exact brand of contaminated flour has seemingly been found.
Specifically, the outbreak is linked to 2-pound, 5-pound, and 10-pound bags of Gold Medal Bleached and Unbleached All-Purpose Flour, with "Better if Used By" dates of March 27, 2024, and March 28, 2024. On April 28, General Mills voluntarily recalled these products, four in total. The UPC codes of the affected products can be seen here.
Salmonella is one of the most common sources of food poisoning in the U.S., with an estimated 1.35 million infections annually. Most cases are mild, but it can be a more serious, even deadly, infection, especially for higher risk groups such as the elderly and immunocompromised. Tens of thousands of Americans are hospitalized by Salmonella and hundreds die from it every year.
The bacteria are ubiquitously found in many animals, particularly chicken, which can then contaminate other foods during the production or cooking process. But there are many ways to reduce your risk of contracting Salmonella and foodborne germs, such as properly cooking your meat products and keeping any raw meat separate from your other ingredients while cooking. Another important tip, especially relevant here, is to not eat raw cookie dough or batter at all. And if you're still tempted to do so, at least look for specially prepared flour products that should be safe to eat raw.