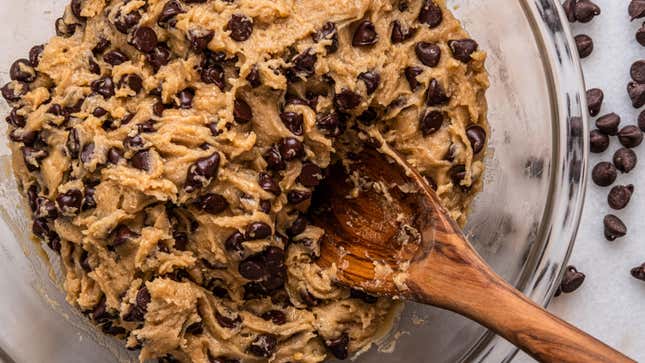 Stop it. Seriously, just don't do it. Step away from the mixing bowl with your hands up. Put the wooden spoon on the counter—no, do NOT lick it. If you're considering snacking on unbaked cookie dough, the Centers for Disease Control and Prevention is once again—for the millionth time—asking you to reconsider.

The Science of Splitting Oreos
The agency has issued an update in an ongoing probe of a multi-state Salmonella outbreak linked to 12 people getting sick and three hospitalizations. CDC investigators zeroed in on the source of the bacterial illness, per the Thursday notice. It's likely uncooked flour that's been making people sick, the agency reported—though, the exact brand and type of flour remains unknown.
Out of the 7 people the CDC interviewed to suss out the source of the sickness, 6 reported having eaten uncooked dough or batter before falling ill.
"Most people reported eating raw dough or batter made with flour before they got sick. Flour was the only common ingredient in the raw dough or batter people reported eating. Investigators are working to identify a specific brand of flour linked to illnesses," CDC officials wrote in the announcement. "In the meantime, CDC always advises you not to eat raw cookie dough or cake batter."
This is far from the first time that harmful germs have been linked to uncooked baking ingredients. It's also not the first time the CDC has weighed in on the issue of whether or not it's safe to lick the spoon. A food safety blogpost on the agency's website titled "Say No to Raw Dough" outlines all of the potential risks and harms that come from ingesting uncooked cookies.
In 2016, 2019, and 2021 the CDC linked outbreaks of E. coli to raw flour or cake mix. Ingesting uncooked eggs, too, can also lead to infection, often with Salmonella. In 2018, the CDC recalled more than 200 million eggs in a Salmonella outbreak that sickened more than 20.
In this most-recent food-related Salmonella outbreak, people in 11 different states have experienced illness linked to the consumption of raw dough and/or batter. The dozen people known to have been impacted became sick between December 6, 2022 and February 13 of this year (note: prime holiday cookie baking season), however the CDC noted the outbreak has probably affected many more, and could still be ongoing.

"The true number of sick people in this outbreak is likely much higher than the number reported, and the outbreak may not be limited to the states with known illnesses. This is because many people recover without medical care and are not tested for Salmonella. In addition, recent illnesses may not yet be reported as it usually takes 3 to 4 weeks to determine if a sick person is part of an outbreak," the agency wrote.
Symptoms of Salmonella infection include diarrhea, fever, and abdominal cramps, per the CDC. Illness usually begins anywhere between six hours and six days after infection, and lasts up to a week. Though often people recover without medical intervention, some can become more severely ill and require antibiotics or other treatment. In some cases, infection can lead to long-term complications like reactive arthritis.
So, as tasty as it may be, the potential consequences of raw dough consumption probably aren't worth the fleeting pleasure of chowing down on the gooey goodness. That said, if you've really got a hankering for that sweet, unbaked gloop, you can guard against potential infection by heat-treating your flour and using pasteurized eggs (or by purchasing a dough specifically made to be eaten uncooked). Happy, safe snacking.