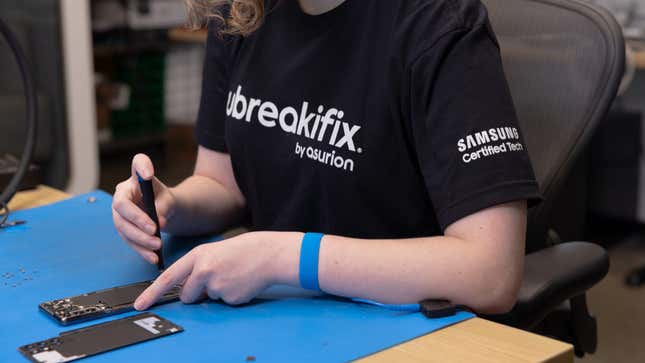 There's some good news for those reluctant to carry a folding smartphone without an accessible safety net. Samsung has partnered with Asurion to convert existing uBreakiFix locations into specialized Samsung repair shops. By the end of 2023, the company says it will will equip 50 stores around the U.S. with the proper tools, equipment, inventory, and staff training needed to fix its varying categories of Galaxy devices.

Samsung Galaxy Flip 5: Hands-on first Impressions of Samsung's Pocket-Sized Folding Phone
Samsung and uBreakiFix have already soft-launched five locations in three states: Dallas, Houston, San Antonio, Orlando, and Los Angeles. In its press release, Samsung says that these particular stores were selected based on "repair metrics," which indicate how many customers come through with broken devices and whether the locale is near a central metropolitan area.
These flagship shops will aid in Samsung's research as it iterates on the repair process for its Galaxy devices and will help "kickstart and pilot initiatives" before they're rolled out elsewhere. uBreakiFix's "We Come to You" van service will also be available, making the repair process seem more convenient than scoping out an overbooked Apple Genius Bar and booking an appointment.
One thing I've always coveted as a long-time Android user is the iPhone user's ability to go into a physical location and seek help when something goes awry with the phone. Until Samsung started selling repair kits, your best bet for getting help was to contact the manufacturer directly. Several years ago, I did that with Google's Pixel 3 and had to mail the broken device out to Texas from California. It took nearly three weeks before I could use the phone again. It would have been so much easier if I could have walked into a brick-and-mortar store and sought help the day it broke.
The repair centers won't just be limited to Samsung's smartphones. They'll also help fix broken wearables, including the Galaxy Watches, Galaxy Buds, and even Samsung's Chromebooks and PCs. You'll also be able to get your foldable serviced in case the protective layer starts peeling back or the screen is cracking a bit—the phones are too expensive not to have help within earshot, with the Galaxy Fold 5 starting at a whopping $1,800.