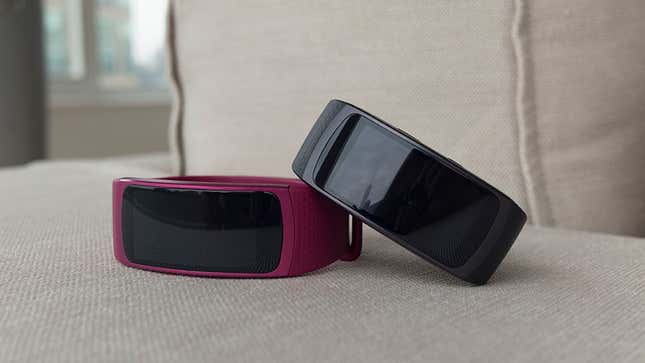 It's that time of year where the checkout line is a confusing myriad of treats, and magazines maligning you for said treats. From the dudely "fitness" magazines to the lady-aimed "lifestyle" guides they're all telling you to get that bod ready for the beach. But it's not just the media telling you to move your ass. The tech sector is in on the action. Pebble has its new fit-focused watches and Jaybird has its superb water-resistant earbuds. Now Samsung gets its latest addition to both categories.

Apple's Vision Pro Seems Powerful, But Who Is It For? | Future Tech
Samsung Gear Fit2
Starting today you can pre-order the Samsung Gear Fit2. It comes in the standard chunky black, but if you're up for some pizazz it's also available in blue and a nice fuchsia (Samsung is calling it pink).
The original Gear Fit had a lot of great ideas and a tremendous amount of ambition but faltered under the weight of less-than-stellar software and a super thick form factor that made it unpleasant to wear for extended periods of time. The Gear Fit2 appears to have shaved off some of the size (especially in the bezel area) and packed in a whole mess of cool features that might be more at home in a traditional smartwatch.
The Gear Fit2 is also waterproof (critical); it rocks Bluetooth 4.2, GPS and a heart rate monitor; and it comes with 4GB of storage in case you want to leave the phone at home. Sadly all those goodies will come with a price. It will cost $179—which is a good deal more than either the Fitbit Alta or Charge HR—and it will only manage three to four days of battery life.
The other significant change to the Gear Fit2 is its focus. The Gear Fit could never quite decide if it was for the average joe or the fitness fanatic. The Gear Fit2 is purposely going after the fitter set and the software available for it on Android (and Android only) is geared towards people trying to improve run their performance or drop them pounds.
Samsung Gear IconX
The new Gear IconX headphones—available at some point in the third quarter of this year for $199—are also after the fit-minded folks.
The earbuds are splash resistant, monitor your heart rate, stream Spotify playlists, can store up to 4GB of music in the earbuds, and are completely wireless. There's no tether between buds and everything from volume control to listening choices are made with a tab or stroke of the bud of your choice.
I found the controls could be a little unreliable in my ten minutes of trying them—but I was also trying on a pair of pre-production models.
What did impress me was the audio quality. There was a good amount of bass for such tiny little guys, and higher frequencies never sounded shrill. They also felt comfortable to wear in my admittedly minuscule ear canals.

The Gear IconX will be available in blue, black, or white, and will include a handy carrying case that also wirelessly charges the earbuds. That's about as cord-free as you can get—short of implanting stuff directly into your body and becoming a exercise-obsessed cyborg.