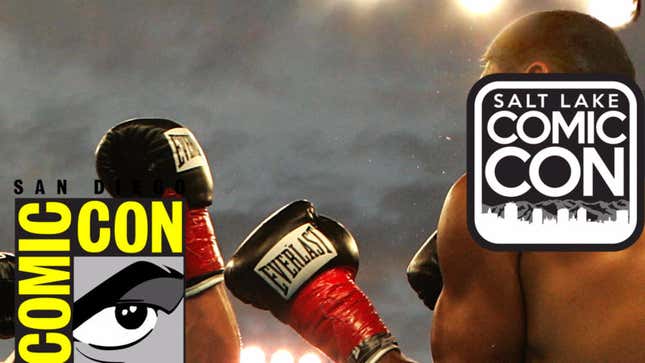 In a case that could potentially complicate the lives of comic convention organizers the country over, a federal jury has ruled in San Diego Comic-Con's favor in a suit brought against Salt Lake Comic Con for violating copyright law with their use of the term "comic con."
Meet Microsoft's New Surface Laptops
The verdict, which was arrived at on Friday afternoon, found SDCC's trademark is valid, and that Salt Lake Comic Con used it without permission, according to a report by Fox13 in Salt Lake City. San Diego Comic-Con initially sought up to $12 million in damages from Dan Farr and Bryan Brandenburg, Salt Lake Comic Con's organizers, but was rewarded only $20,000. According to the ruling, the violation was not a "willful infringement" of the copyright.
"It felt like it was a draw," Brandenburg told Fox13. He told the news organization that he was currently considering whether or not to appeal. Additionally, Salt Lake Comic Con has proceedings underway with the US trademark office to officially cancel San Diego Comic-Con's trademark.
According to Salt Lake Comic Con's website, their position is that the term comic con is a generic one, a common expression dating from the 1960s, and that when combined with other sets of words, they form a protected naming convention.
It's unclear now if this ruling will stand, but if it does, it could change a lot for the various conventions that operate under the "comic con" name across the country. They'd have to undergo the costly process of renaming or risk legal action from SDCC, which could be even more expensive in the long run.
In a statement, San Diego Comic-Con said:
San Diego Comic Convention has used the Comic-Con trademarks in connection with our comics and popular arts conventions for almost 50 years. We have invested substantial time, talent and resources in our brand resulting in world-wide recognition of the Comic-Con convention held annually in San Diego. The jury today upheld San Diego Comic Convention's trademarks as valid. The jury also found that Dan Farr Productions, Daniel Farr and Bryan Brandenburg each infringed San Diego Comic Convention's marks. San Diego Comic Convention respects the decision of the jury. From the beginning all that we asked of the defendants was to stop using our Comic-Con trademarks. Today we obtained a verdict that will allow us to achieve this. For that we are grateful.
Meanwhile, next year's Salt Lake Comic Con will continue apace, at least until SDCC acquires an injunction forcing them to change their name. Hopefully it won't come to that.

UPDATE: Apologies for, as many have pointed out, messy language that doesn't effectively distinguish the difference between trademark and copyright. Thanks for commenting, and I'm starring a couple of good comments about trademark law below for y'all to look at.