We've already got the wheel, the telephone, the iPod, and sliced bread — now it's time for an all-new brand of futuristic thinking. This week, at the International Venice Architecture Bienniale, the University of Kentucky College of Design unveiled the five nominees for the first Curry Stone Design Prize. Like Columbia University's Pulitzer Prize or the University of Georgia's Peabody Awards, the Curry Stone Prize is set to become a high-profile, prestigious mark of excellence in the design community. Its emphasis is on innovations in art and architecture that aren't just nifty toys for rich people, but tools to improve the quality of life for as many humans on Earth as possible.In an April 22 press release, the University of Kentucky News introduced the prize:
"The Curry Stone gift will enable the College of Design to reward and encourage innovative uses of design to transform the everyday lives of people-in Kentucky but also around the world," says Michael Speaks, dean of the College of Design. "Specifically, the gift will fund an annual, international design prize awarded to a designer or team of designers whose work has made a significant and positive contribution to society. The idea is to reward great design-urban design, architecture, graphic and product design-but also, and perhaps more importantly, to expand the very notion of design itself. Design is a means of acting in and transforming the world, and the Curry Stone Design Prize will reward design that does just that."
Ambitious and awesome — incentives like this are exactly what we need to make the 21st century more promising than ever. This year's first-ever Curry Stone nominees took humanitarian ideas, paired them with technology, and ran. The results are exciting, and with the help of a no-strings-attached $100,000 for the winner, they could become downright thrilling. Pictured above is 27-year-old MIT graduate Shawn Frayne, who already won a Popular Mechanics Breakthrough Award in 2007 for his Windbelt generator. The generator suspends a magnet-covered mylar membrane between two coils; with the aeroelastic flutter created by a simple breeze, the generator can harness enough power to run lamps, mini-fridges, and cell phones. If you're reading this, you've probably just plugged your computer into an AC wall outlet, but that isn't an option for people in Petit Anse, a fishing village in Haiti where Frayne spent time in 2004. Its citizens, like those in many other communities in the developing world, don't have a giant power plant nearby — so the Windbelt generator is, cornily enough, a windfall. Yet if Frayne's company has its way, it will cost only five dollars to build.
While Shawn Frayne powers houses, Ball State University professor Wes Janz will happily build them. The structure you see above may look like a fancy country gazebo, but its beginnings are quite humble; like all of Janz's projects, it was built from trash. He traveled with groups of students and collaborated with locals to erect these recycled houses in low-income sections of Los Angeles, Bangkok, Istanbul, Buenos Aires, and probably anywhere else you want to guess. He shares his thoughts on architecture innovations in his Curry Stone nominee profile:
According to Janz, these "informal pioneers of global urbanism" have much to teach contemporary professional architects who have heeded "the same voices, the same pieces of architecture, and the same logic systems for too long." As the demand for safe, low-cost shelter grows around the world, Janz argues, global citizen-architects have an important role to play.
G/O Media may get a commission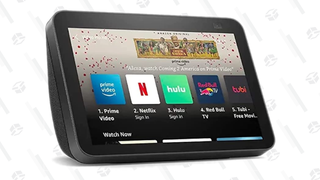 Janz's forthcoming book One Small Project gathers stories from everyone involved with revitalizing the nature of architecture in these "leftover spaces." As he keeps working, the places we think of as "the projects" will take on a whole new meaning, especially — and most crucially — for their inhabitants. Whether your money's on Frayne, Janz, or any of the other three inventors, there's no doubt that the unveiling of the Curry Stone Design Prize winner will be a singular event indeed. September 25 will see the announcement of this first award at the Idea Festival in Louisville, Kentucky. Even though only one of these nominees will head off with the money, it's a pretty safe bet that all of them will keep working to revolutionize the mission of modern design. Images from the Curry Stone Design Prize official website.