Hey, readers. Joel here. This is the first in a series of reoccurring features called 'Schwag Watch,' where we tell you exactly what products and gifts companies have given our writers. We never trade editorial for gifts, but in the process of dealing with PR companies—especially in the consumer electronics space—some schwag is going to happen.
Rather than fret about it, we thought we'd err on the side of full disclosure. Any influence schwag may have on us is mitigated by letting you guys know what's up—letting you make your own fully-informed judgement about our opinions.
Plus, it's often hilarious to see what sort of things companies give journalists and bloggers.
Find February's Schwag Watch list after the jump.
• Several of our writers received invitations to the Sprint Ambassador program, where Sprint gives them a phone and six months of free service. I have given them a blanket permission to join the program, provided they disclaim any mention of Sprint outside of normal editorial duty. (Example: "Here's Sprint's new service." would be fine without a disclaimer, while "Here's Sprint's new service. It looks awesome!" would need a disclaimer.) Currently, Ben at Consumerist and Adam at Lifehacker have accepted the program, and I (Joel) may do it just because I love to play with phones.
• Travis Hudson received one Gloveplay PS2 controller grip pad.
• While this wasn't a Gizmodo thing, in the interest of fullness I would mention the Sprint PPC-6700 that has been sitting under my desk for the last two months since I keep forgetting to send it back.
G/O Media may get a commission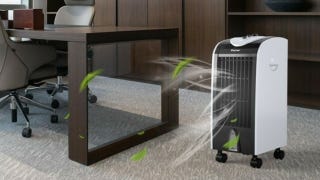 Save $10
Evaporative Portable Air Conditioner Cooler with Filter Knob
• Also, there is some sort of magnetic paper towel dispenser thingy that was sent to Denton's place. I didn't even open that one.
• There's a junket coming up that I'm going to save for its own announcement.
And that's it. We still have a general policy of sending back (or giving away to readers) any review units we receive. We don't disclaim books or media for review, unless they are extraordinary, because you just don't return books or software, as a rule.
Feel free to send any questions about Schwag Watch to joel@gawker. I'm going to leave comments open, though, because the whole point of this is to keep you guys involved in the process.