After months of tension over what, if anything, the Securities and Exchange Commission was planning to do about cryptocurrencies and the billions of dollars people have sunk into initial coin offerings—a form of barely regulated investment vehicle in which investors trade real cash for tokens in crypto-backed startups—the agency's chairman Jay Clayton has finally weighed in.

In a statement posted to the agency's website on Monday, Clayton alluded to rumors of a cryptocurrency bubble, writing that "We are hearing the familiar refrain, 'This time is different.'" He went on to caution investors that there is a significant risk that returns may be lower than anticipated or that their money could be stolen, as well as warned market makers that the SEC essentially considers coin offerings to be securities.
There is "substantially less investor protection than in our traditional securities markets, with correspondingly greater opportunities for fraud and manipulation," Clayton said. "Investors should understand that to date no initial coin offerings have been registered with the SEC. The SEC also has not to date approved for listing and trading any exchange-traded products (such as ETFs) holding cryptocurrencies or other assets related to cryptocurrencies."
"If any person today tells you otherwise, be especially wary."
Clayton contended that the SEC will require most ICOs to follow exactly the same laws as traditional securities, with procedural, disclosure and registration rules being the same.
G/O Media may get a commission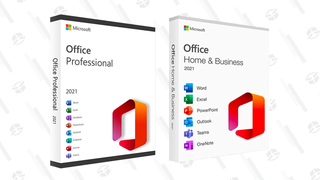 89% off
Microsoft Office Professional 2021 Lifetime License
"A change in the structure of a securities offering does not change the fundamental point that when a security is being offered, our securities laws must be followed," he added.
As Forbes noted, Clayton's statement noted the various the ways in which cryptocurrency could aid capital formation. But he also explicitly called out scammers, shady promoters, and ICOs which seek to dodge securities regulations by claiming they're offering dual-purpose "utility" tokens, labeling the latter designation just a form of semantics.
"Merely calling a token a 'utility' token or structuring it to provide some utility does not prevent the token from being a security," Clayton warned.
In other words, the SEC is letting the ICO explosion continue instead of enforcing a South Korea or China-style ban, but it will intervene if individual operators fail to follow securities rules or play fast and loose with them.
That alone may force somewhat of a cool-off throughout the crypto space, as some of the speculation is being driven by lack of regulation and exactly the kind of tactics Clayton brought up as possible violations of securities laws. The SEC has shut down and filed charges against some of the worst offenders in the space; simultaneously, the Internal Revenue Service is cracking down on potential cryptocurrency-enabled tax fraud by demanding major exchanges hand over customer information. Oversight of the sector is coming as big firms are weighing the possibility of selling cryptocurrency futures, which will increase the exposure of the overall economy to future developments in the crypto space—whether it's continued boom times or a major crash.