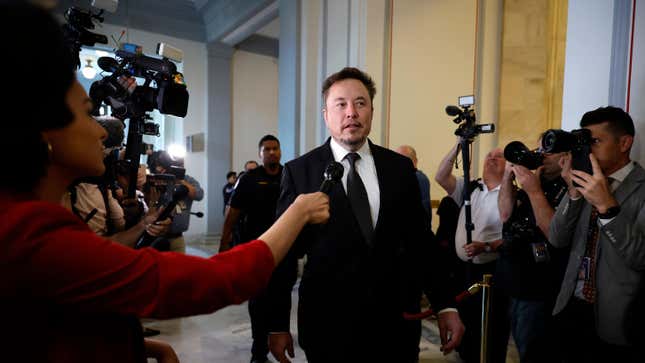 Last week, it was reported that Elon Musk shut off access to SpaceX's Starlink in Crimea last year, but following an outcry of condemnation, the source of the story issued a correction saying Musk was asked to turn on access but he had a policy against doing so already in place. U.S. Senators are now asking the Department of Defense what exactly is going on here. The Senate Committee on Armed Services is interested in investigating the tech tycoon over his actions (or inactions) surrounding Starlink during the Russian invasion of Ukraine and they want to know just how much free reign Musk has over how his network is used.
Mr. Tweet Fumbles Super Bowl Tweet
Bloomberg reports that the committee wants a detailed account by October 31 of where SpaceX shut off access to Starlink in Ukraine as the country's army planned a Russian counterattack. This report will also include a description of what responsibilities contractors received from the Department of Defense, and how laws like the Defense Production Act may have required Musk to continue service in Eastern Europe. The 25-member Senate Committee on Armed Services has a Democrat majority, and members include Senators Elizabeth Warren (D-MA), Mark Kelly (D-AZ), Rick Scott (R-FL), and Roger Wicker (R-MS).
"Neither Elon Musk, nor any private citizen, can have the last word when it comes to U.S. national security," Rhode Island senator and committee chair of Jack Reed said in a statement yesterday as quoted by Bloomberg. "The committee is aggressively probing this issue from every angle."
Separately, committee members Sens. Warren, Jeanne Shaheen (D-NH), and Tammy Duckworth (D-IL), co-signed a letter to Defense Secretary Lloyd Austin regarding Musk's decision to curtail access to the Ukrainian army. This letter asks for a detailed account of any U.S.-based satellite internet provider's unilateral disablement in Ukraine since February 24, 2022. The Senators also asked Secretary Austin for the terms that the DoD places on space-based commercial services and how contracts with the U.S. government may prevent outages like the one in Ukraine.
"SpaceX is a prime contractor and a critical industry partner for the DoD and the recipient of billions of dollars in taxpayer funding," the Senators wrote in the letter to Secretary Austin. "It poses grave national security risks if DoD contractors are able to independently act to abrogate their provision of services."
The government hubbub comes after Musk's recently-released biography, aptly titled Elon Musk, by Walter Isaacson revealed the geopolitical incident. According to Isaacson's original account, Musk shut down access to Starlink in order to prevent a "mini Pearl Harbor" as Ukrainian forces directed submarine drones to attack a Russian fleet off the coast of Crimea. Musk reportedly made this decision after a conversation with Russian officials, who told him that a counterattack may result in nuclear retaliation. Musk previously supplied Ukraine with around 5,000 Starlink terminals in February 2022, following the country's invasion by Russia.
Isaacson, however, has since revisited the blurb on Musk's decision for Starlink access in Crimea. In the original version of the text, Isaacson describes Musk as making a last-minute decision to switch off the connection to the area. Musk, however, refuted Isaacson's account and claimed that he was asked to turn on access to Starlink in Crimea but he already had a policy in place forbidding that action. Isaacson clarified to the Post that he thought Musk had made the decision in the heat of the moment, but he was simply reiterating his previous stance.