Residents of Juneau, Alaska were caught between checking the weather and voyeurism on Tuesday morning. The weather forecast took an intimate turn, lingering over each available weather model before taking a foray into bittersweet regrets over the weather model picked after a too-brief encounter.
The forecast sets the intimate tone for the evening right away, starting off:
PICKING A MODEL OF CHOICE FOR THE DAY IS A LITTLE LIKE SPEED-DATING: TOO LITTLE TIME/INFORMATION TO MAKE UP THE MIND LEADING TO REGRETS BY THE END OF THE DATE/SHIFT. THE AMERICAN NAM IS MODERN, DETAIL-ORIENTED, PROLIFIC, WILLING IF A LITTLE IMPETUOUS AND INCREDIBLY REACTIONARY. THE AMERICAN GFS—THE MODEL NEXT DOOR—QUITE OLD FASHIONED, AN OPEN BOOK, EASY ON THE EYES IF A LITTLE STAID AT TIMES. ALWAYS TALKING ABOUT THE FUTURE WHILE WHITE-WASHING THE PRESENT. THE CANADIAN SOMETIMES A LITTLE PRO-EUROPEAN SOMETIMES A LITTLE PRO AMERICAN...MANY TIMES HARD TO READ, BUT OFTEN HAS A SUNNIER OUTLOOK THAN THE OTHERS. TOO SUNNY SOMETIMES. AND THAT EUROPEAN ONE...INTELLIGENT, TREND- SETTING, AND ALLURING— ONLY APPEARING TWICE A DAY—MAKES ME WANT MORE. AND TODAY I WANTED MORE AGAIN SO I MADE MY SELECTION. BUT SOMETIMES I LOOK BACK AND WONDER WHAT COULD HAVE BEEN.
The forecast continues on to compare how the different models predicted the day's weather, most predicting an afternoon storm while one stubbornly insisted on a dry day yet best identified overnight showers:
AND AS I TAKE MY EUROPEAN DATE ON MY WAY...NAM WHISPERS..."YOU WON`T NEED AN UMBRELLA IN JUNEAU"...AND WINKS MY WAY. BUT I WILL WEAR MY RAINCOAT...BUT WONDER IF NAM IS RIGHT.
G/O Media may get a commission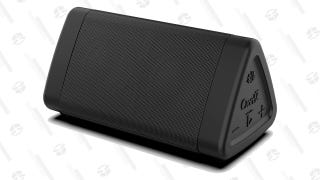 Save 31%
Oontz Angle 3 Portable Bluetooth Speaker
Clearly, someone has been locking the forecasters in their offices again.
Read the full (real!) forecast here. Image credit NOAA. Via Slate.