Everybody was talking about the premiere of Syfy's TV movie Sharknado on Twitter last night. But as it turns out, apparently no one actually bothered to watch it. The movie was seen by just over a million people, unequivocally making it a complete bomb (...that was then launched into a Sharknado).
Despite inspiring over 600,000 Tweets between 8:00 p.m. and 3:00 a.m. EST last night, Sharknado garnered a mere 0.4 rating in the 18-49 demographics. Or, at The Atlantic says (highlight mine), "That's not just a bust by cable standards. It's a bust by SyFy original movie standards. 'Most Syfy originals have an average viewership of 1.5 million people, with some getting twice that,' Claire Suddath reports."
Yikes. This is even more shocking when you see how insanely prevalent the movie was on Twitter. You thought the "Red Wedding" episode of Game of Thrones was a hot Twitter topic? Check this comparison, also provided by The Atlantic:
In terms of Internet hype failing to yield actual audience members, we're talking Snakes on a Plan-level flop here. Clearly, Syfy has no choice but to raise the bar, and Matheus Candido knows exactly what they need to do (courtesy of Warming Glow):
G/O Media may get a commission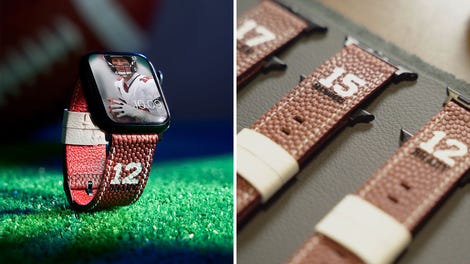 Official NFL PRODUCTS
Official NFL Apple Watch Bands
Meanwhile, the Sharknado movie has led some people to think Sharknados are a joke, when we know they're anything but. This has led to a very important petition on DoSomething.org, begging President Obama to distribute personal sharks to every American man, woman and child in order to protect themselves from shark-filled weather emergencies. Or, as they so eloquently put it: "The only thing that stops a bad guy with a shark is a good guy with a shark."