After sacrificing her very memories to save the world and a brief hiatus (both in the Marvel universe and ours), Captain Marvel is back and writer Kelly Sue DeConnick is ready to prove why she's Earth's mightiest hero. Plus new Stray Bullets, Beasts of Burden, The Crow, and more!
---
New Issues
Dark Horse:
• Beasts of Burden: Hunter Gatherers: A one-shot of the award-winning series about a group of dogs and cats who protect the town of Burden Hill from evil.
G/O Media may get a commission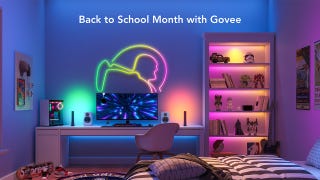 Back to School
Back to School Month with Govee Sale
• Nosferatu Wars: During the black plague, the vampires run free — until they turn on each other.
• Other releases: Abe Sapien #11, Ghost #2, Star Wars #15, The Star Wars #6, X #11.
DC:
• Justice League of America #13: We finally find out what the hell happened to the Justice League at the end of Trinity War.
• Legends of the Dark Knight #2: A trio of Bat-stories, including one where "Bruce wonders if his youthful tour of Thailand with Alfred might be coming back to haunt him."
• Other releases: Astro City #10, Batgirl #29, Batman #29, Batman: Li'l Gotham #12, Coffin Hill #6, Constantine #12, FBP: Federal Bureau of Physics #8, Green Lantern Corps #29, Justice League 3000 #4, Nightwing #29, Royals: Masters of War #2, Scooby Doo Where Are You #43, Smallville Season 11: Alien #4, Superboy #29, Superman/Wonder Woman #6.
IDW:
• Monster & Madman #1: That time Frankenstein's monster met Jack the Ripper.
• The Crow: Pestilence #1: A young Mexican boxer returns as the Crow when a drug gang kills him and his family for refusing to take a fall in a fight.
• Other releases: The City: The Mind in the Machine #2, Deadworld: Restoration #4, Indestructible #4, Judge Dredd #17, My Little Pony: Friends Forever #3, Powerpuff Girls #7, Star Trek #31, TMNT Color Classic #5, TMNT #32, Transformers: More Than Meets the Eye #27, The X-Files: Conspiracy: The Crow #1, The X-Files Season 10 #10, Zombie War.
Image:
• Stray Bullets: The Killers #1: Official synopsis: "Find out what thirty dollars, a dirty diaper, and a girl named Yummy will reveal about the true meaning of life in a little story we like to call 'The Love Ride.'"
• Mercenary Sea #2: Captain Jack Harper is forced to rescue a British spy for a mysterious American/
• Other releases: East of West #10, Egos #3, Invincible #109, Manifest Destiny #5, Minimum Wage #3, Spawn #241, Stray Bullets #41, The Walking Dead #123, Witchblade #173.
Marvel:
• Captain Marvel #1: Carol Danvers makes a decision that will effect the entire Marvel universe.
• Secret Avengers #1: Nick fury, Hawkeye, Black Widow, spider-Woman and Agent Coulson perform the missions Avengers can't be seen doing.
• Avengers Undercover #1: Not to be confused with Secret Avengers. Five teen heroes infiltrate the Masters of Evil to bring it down from within.
• Other releases: All New X-Factor #4, All New X-Men #24, Black Widow #4, Deadpool #25, Fantastic Four #2, Hawkeye #17, Mighty Avengers #8, Revolutionary War: Motormouth #1, The Superior Foes of Spider-Man #9, Superior Spider-Man #29, Wolverine #2, X-Force #2, X-Men: Legacy #300.
Other:
• The Six Million Dollar Man Season 6 #1: Steve Austin returns, as this comic picks up exactly where the classic TV show left off.
• Other releases: Archie #653, Bloodshot & HARDCorps #20, Death Sentence #6, Fathom: Kiani #1, The Fox #5, Garth Ennis' Red Team #7, Grimm Fairy Tales: Ascension #2, GFT: Neverland: Age of Darkness #1, Gold Digger #208, Grimm: Warlock #4, Liberator: Earth Crisis #1, Magnus: Robot Fighter #1, Regular Show Skips #5, Returning #1, Revelations #3, Robocop: Last Stand #8, Sons of Anarchy #7, Steampunk Red Riding Hood, Trish Out of Water #5, Uber #10, Unity #5, Zombie Tramp #3.
---
Trade Paperbacks and Hardcovers
Dark Horse:
• 47 Ronin: Stan Sakai, creator Usagi Yojimbo, brings the famed Japanese tale of 47 samurai banding together to avenge their dead master to life.
• Other releases: Drifters Vol. 2, Intron Depot Vol 5: Battalion.
DC:
• Justice League: Trinity War: When Superman seemingly murders a hero and Pandora's box of evil comes in play, all three Justice Leagues go to war with each other.
• Wonder Woman Vol. 4: War: The First-born of Zeus' children begins his rampage to claim Olympus.
• Other releases: Batman Unwrapped: Deluxe Edition, Lucifer Vol. 3.
IDW:
• Airboy Archive Vol. 1, G.I. Joe: Complete Collection Vol. 4
Image:
• Stray Bullets: Uber Alles: The first five Stray Bullets series collected in one massive 1,200-page behemoth. Only available in comic stores!
• Other releases: The End Times of Bram and Ben.
Marvel:
• Thor: God of Thunder Vol. 3: Accursed: When Malekith breaks out of his prison, Thor gathers a motley grew to chase the dark elf through the nine realms.
• Other releases: All New X-Men Vol. 2: Here to Stay, Avengers Book Two: Absolute Vision, Captain America: the First Avenger Screenplay, Captain America: The Winter Soldier Prelude, Daredevil: Dark Nights, Fantastic Four Vol. 3: Doomed, FF Vol. 2: Family Freakout, Wolverine Vol. 2: Killable.
Other:
• It Came: A giant robot named GKURK rampages through thre bucolic British countryside of the 1950s in this delightful ode to scifi B-movies.
• Attack on Titan: Junior High Vol. 1: A look at the wackier side of living in a city constantly beset by hungry giants.
• Other releases: All Star, Amazing Agent Kuna Omnibus Vol. 4, Arata the Legend Vol. 17, Attack on Titan: Before the Fall Vol. 1, Bad Machinery Vol. 2: Case of the Good Boy, Bodie Troll, The Casebook of Bryant and May: Soho Devil, Chronos Commandoes, City in the Desert Vol. 2: Serpent Crown, Crossed Vol. 8, Deadlock Vol. 1, Dumbest Idea Ever, Ehmm Theory Vol. 1, Free Mars Vol. 2: Ashes to Ashes, Game of Thrones Vol. 3, GFT: Wonderland Vol. 4, Haganai Vol. 6, Harvey Horror's Chamber of Chills Boxset, Howard Lovecraft and the Kingdom of Madness, Illustrated British Classics: Lost World & Holmes, My Little Monster Vol. 1, Peanuts Vol. 3, Roy Thomas Presents Planet Comics, Senran Kagura: Skirting Shadows Vol. 2, Sherlock Bones Vol. 4, Silk Road to Ruin, Steampunk Originals Vol. 2, Stranger Than Life: Cartoons and Comics 1970-2013 , Tales of Oscar Wilde Vols. 1-5, Young Romance Vol. 2.
---
As usual, here's the list of everything being released to comic stores tomorrow, and you can find your nearest comic retailer here.