Last year, the original Xperia Z Tablet was one of our absolute favorite tablets. It was so wonderfully thin and light, plus waterproofiness? Fantastic. But the laggy software Sony put on top kind of knee-capped its potential. This year, the hardware is even better. Bordering on masterful! But some lessons Sony just refuses to learn.
What Is It?
It's a rather stunning 10.1-inch Android tablet. It's got the hottest guts out there, a gorgeous screen, and it's impossibly light, thin, and waterproof (up to 5 feet of fresh water for 30 minutes).
Why Does It Matter?
Sony's tablet offerings have been getting better and better. It's willing to try some crazy stuff, that doesn't always work but could help shake things up. Not to mention last year's Xperia Z Tablet was pretty fantastic. This one's even better
G/O Media may get a commission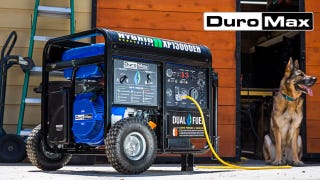 Black Friday Sale
DuroMax Generator Sale
Design
The first time you pick it up you just think, "No way!" It's so thin and so light that it feels like you're holding a shell, a non-working prototype of what some college futurist thinks the Tablet of the Future will look like. To put it in context, despite having a 0.4 inch larger screen, the Xperia Z2 Tablet is a full ounce lighter than the iPad Air (15.5 ounces on the Z2 versus 16.5 ounces for the Air), and it's thinner, too (0.25 inches versus 0.3 inches for the Air). That would be pretty impressive in itself, but add in the fact that it's IP58, which makes it waterproof to five feet of water for up to half an hour, and the thing starts to feel borderline magic.
It looks very much the same as last year's tablet, which is to say that it's almost a perfect rectangle with very slightly rounded corners. Around the edges it has a nubby, chrome power button (matching the rest of the Xperia line) and volume rocker, ports for the micro USB port, and for micro SD cards. There are also a couple of pins on the bottom so you can use it with one of Sony's many keyboard docks, and up top there's an IR blaster for controlling your home entertainment system.
The face of the device is Sony's 1920 x 1080 "TRILUMINOS Display with Live Color LED and X-Reality for mobile." Sounds fancy. The good news is that it looks terrific. Again, the blacks aren't as dark as they would be with an AMOLED screen, but the colors are super vibrant and really pop, and you can crank the brightness reasonably high. Sony made another ingenious move this year, putting stereo speakers on the front of the device. They're so small you almost can't see them.
The back is a brushed, soft-touch plastic that feels very nice and grippy, and there's also an 8MP camera on the back which takes very good photos for a tablet, but still... done. And if you shoot vertical video with a tablet you'll be sentenced to live in a hut without electricity for two years. Fun fact.
Using It
Again, more than any other tablet, the Xperia Z2 has that "Holy crap this is amazing!" feel to it the first time you pick it up. It's so light that you can hold it from the side one-handed, longways, and you don't feel like your hand is even going to get tired. We tested the tablet in four feet of water for ten minutes (before the lifeguard asked us what the hell we were doing) and it came out working just fine, so if you've been dreaming of streaming Netflix while taking a bath, this is the device you want.
It's also terrific for gamers. The dual, front-facing speakers have been improved over last year. For starters, they're almost impossible to accidentally muffle. This means you can hold the tablet in whatever way is most comfortable and still get solid, immersive sound. It's awesome for FPS games like Dead Trigger 2. It's also great for watching video. The considerable horsepower of Qualcomm's 2.3GHz quad-core Snapdragon 801 processor and a whopping 3 (three!) gigs of RAM mean that even the most graphically challenging games play buttery smooth.
And yet, that still isn't enough to make Sony's own skin run smoothly. Again, the third-party UI Sony has chosen to go with looks nice enough, but it runs like garbage. There is stutter and lag all over the place, and this lack of smoothness is a major problem, because it makes the most impressive hardware we've ever seen on a tablet feel like it doesn't really work that well, or that cohesively. The good news is that this is a pretty easy fix: just install a third-party launcher (I used Nova) and presto, it's as impressively smooth as you would hope. You'll want to swap out the keyboard, too. So it's great that these are easy fixes, but it's absurd that it's something you have to fix yourself. Nothing Sony's UI brings to the table justifies this debilitating performance.
Sony also pre-loads the device with a hefty number of apps. Most of them are pretty weak (like Album, Movies, and Reader), though some of them like Sony Music Unlimited, Video Unlimited, and Playstation app are pretty good. Again, you can control your TV using the TV SideView app (which also acts as a program guide) but like last year, Sony forgot to pre-install this actually-useful app. Weird.
The screen is bright enough to be used outside (though it gets worse the more your fingerprints smudge up the screen, and it's not as bright as other tablets like the Nexus 7), and battery life was very solid, especially if you put it in power saving mode. The tablet has another trick in that it can act as the brain for Sony's Digital Noise Canceling Headset (MDR-NC31EM). Because the tablet provides the intelligence and power-source for the buds, it allows them to be much smaller. Happily, they sound terrific.
Like
Basically everything about the hardware. The lightness, the thinness, the lovely screen, the front-facing speakers, the waterproofiness, the Snapdragon 801, the 3GB RAM. All that stuff is just great. We also like that it can power noise canceling earbuds, that it can control your TV, and that it just feels so damn good to hold.
No Like
In contrast, it's basically all software. Again. The skin Sony puts on just doesn't work very well. It slows things down, it makes things look worse, and it's less intuitive to use than stock Android. In fact, if this thing was a Nexus device and ran stock Android we're probably be head-over-heels for it, which means that if you have the skills to root and install better software on this tablet, then this is the tablet you want, hands down.
Software aside, we wish the tablet supported wireless charging so you didn't have to fiddle with port-covers every time you want to charge, and we wish the speakers had a little more bass. The bezel could be shrunk down, too. For such an outdoorsy tablet, it should be able to go brighter. Oh, and it's pretty expensive compared to something like the very capable Nexus 7. Other than that, there's not much to gripe about.
Should You Buy It?
If you don't mind installing a third-party launcher (many of which are excellent, free in the Google Play app store, and take seconds to install, even for non-techies) and you want a full-sized Android tablet, then YES, absolutely. If you're willing to go further and root it, then double-yes.
At $500 for the 16GB version and $600 for the 32GB it's the same price as the iPad Air, and frankly, the hardware is just much, much more impressive. In fact, I'd go as far as to say that if you're willing to fix the software problems the Xperia Z2 Tablet is the best full-sized tablet available today. Get the 16GB version and toss a cheap micro SD card in there if you need more storage. You can pre-order it starting today, and it will be in stores May 4th. [Sony]
Sony Xperia Z2 Tablet Specs
• Network: Wi-Fi
• OS: Android 4.4.2 with Sony's UI
• CPU: 2.3GHz quad-core Snapdragon 801
• Screen: 10.1-inch 1920x1080 TRILUMINOS Display (224PPI)
• RAM: 3GB
• Storage: 16 or 32GB + micro SD up to 128GB
• Camera: 8MP rear / 2MP front
• Battery: 6000 mAh
• Dimensions: 10.47 x 6.77 x 0.25 inches
• Weight: 15.5 ounces
• Price: $500/16GB or $600/32GB