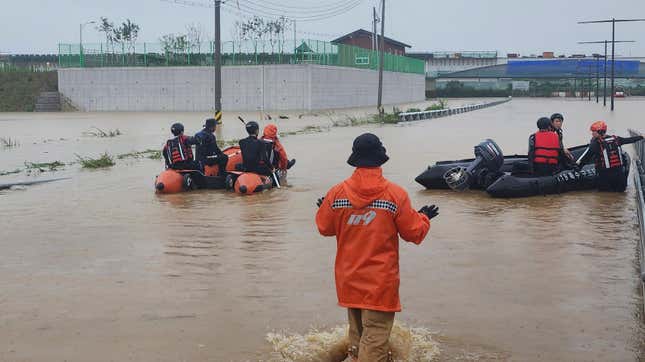 Torrential downpours in South Korea late last week have flooded roads and underpasses and sparked landslides throughout the country. Homes have been damaged, trees have been knocked over, and flights have been canceled.

The extreme conditions have killed residents, and the official death toll is currently up to 40 people, the New York Times reported. In Cheongju, a city south of the capital Seoul, an underground road flooded on Saturday. There were at least 15 vehicles in that underpass, and emergency workers are still trying to understand how many people were able to escape, according to the New York Times. At least 13 people have died in that city, the Daily Beast reported.
It is currently the monsoon season in South Korea, and many countries around the world see heavy precipitation during their spring or summer months. But Korean meteorologists have noted that the amount of rainfall has increased over time, VOA News reported. Climate change takes things that are part of the natural cycle, like a rainy season, and makes them so much more extreme.
"This kind of extreme weather event will become commonplace—we must accept climate change is happening, and deal with it," South Korean President Yoon Suk Yeol said, DW News reported.
Climate change-related disasters struck the country not too long ago. In 2022, more than 10 people in Seoul, South Korea died in basement apartments after heavy rain flooded neighborhoods all over the city. Hundreds were evacuated during the flooding, and several people went missing. The widespread deaths prompted the country's capital city to ban the infamous apartments featured in the Oscar-winning movie Parasite after residents drowned.
See how first responders and emergency workers have worked to find survivors and clear roads after widespread flooding and landslides in South Korea:
Want more climate and environment stories? Check out Earther's guides to decarbonizing your home, divesting from fossil fuels, packing a disaster go bag, and overcoming climate dread. And don't miss our coverage of the latest IPCC climate report, the future of carbon dioxide removal, and the invasive plants you should rip to shreds.