There's been plenty talk of how Marvel's movies influence their comics—but the story took a seemingly strange twist today following alleged comments from Spider-Gwen artist Robbi Rodriguez claiming the comic can't create new characters, otherwise Sony would have "first crack" at adapting them for the big screen.
The claim came from an interview with Rodriguez conducted on Superior Spider-Talk's Ultimate Spin podcast, in which the artist and co-creator of the successful Spider-hero openly acknowledged that the comic approaches character creation in a certain way to avoid Sony (who have partial ownership of Spider-Man's movie rights) from being able to claim dibs on them for future films:

There's like a big rule […] we can't really create new characters in Spider-Gwen because the movie rights aren't officially fully licensed by Marvel. Whatever we create in Spider-Gwen, Sony gets first crack at those characters. So that's why we start doing what we call 'sampling.' We'll sample ideas that we have and slap them on to a new character. Say, we have Luke Cage, which I think we are planning on using, it has to be Luke Cage in name only. He is a new idea that we've had, for a new character.
Both the podcast, (which is back up online now, in an edited format that removes the section above altogether), and the accompanying article about the comment, were removed from Superior Spider-Talk's website—a google cache of the original piece can currently be found here—shortly after Rodriguez's statement started making the rounds online.
The stipulation is allegedly not uncommon at Marvel, with previous rumors circulating about similar rules for the X-Men comics. However, both in the case of X-Men and in the case of the Spider-Family comics, it doesn't really seem to be the case for every comic under those banners. Both the main X-Men series, penned by Brian Michael Bendis, and in the case of Spider-Man, Dan Slott's Amazing Spider-Man series, have featured regular new additions to the hero and villain rosters in recent stories.
G/O Media may get a commission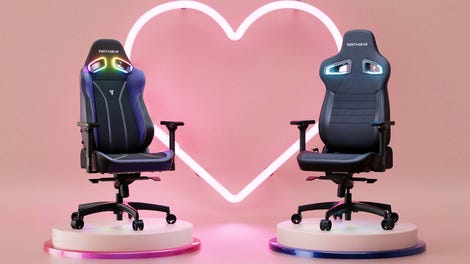 Up to $150 off
Vertagear Gaming Chairs
Following the removal of the podcast and article, Rodriguez issued a comment to Bleeding Cool, saying that he had spoken mistakenly during the interview:
There is no Rule. The subject wasn't explained to me very well when I asked before, at the time, but it's all cleared now when I asked again not too long ago. I forgot I mentioned that on the podcast again so I asked them to edit it to clear up any future confusion. I meant to do it earlier and it's my mistake for not jumping quicker, thus causing this misunderstanding. We can make anything we want for Gwen. I was also just making assumptions based on what we all read on sites like yours. Even we over read into things that we find on the net…
Whether it's currently the case or not—and given Rodriguez's clarification above, it appears not to be—it seems that at least at one point Rodriguez, and presumably his co-creator Jason Latour, believed there was such a rule in place at Marvel.
We've reached out to Marvel for comment to clarify the situation—we'll update this post when and if they get back to us.
[Bleeding Cool via CBR]