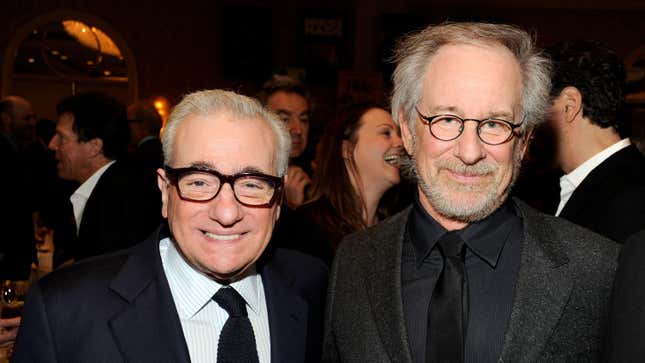 Cinephile's cherished Turner Classic Movies was slated to be Warner Bros. Discovery's latest amputation of beloved content. Out of the blue, famed directors Steven Spielberg, Martin Scorsese, and Paul Thomas Anderson stepped up to bat for the classic cinema channel. Now it seems the three have managed to hold Warner Bros. CEO David Zaslav back, so long as they stay on to curate and promote TCM content.
Who Wants DC's Canceled Batgirl Movie? | New York Comic Con 2022
According to Variety, the three famed directors will now be the public curators of TCM. In addition, Charles Tabesh—the longtime executive in charge of TCM's programming lineup—will stay on after initial reports claimed he would get the boot. He will now be reporting to Mike De Luca and Pam Abdy, dual CEOs of Warner Bros. Film Group.
In a joint statement, Spielberg, Scorsese, and Anderson said they are already working with De Luca and Abdy. They also dropped a tithe at grand lord Zaslav's feet, saying that this arrangement reflects the CEO's "commitment to honoring the TCM legacy while also involving us on curation and programming." The three said that the whole team is going to work on "preserving TCM's mission of celebrating our rich movie history while at the same time ensuring that future generations of filmmakers and film lovers have TCM as a valuable resource."
The two Film Group execs alongside the directors will all share in the curation duties. In that shared statement, De Luca and Abdy said they intend to "enhance TCM's on-air programming." There are very few content streams that try to curate and collect classic cinema. There's Gizmodo's own pick The Criterion Channel, but TCM streaming on Max is also a strong source for looking at the films of yesteryear. Without defunct services like Filmstruck, there truly are limited options for cinephiles who lack a large video collection.
Apparently, it takes three Hollywood heavy hitters to stymie Zaslav's post-merger cost-cutting crusade. IndieWire first reported last week that the directors scheduled an emergency call with Zaslav to contest the layoffs and lead the charge for TCM's future. The three originally claimed they had been "encouraged" by those discussions, but as is always the case in Hollywood, good feelings don't necessarily result in positive outcomes. In this case, it seems that clout has won out.
Zaslav's tenure has seen massive disruptions for Warner Bros. Discovery's massive content slate. There was the Batgirl movie debacle, major cuts to the company's animated content, not to mention the controversial move to combine HBO and Discovery content into one streaming service called "Max." Despite becoming the de-facto antagonist to writers and fans alike, Variety reported Wednesday that Zaslav has been invited to join the Academy of Motion Pictures Arts and Sciences. Welcome to the big time, Zaz.