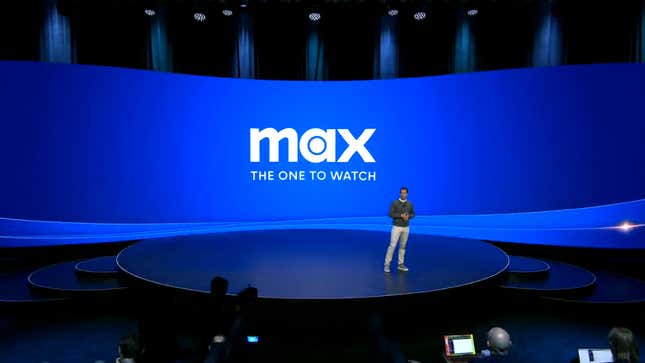 HBO Max may be one of the biggest movie and TV services in the world, but parent company Warner Bros. Discovery is hoping users are willing to max out on an enormous slate of both multi-million dollar content and cheaper reality TV on a single new service called "Max."
HBO announced Wednesday that after you're done watching your prestige HBO shows like The Last of Us or Succession, you can turn around and veg out on the long-distance lives of those on 90 Day Fiancé. The new "Max" streaming service will add in all Discovery+ content and cost the same as HBO Max, a the $9.99 ad tier and a $15.99 ad-less tier (which is what HBO Max currently charges for its ad-free rate). The company is also adding a $19.99 "Ultimate Plan" that includes 4K streaming (which is currently part of HBO Max's $15.99 tier), 4 concurrent streams, and 100 downloads of content. Discovery+ will remain as its own separate service at $6.99 a month. The new Max service will launch May 23.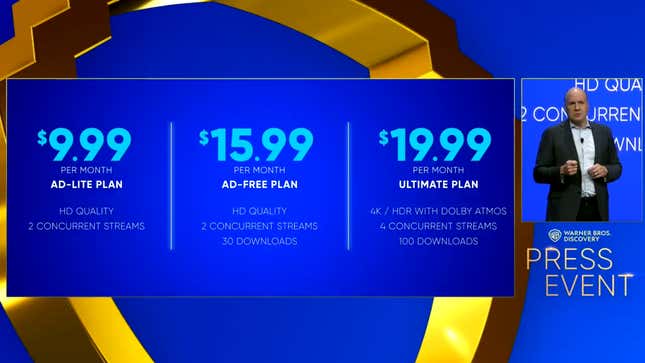 During an online press event, Warner Bros. Discovery CEO David Zaslav touted the efforts of the massive company after it merged under a $43 billion deal. He said last year was a time of "restructuring," while now they are looking to see "which stories we will tell that will define our legacy."
"We have some of the most iconic and globally recognized properties" Zaslav said "We're so rich [in content]."
The company claimed that more than 80% of users watch both scripted and unscripted content. At the same time, Warner Bros. admitted that users in this "era of peak confusion" are, on the whole, tired of the number of services, price points, and content available across the whole spectrum of platforms.
"Dropping HBO from the name is cementing that 'we're not just a home for premium programming,'" Julia Alexander, the director of strategy at the research firm Parrot Analytics, told The New York Times. "We're the home for anything you want to watch," she added.
Most HBO Max users should see their apps automatically update to the new format, though some will be prompted to download the new Max app. Profiles and payment info should carry over.

Despite the app name change, Warner Bros. tried to stress how the HBO brand isn't on the outs. The company said Max would include a specific tab for HBO content. However, the new app has a new focus on algorithmically generated recommendations, both on the home page and after users are done watching content.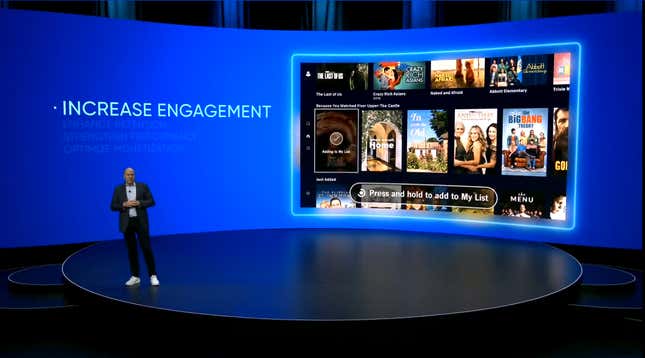 Warner Bros. also wants to cut back on what it called "involuntary churn" of users leaving the platform. It should give users notice if they have any payment problems both in app, through email, and through connected TVs.
Last year, Warner Bros. Discovery announced it planned to combine HBO Max and Discovery+, with executives saying that both services alone had "shortcomings" in both content and app features. This came shortly after the company announced it was canceling and even delisting fan-favorite HBO Max shows and upcoming movies such as the Batgirl film (despite the flick already having wrapped on filming and production). Then in March this year, reports again hinted that the multinational media company planned to drop the "HBO" from the streaming service's name.
In effect, this latest news comes down somewhere in the middle of the two extremes. Both content slates on HBO and Discovery remain their own brand, but instead of looking at two separate apps, the company will be focusing that much harder on one.
This article is part of a developing story. Our writers and editors will be updating this page as new information is released. Please check back again in a few minutes to see the latest updates. Meanwhile, if you want more news coverage, check out our tech, science, or io9 front pages. And you can always see the most recent Gizmodo news stories at gizmodo.com/latest.