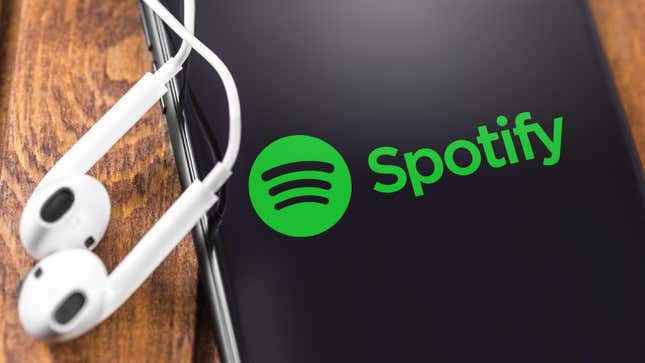 Spotify giveth and taketh away: If you want to sing along to your favorite tunes, you'd better fork over $10.99 every month. The music streaming platform has revealed that it is testing a scheme to make lyrics a feature only available to Premium users on the platform.
Johnny Knoxville Loved Collectibles | First Fandoms
Users on Reddit first noticed the change, and Spotify confirmed the news to The Verge. On most songs hosted by Spotify, users can scroll down past the album artwork and audio controls to reveal a card that includes lyrics synced to the music. Now, some users who listen to Spotify through the free ad-supported version of the platform are being greeted with a pop-up on the lyric card that says "Enjoy lyrics on Spotify Premium."
"At Spotify, we routinely conduct a number of tests, some of those tests end up paving the way for our broader user experience and others serve only as an important learning," a Spotify spokesperson told Gizmodo in an email. "In keeping with our standard practices, we're currently testing this with a limited number of users in a pair of markets. We don't have any further news to share at this time."
Spotify globally rolled out the lyrics feature in the fall of 2021 as reported by TechCrunch, but began testing it in certain markets across the world as early as 2019. Lyrics are integrated into the platform from an Italian music data company called Musixmatch, and artists are encouraged to upload their own lyrics for accuracy.
The move to paywall lyrics is the latest from a platform that is senselessly innovating in a bid to entice users. In February, Spotify debuted an annoying AI-powered DJ that it touts as the latest in music exploration. DJ will play songs it thinks you like while interrupting after each offering with some cheeky quip to pull you right out of your music-listening experience. The next month, Spotify unveiled a TikTok-esque home feed that begs you to scroll through an endless barrage of visuals in order to discover new music. This all comes at a time when the music streamer is facing major financial difficulties and its biggest competitor, Apple Music, doesn't even need to turn a profit because its primary purpose is to sell hardware.
Update September 6 1:20 p.m. ET: This article was updated to include comment from a Spotify spokesperson.