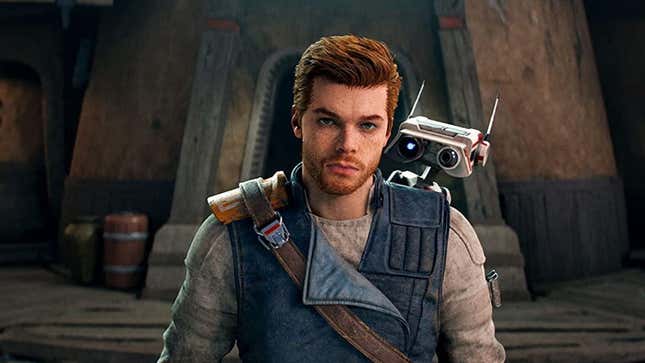 Star Wars is a franchise that's taken inspiration from plenty of things over the decades to become what it is today. Sometimes it requires work to figure out what it's drawing on for a particular character, location, or plot point. Other times, it hits you dead in the face and despite that, might still work for you.

'I Started a Yoda Fan Club'
Respawn's Star Wars Jedi games are the new poster child of this. In 2019, Star Wars Jedi: Fallen Order rather shamelessly took inspiration from Metroidvania games and FromSoftware's Souls titles with its blend of exploration and timing-heavy combat. The newly released Star Wars Jedi: Survivor doesn't break off from the first game—if anything, it embraces those inspirations even further and with much more confidence in itself than last time around. And like its predecessor, the sequel just works because it knows it's got the goods and wants everyone to have a good time.


Jedi Survivor picks up five years after the last game and opens on Cal Kestis being captured and carted off to a senator on Coruscant who's been angling to snatch him up before Darth Vader can. After walking through the slums watching Stormtroopers harass citizens, it turns out to be a trap: Cal let himself get captured, the soldiers that were carting him through the city are part of his crew, and this was all a plan to get access to the senator's yacht. What follows is a fun heist venture that wouldn't feel out of place on The Mandalorian or even one of the animated Star Wars shows. Getting to that yacht naturally requires some bombastic heroics, and obviously things go wrong in some pretty fun ways.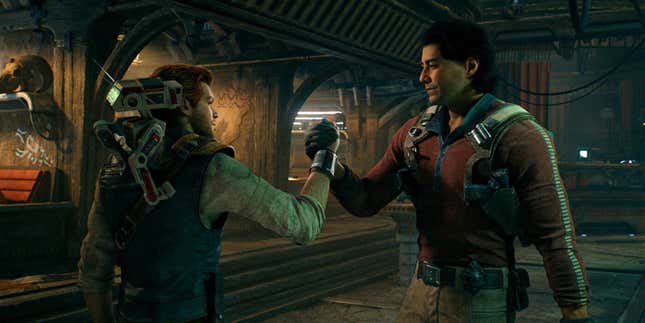 The Coruscant sequence perfectly establishes how much Cal's come into his own since Fallen Order, and shows how much Respawn has managed to understand what makes Star Wars fun, both as a video game property and just in general. Getting just enough distance from the larger goings-on of the franchise ahead of the Original Trilogy has given Respawn a lot of leeway to carve out its own niche of the Star Wars universe, and the game's second planet, Koboh, feels like it was engineered specifically as a convergence point for the franchise's recent points of interest. It's a hub town that makes it feel like Cal's stepped into a space western thanks to plucky guitar strings, prospectors, and even a friendly saloon droid. At the same time, this planet has armored raiders harassing the locals with prequel-era battle droids, and there's also ancient Jedi structures dating back to the High Republic.

It's Star Wars bullshit through and through, but done in such a fun way that it becomes endearing. What also helps is that each world in Survivor feels like a place with history behind it. It's something that's absolutely key to Star Wars media; a show like Andor or The Mandalorian lives or dies on how authentic its locations feel, and it's something Fallen Order pulls off really well. Kashyyyk's flora extends toward Cal slowly but menacingly, while Dathomir's just straight up haunted as hell, in more ways than one. The planets of Survivor are the same way, helped even more by the fact that the cast has no problem bringing up similar events on exploits that happened between the five-year time skip. While on Coruscant, Cal and his crew rattle off several adventures they've had, to the point where I eventually wanted a game about some of those jobs they pulled.
And indeed, a key word when describing both these Jedi games is "charming." Seeing Cal reunite with members of his old crew is genuinely touching in a way that's a reminder of how good this franchise can be with its cast of characters. Though I'm still working my way through the game, it seems like any desire to bring legacy characters into the story has thankfully died with Vader and Saw Gerrera back in Fallen Order. Cal and the other original characters created for these games get to stand on their own, and it's just as well, since they're all compelling in their own ways. Even both of its main villains, an area where the franchise often stumbles, feel well characterized, and they're both booked well against Cal in the instances where a clash occurs.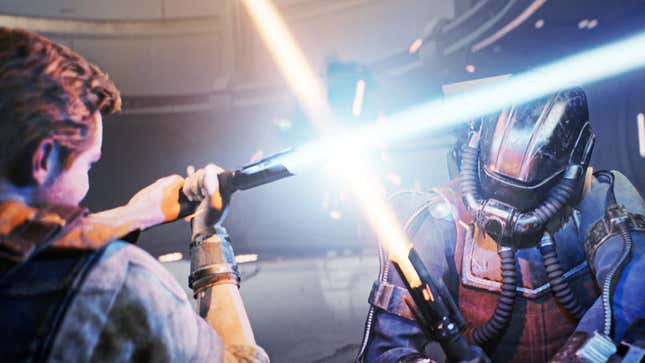 Respawn has been a reliably solid developer since the release of Titanfall back in 2014, and Jedi Survivor shows that the studio has a pretty solid grasp on the appeal of Star Wars. It's just ambitious enough to be a memorable time while not so ambitious that it could threaten to buckle under its own weight at any moment. With Star Wars games in the early days of its resurgence after being in semi-stasis for a number of years, Jedi Survivor plays the hits so strongly and consistently that it's hard not to be won over. Provided you're able to play it all, that is.

Star Wars Jedi: Survivor is out now for PlayStation 5, Xbox Series X|S, and PC.
---
Want more io9 news? Check out when to expect the latest Marvel, Star Wars, and Star Trek releases, what's next for the DC Universe on film and TV, and everything you need to know about the future of Doctor Who.