Arizona is one of the places that has made a vocal stand in support of making their skies more friendly to letting the night shine freely. Recognized as a place of exceptional nighttime beauty, Grand Canyon-Parashant National Monument is the newest Dark Sky Park.
The Big Dipper rising over Parashant at sunset. Photography credit: Nicholas Glover
Marketing itself as "The Place Where the West Stays Wild," Grand Canyon-Parashant National Monument in Arizona stretches over a million acres. Recognized in March 2014, Parashant is the newest Dark Sky Park. It is also the first park under the stewardship of the US Bureau Of Land Management, in partnership with the Dark Skies experienced National Park Service.
With no support facilities and only 13 structures within the entire region, this park required minimal retrofits to qualify for its dark-sky status. It is a patch of unusually dark skies within the southwest, without many nearby urban centers encroaching with unfriendly night-time lighting.
G/O Media may get a commission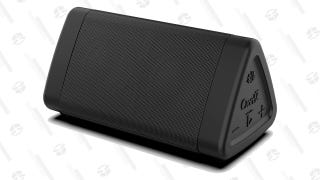 Save 31%
Oontz Angle 3 Portable Bluetooth Speaker
Urban light centers near Parashant. Image Credit: NPS/BLM/Dark Sky
Cities along the I-5 Interstate corridor bleed some urban light pollution into the northwest region of the monument, with Saint George, Utah and Mesquite, Nevada nearby. The exuberantly-li Las Vegas is farther away, but those dazzling nocturnal displays spill over the horizon to produce a distinctive bubble of low-to-the-horizon light pollution.
Light pollution sources from nearby urban centers. Image Credit: NPS/Dark Sky Survey
The park is surrounded by other parks, reservations, and private land-owners who are all willing to modify their lighting to be dark-sky friendly in an effort to create a buffer of darker skies. The local commitment is so high that nearby Vermillion Cliffs National Monument and the Hualapai Indian Reservation will potentially seek out dark sky status in the not-so-distant future. Park Service director Jonathan Jarvis offers other parks encouragement, explaining, "The night sky is something you can restore. It's not gone, it's still there and all we have to do is pay attention to our lighting."
Composite image of a last-quarter moon against the starry skies of Parashant. Photography credit: Nicholas Glover
Parashant is located in the sunny southwest of the United States, within a rain shadow that results in an average of 150 to 180 clear nights per year. The park spans almost 2 billion years of geologic history. Undeformed, exposed outcrops of sedimentary layers from the Palaeozoic and Mesozoic offer a glimpse at the geologic history of the Colorado Plateau, and invertebrate fossils are common within the Monument.
Poster for the Parashant Dark Sky Park. Image credit: Tyler Nordgren
The park is open all day, every day, with no fee to access. However, during monsoon season the unpaved roads can get impassible, and the park requires some preparation and common sense to navigate safely. You can stay within the park up to 14 days in a row, using primitive camp sites to get all-night access to the gloriously dark skies.
Arizona too far away for a summer vacation? Maybe a Dark Sky Park in Utah or Texas is more appealing.