Whether you want a fun beach read or a sweeping philosophical epic, June's books have you covered. You can encounter witches in Toronto and killer courtesans, or you can delve into America's dismal future, or Alastair Reynolds' eon-spanning colonization saga.
The Enchantment Emporium, Tanya Huff (DAW)
In this urban fantasy, Allie Gale's grandma disappears, leaving behind a strange shop that sells magical supplies to the local witch population. When Allie takes it over, she's suddenly involved in a mysterious struggle within the Canadian magic community. If you ever wanted to speculate about the witch population of modern Toronto, this is your book.

G/O Media may get a commission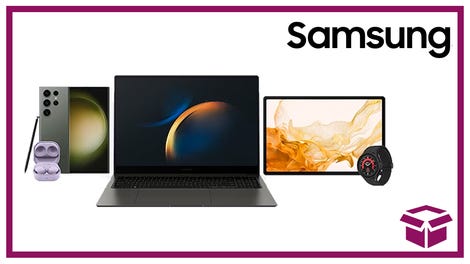 24 hour deals
Discover Samsung - Daily Deal
Naamah's Kiss, Jacqueline Carey (Grand Central Publishing)
From the io9 review:
This is a novel of pure adventure, with a kick ass heroine who gets to fight, do magic, and get laid just like the swashbuckling heroes of old. It's a perfect beach read. And the best part is the Jacqueline Carey is extremely clever – don't let her fool you with all that romantic frippery. She manages to slip a lot of interesting, subversive messages into this swords-and-sorcery tale.
The Women of Nell Gwynne's, Kage Baker (Subterranean)
The women of a Victorian brothel are hired to cater to the needs of a party of businessmen holding an auction for a mysterious piece. They find themselves quickly involved in intrigue and espionage, in a story with flecks of steampunk and classic mystery. We reviewed it (along with a couple of other Baker books) here.

Wild Thyme, Green Magic, Jack Vance (Subterranean)
This career-spanning collection of stories from Jack Vance includes a wide variety of genres, including a few science fiction stories about other worlds. Vance's ability to build worlds has been praised by Frank Herbert, Poul Anderson and Robert Silverberg.

Fragment, Warren Fahy (Delacorte)
A reality show crew on a ship stumble on an island ecosystem inhabited by parallel-evolved monsters. From the io9 review:
If you like monsters and mad science - and who doesn't? - this is the perfect book to take on your vacation or on that long plane ride to a remote island. However, if you're looking for characters who move outside of two dimensions, you might want to give this one a pass.
The Year's Best Science Fiction 26, edited by Gardner Dozois (Griffin)
I'm a sucker for well-complied science fiction anthologies, and this one appears to be no exception. Including 30 stories from masters and new writers alike, this collection also has an extended list of honorable mentions. It looks like a pretty hefty resource for the short story geek.

Green, Jay Lake (Tor)
A fantasy / steampunky tale of international espionage and mythology. From the io9 review:
At times unsettling but always compelling, Green abounds with intrigue and adventure. A feminist fable lovingly written with a father's hope and concern for his daughter's future, Green is the story of a strong-willed young woman trying to find her place in a world that would rather ignore her. Green will not be ignored.
A Monster's Notes, Laurie Sheck (Knopf)
This novel turns inside out one of the oldest science fiction stories. The story imagines Frankenstein's monster not as Mary Shelley's creation, but as her companion, consoling her in a time of sorrow. He discusses with her all of the facets of humanity, trying to understand human connection in a world where he doesn't belong. It's a tale of speculative alternate history, couched in a story of compassion and companionship.

Julian Comstock: A Story of 22nd-Century America, Robert Charles WIlson (Tor)
A speculative future of post-oil America. From the io9 review:
Peak oil has left the world a churchy, early-industrial shambles in Robert Charles Wilson's new novel Julian Comstock. An engaging cross between post-apocalyptic series Jericho and Susanna Clarke's Jonathan Strange & Mr. Norrell, it may be the best science fiction novel of the year so far.
Haze, L.E. Modesitt Jr. (Tor)
An agent of the now-Chinese-run Earth investigates a planet surrounded by a haze of nano-satellites. He finds an eerily familiar world of superior technology.

House of Suns, Alastair Reynolds (Ace)
This book came out a little while back in the rest of the world, but this month marks its publication in the United States. It's a space opera of post-humanity and colonization, with the added twist of relativistic travel. As a result, this novel chronicles a mystery distorted by time. It's certainly nice to see a space epic that explores some of the complexity of actual interstellar travel. We reviewed it here.
The Strain, Guillermo Del Toro and Chuck Hogan (William Morrow)
Master of Horror Guillermo del Toro brings vampires back from their whiney post-Buffy image. From the io9 review:
The Strain is a breakneck thrill ride chronicling only the first four days of the vampire plague that may destroy civilization. The cinematic quality really comes though, making the book feel more like a action blockbuster than a thought-provoking horror novel.