We're jam-packed with spoilers today, as Zack Snyder talks Superman, Damon Lindelof talks Star Trek, Ghostbusters 3 might be a go, The Hobbit casts every awesome British actor ever, The Hunger Games looks for a lead, and much, much more!
Superman Reboot:
Director Zack Snyder confirmed the rumors that this focuses on Superman's early days, although don't expect it to follow the story beats of any of the fifty different origin stories for the Man of Steel:
"As I have already explained, the film will focus on early days of Superman, so there will be no links with other films. This is not a remake then. Similarly, although I still can not talk about the script, I can assure you that this new Superman will not be based on a comic book in particular."
[Bleeding Cool; by the way, if Snyder sounds a bit stilted, it's because that's a French to English translation of the original article in Films Actu.]
The Flash:
Bradley Cooper says he's never heard anything about being considered for the lead role. It's a pretty definitive denial, so if you're holding out hope for Cooper as Barry Allen, I guess you'll have to just hope Warner Bros. hasn't contacted him yet. [Superhero Hype]
G/O Media may get a commission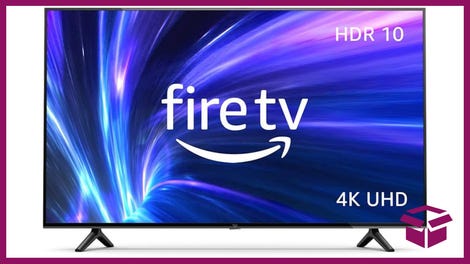 42% Off
Amazon Fire TV 50" 4K Smart TV
The Avengers:
Morena Baccarin addressed the rumors that Joss Whedon was going to cast her as Janet van Dyne, the Wasp:
"I wish I had more information for you. All I will say is I will never turn down an opportunity to work with him. He's one of my favorite people in the world."
By all accounts, neither the Wasp nor Ant Man are in this Avengers movie, and it's unclear whether the Wasp would even figure in Edgar Wright's long-simmering Ant Man movie. [Access Hollywood]
The Hobbit:
I feel like the updates for this project are the film industry equivalent of Zeno's paradox, in which we keep getting a little closer to this thing being officially green-lit, but it's still somehow infinitely far away. Anyway, New Line and MGM have supposedly sorted out the financing aspects, Peter Jackson's contract is ready, and the film is set for a February 2011 start date...but there's still the whole problem with the New Zealand unions, which may cause production to decamp to Eastern Europe. So, keep waiting, I guess. [SFGate; thanks to Brandon Watson for the tip!]
Still, with the official announcement seemingly close at hand, there are a ton of rumors flying about as to who will be joining the cast. Ian McKellan and Andy Serkis are reportedly expected to return as Gandalf and Gollum, and Martin Freeman is reportedly very close to playing Bilbo Baggins. Then there are a trio of pretty awesome names who are being sought for still unspecified roles: James Nesbitt (Dr. Jekyll in Steven Moffat's recent BBC adaptation), Michael Fassbender (the new Magneto, meaning this movie would star both incarnations of the mutant), and Tenth Doctor David Tennant. Combine that with Seventh Doctor Sylvester McCoy's statements that he's close to taking on a role as well, and The Hobbit might just be the awesomest multi-Doctor story ever. (While we're at it, I'll just throw it out there: please cast Tom Baker as Beorn. Hmm...maybe not.) [Deadine]
I'm.mortal:
Johnny Galecki, who plays Leonard on The Big Bang Theory, has reportedly been cast as Justin Timberlake's best friend. Galecki reportedly plays an alcoholic father who wastes his family's time (literally). [Hollywood Reporter]
Star Trek 2:
Co-writer Damon Lindelof says that we shouldn't be too worried about who the villain is in the next one, because Star Trek isn't really about villains:
You have got to write the movie for yourself and we are obviously aware of what people are saying on the web and we are interested in it, but at the same time Trek is not about villains, it is about the crew and their relationship with each other – that family. If the villain helps sort of flesh that out and bring that to life, then we have hit a home run. It really doesn't matter who it is, it is not like the Batman movies where you are like "OK they have done the Joker, how do you one-up the Joker?"
Karl Urban is pretty sure the movie will start filming next August. [Moviefone]
Wolverine 2:
Darren Aronofosky is reportedly still very close to officially signing on, and production is ramping up for a March start date. The film will reportedly start shooting in New York and then move to Japan for the bulk of filming. [Deadline]
Ghostbusters 3:
Sony executive Stefano Paganini has what seems like a fairly big update on the status of the project, which is kind of weird because he made the announcement at, of all places, Rome's Ghostbusters Day 2010:
"I spoke about this night with my boss from Los Angeles. She allowed me to let you know that the script of Ghostbusters 3 has been approved so the engine has been turned on!"
Elsewhere, Sigourney Weaver seemed to confirm, or at least lend some additional credence to the reports that Dana's son Oscar is leading a new generation of Ghostbusters:
Yes, I got a call from Ivan Reitman. I think everyone who's involved would love to get together again. I think everyone's working on really trying to create a wonderful original story. I just said, "That would be fun and please make sure my little son Oscar grows up to be a Ghostbuster." And he said, "Absolutely." Then I think he directed this other film and is busy editing it, so it kind of got put on hold. But I would be surprised if we didn't do it.
Alien Prequel:
Sigourney Weaver was asked whether she will be involved in this project. She doubts it, what with it being a prequel and all, but she does have one idea for a role she could play:
Do you get to be involved with that at all?
I don't think so, because it's a prequel. Certainly not as an actor, but if they needed help with the story, I could probably help them because I probably have a good sense of what people appreciate in the series and what they don't care about. So I hope they'll ask me.
She was also asked about a much more hypothetical Alien movie that would more directly involve her, namely... [ShockTillYouDrop]
Alien 5:
She says that she would, in theory, like to make another one, although she's doubtful it will happen:
You know, it would be interesting for me to go back now and revisit the character, an older Ripley. But I can't really see how to do that. I think it's probably a better idea to do the prequel and start fresh with only whatever the "Alien" community might be. In terms of the character, it would be awesome to be able to play a woman like Ripley at my age. I certainly think the audience would be fine with it. To show how capable an older person is in something difficult, in a situation that's difficult. So I don't know, life is a strange thing. Maybe something will pop up where I can maybe combine some of the elements that made Ripley so special.
If it ever does happen, it sounds like Weaver's vision for the film might not be quite as action-intensive as the ones before:
Because we were thinking about doing this fifth one and I didn't really want to go ahead and do it and do it on earth, so we kind of left the sentence unfinished. There's something slightly unfinished to me about it. Again, it's not something I really sit around... I would have liked to see Ripley try to have a normal life, try to find happiness, at least for a little while. I feel we owe her that.
Pride and Prejudice and Zombies:
After the departures of director David O. Russell and star Natalie Portman, the project may have found some suitable replacements. Scarlett Johansson will reportedly take over as Elizabeth Bennett, while Bradley Cooper is reportedly in line for Mr. Darcy. The directorial candidates reportedly include Twilight: Eclipse director David Slade, who was the runner-up for both Wolverine 2 and The Hunger Games, as well as Prince of Persia director Mike Newell and Neil Marshall, the beloved (at least around these parts) auteur behind Doomsday. [Deadline]
The Hunger Games:
The script is reportedly finished, and two actresses have confirmed they have been sent the script, presumably because they're under consideration for lead role Katniss Everdeen. Skins actress Kaya Scodelario and Kick-Ass/Nikita actress Lyndsy Fonseca both say they've gotten the script. There are also rumors that Fonseca's Kick-Ass costar Chloe Moretz is lobbying for the role as well, although I suspect we're going to hear Moretz being rumored for every young genre role for the next five to ten years. [EW]
Judge Dredd:
Karl Urban says they're 6-8 weeks away from shooting, and he reaffirmed the movie is "going to be pretty hardcore, action-packed." [Moviefone]
Journey 2 - The Mysterious Island:
High School Musical and Sucker Punch star Vanessa Hudgens is reportedly in final negotiations to join Josh Hutcherson, Dwayne Johnson, and Michael Caine in the Journey to the Center of the Earth sequel. Hudgens will reportedly play a Pacific Islander who ends us falling for Hutcherson after she gets mixed up in their adventures. [The Hollywood Reporter]
Melancholia:
Danish director/crazy person Lars Von Trier is making a film about the end of the world, because apparently he's tired of making light, upbeat fare like Breaking the Waves and Antichrist. He explains that his movie starts with the end of everything, just to get it out of the way, and then he will show us what led up to it:
In 'Melancholia' I start with the end. Because what is interesting is not what happens but how it happens! So we begin by seeing the world being crushed, then we can tell the story afterwards… In this way you don't have to sit and form theories about what will happen, but can delve down into some other levels and become interested in the pictures and the universe – that's what I imagine.
The movie stars Kirsten Dunst and Charlotte Gainsbourg as sisters, with Dunst spiraling into depression after marrying Alexander Skarsgard. His father Stellan Skargard, John Hurt, and Kiefer Sutherland are also in the cast. By "the world being crushed", Von Trier apparently literally means Earth will collide with another planet, and part of the plot involves Dunst telling her nephew about a special cave where he can survive the apocalypse.
Von Trier also laid out his vision for how the two sisters respond to the coming cataclysm:
"There are beautiful pictures as [the melancholic sister] is just standing there looking at the planet that comes closer and closer and accepts it. The other woman, on the other hand, becomes increasingly panicky. It could be beautiful if 'Melancholia' could become this big submission. That is why it's so awesome that the planet devours the earth. It's like no more lying on the hilltop and looking at the larks. I think the larks will go too."
[Politiken via /Film and CinemaBlend]
Transformers - The Dark of the Moon:
It definitely appears that the Autobots get exiled in the latest Transformers movie, at least based on some "Autobots go home" graffiti and an in-movie news report all about their forced departure. Check out the link for more details. [ComicBookMovie]
The Green Hornet:
A pretty cool new poster is out: [/Film]

Fringe:
Here's a sneak peek at the next "over there" episode, "Amber 31422": [Fringe Spoilers]
And a promo for the same episode: [Fringe Spoilers]
Here are some set photos. There are also a few set videos at the link: [Saulo Quirino's Picasa via SpoilerTV]

Doctor Who:
Resident Doctor Who spoiler god bluehinter has a little more info on who Mark Sheppard is playing - according to Sheppard's CV he will be in the season-opening American two-parter as a character called Canton. He's also supposedly listed as a "guest-lead", which means he's about as big a guest star as you can be in a Doctor Who episode (at least without getting your name in the opening credits).
When asked about the possibility of a Doctor Who movie, Matt Smith says he would love to do it, and somewhat implied it would be a way to keep him in the role longer:
'I'd definitely be up for staying on if they did a film - hell yeah. I would be thrilled if there could be a movie version. I want them to do it. There is something brilliantly televisual about Doctor Who, but I think it could definitely work as a film.'
Chuck:
A synopsis is out for episode 7, "Chuck vs. the First Fight":
CHUCK GOES ON A ROGUE MISSION AS HE AND SARAH FACE THEIR FIRST RELATIONSHIP CRISIS - LINDA HAMILTON, ANA GASTEYER AND TIMOTHY DALTON GUEST STAR - After their first real fight, Chuck (Zachary Levi) avoids confronting Sarah (Yvonne Strahovski) by going on a rogue mission that leads him to his mom's MI-6 handler, Gregory Tuttle (guest star Timothy Dalton), and a mysterious Russian agent (guest star Ana Gasteyer). Meanwhile, Ellie (Sarah Lancaster) is on her own mission to uncover the Bartowski family's long-buried past.
[ChuckTV]
Star Zachary Levi is reportedly directing episode 10, "Chuck vs. the Second Leftovers." [ChuckTV]
The Event:
Necar Zadegan, who played Omar Hassan's wife on the last season of 24, will reportedly play a recurring role as Isabelle, who is apparently a "mysterious character." Oh, I know, I'm shocked too. [The Ausiello Files]
No Ordinary Family:
Here's a sneak peek at the next episode, "No Ordinary Vigilante": [SpoilerTV]
And a few promo photos for episode 5, "No Ordinary Quake": [SpoilerTV]

Supernatural:
A promo is out for the next episode, the awesomely named "Live Free or Twi Hard": [SpoilerTV]
Here's a short synopsis for episode 7, "Family Matters":
DOES SAMUEL HAVE A SECRET? - Dean (Jensen Ackles) becomes suspicious of Samuel's (guest star Mitch Pileggi) motives, but Sam isn't sold on the idea that their grandfather is doing anything wrong. The brothers go along on a hunt with Samuel and the other Campbells, but things go terribly awry.
Caprica:
Here's a promo for the next episode, "Things We Lock Away": [SciFiScoop] Click to view

Stargate Universe:
Synopses are out for episodes 5 and 6, "Cloverdale" and "Trial and Error":
Episode 2.05 - CLOVERDALE

While investigating a planet with his team, Lt. Scott is infected by an alien organism that affects both his mind and body.

While exploring a new planet, Lt. Scott encounters an aggressive plant-like creature that attacks and infects him. Unable to risk bringing an alien contagion back to Destiny, Tamara searches for a way to stop the alien infection from spreading. Scott meanwhile, drifts in and out of consciousness, hallucinating an ideal life back home on earth. As the infection spreads dire reality begins to seep into his dream state. With the more alien organisms surrounding the gate and closing fast, time may well run out on Scott.

Episode 2.06 - TRIAL AND ERROR

A series of realistic visions cause Col. Young to question his ability as commander of Destiny.

Col. Young is plagued by a recurring vision wherein Destiny is attacked and destroyed by the same aliens who abducted Dr. Rush and Chloe. Believing it to be a prophetic warning, he orders the science team to focus on restoring the ship's weapon systems and places the crew on high alert. Dr. Rush visits Chloe in isolation, hoping she might look over some calculations he's been working on - but Chloe is more concerned with the alien influence that has begun to affect not just her mind but her body as well. Eventually, Col. Young goes to Wray and admits his fear that he may be losing his mind. But when Destiny drops out of FTL and remains adrift, Rush and Eli suspect that the Colonel's strange visions may be the key to getting the ship back on course.
Here are some behind-the-scenes photos: [Susan Gittins's Flickr]

The Incredible Hulk TV Show:
Stan Lee weighed in on the possibility of a new show about the Hulk, in the process demonstrating once again why Stan Lee is pretty much the most awesome person ever:
"I think the potential for a successful Hulk TV show is greater now than ever. For one thing, think of the sensational special effects available to us now, plus the fact that ol' green skin is known and loved world-wide. Factor in a cameo by me and how can it miss?"
V:
Ready or not, a premiere date for season 2 has been set. The show comes back January 4, 2011. [SpoilerTV]
Smallville:
Here's a promo for the next episode, "Isis": [KSiteTV]
And a few promo photos: [OCSK]

Here's a new synopsis out for episode 7, "Ambush", which sadly does not appear to guest star Ambush Bug:
GENERAL LANE AND LUCY LANE RETURN TO SMALLVILLE FOR THANKSGIVING - The General (guest star Michael Ironside) and Lucy Lane (Peyton List) decide to drop in on Lois (Erica Durance) and Clark (Tom Welling) for a surprise Thanksgiving dinner. Clark and the General get off to a rocky start after Lois' father bashes the superheroes and tells Clark he is trying to pass a vigilante registration law. Meanwhile, in an effort to stop the vigilante registration act from being passed, Rick Flagg (guest star Ted Whittall) lies to Lucy in order to lure Clark away from the farm long enough for him to assassinate the General. Lois is torn between making her father proud and her love for Clark.
[OSCK]
Additional reporting by Chelsea Lo Pinto and Charlie Jane Anders.