Last year, Surefire released an innovative new line of "WristLights." But, at $800, they were way too expensive for most people. This new 2211X costs just $170 and is just as bright. How's it work?

What Is It?
The original WristLights were targeted strongly at law enforcement, military and other handgun users. Not only is that Surefire's traditional audience as a maker of extremely high quality flashlights, gun suppressors and other tactical equipment, but it filled a need in the marketplace for a light that could double as both a weapons light for pistols and a practical carry light for general use. You don't want to pull your pistol out just to see things in the dark.

That's why the the 2211's light is angled up at an angle from your wrist, it points straight ahead when strapped to your support hand gripping a pistol two-handed.

This new 2211X now uses a replaceable CR123 battery, does without an attached timepiece and houses its Cree XM-L LED in a faceted reflector optimized for flood.

G/O Media may get a commission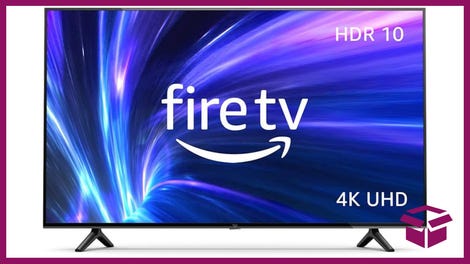 42% Off
Amazon Fire TV 50" 4K Smart TV
At max brightness, it puts out 300 lumens with a 1.5-hour runtime. Medium is 60 lumens/7.0 hours and low is 15 lumens/13 hours.

No IPXX water/dust proof rating is stated, but the screw-off end cap is fitted with a rubber o-ring. We'd consider it weatherproof, but probably wouldn't wear it in the shower.

Who's It For?
Fitted with a nice Luminox timepiece, the original 2211 is about the size of a large sports watch, allowing you to carry wrist-mounted illumination around with you day-to-day.

This 2211X is considerably larger and would not only look ridiculous worn casually, but gets in the way of putting on clothes, moving through doorways and entering/operating vehicles. So, instead giving you an Every Day Carry option, it's more something you strap on to walk the dog at night or take camping.

In those environments, it gives you an easy way to carry serious lighting in a quickly accessible format. Compared to a handheld light, it gives you quicker access since you don't have to fish that out of a pocket or holster. Compared to a headlamp its, well, not around your head being annoying.
And the 2211X retains its applicability to handgun users. Strapping a weapons light to a gun is great, but can rule out the use of many holsters and the added bulk may interfere with comfortable, seamless concealed carry. The light is floody enough that even if it doesn't line up perfectly with your sites, it still provides a wide enough beam to facilitate easy target acquisition and at 300 lumens is bright enough to impair the vision of anyone who has it shining in their eyes.
Its equally applicable to most traditional headlamp users too. While it won't work great for trail running or mountain bike riding if you require constant illumination, it does provide excellent close-up illumination for small jobs like under-sink work or reaching deep down inside the engine bay of your car. In those roles, it's actually superior to a headlamp in that it carries illumination to your subject, rather than potentially placing it in shadow due to obstructions between the thing being worked on and the top of your head.
Design
It's a big lump of black plastic you wear on your wrist, fitted with a cheap, non-changeable black nylon band. It's also huge, as you can see.
This is not something you're just going to throw on and forget or something you'll be wearing day-to-day. Its elephantiasis means its only something you'll grab when it's needed.
Having said that, it does at least appear to be extremely well made, like other Surefire products. It should last forever.
Using It
I'm not a huge fan of headlamps, nor someone who leaves a light on outdoors throughout the night. So, I actually really like wearing the 2211X when I might need some illumination. It's right there, on my wrist when I need to click it on for a few seconds; carrying it is much easier than carrying a light of similar output in my pocket and much less invasive to wear than even a small, light headlamp like the FourSevens Atom ALR2 w/Headlamp Kit.
Operation is simple. You click the prominent button on top once for high and can cycle through the other levels with a quick series of pushes. It always turns on in high though, requiring you to be quick on the push to avoid being blinded if 300 lumens is too much for a given task.
And make no mistake: despite the acceleration of claimed lumens from cheap flashlights, a genuine 300 lumens from Surefire is bright. It's much more than enough to dramatically light up a room in the dark and much more than enough to walk down a dark trail. Set up for flood, that light only travels about 100 feet on high, but lights up everything within that range.
The 60 lumen medium is a much happier setting for most such lighting tasks. Heck, even the 15 lumen low is fine.
But that's also a problem. 15 lumens is too bright for many close-up, nighttime tasks where you don't want to totally give up your night vision. Want to quickly consult a map in the dark? a 1 lumen moonlight mode would work much better.
The 2211X gives you the ability to carry the light hands free, like a headlamp, yet also gives you the ability to reach with the light, like a handheld. That's a neat combination, giving you the ability to easily and quickly insert the light under a sink or car, inside a wheel well or into a nook or cranny. Unfortunately, this ability is somewhat reduced by the extreme size; most modern cars have incredibly tight engine bays into which you can barely fit a man-sized hand. There's no way the 2211X will fit too.
Like
The convenience and seamless carry of a headlamp paired with the maneuverability of a handheld light.
Very bright and very floody, perfect for blasting light into enclosed areas at night.
Angled head points straight ahead when using hands to hold stuff or do work.
Excellent run times.

Artifact-free pattern.

Prominent bezel surrounding on/off button prevents accidental activation.

Lifetime quality.

Really does work well with a handgun, even if it isn't as quick or as seamless to operate as a weapon-mounted light.
No Like
Just way to monumentally large to work as an EDC light, which would otherwise be an ideal use for a wristlight.

Turns on in high-only.

Doesn't get dim enough for close-up nighttime work.

Cheap-looking wrist band is comfortable and secure, but can't be swapped out for nicer-looking alternatives.
Should You Buy It?
I really like the 2211X as an outdoors light, it really is easier to carry than a handheld. It won't work as well as a headlamp if you need constant illumination for running or cycling, but is otherwise a solid alternative.
But it isn't an EDC light. For that it's just too bulky, which is a real shame. Here's hoping Surefire comes out with something smaller and nicer looking to fill that gap.
IndefinitelyWild is a new publication about adventure travel in the outdoors, the vehicles and gear that get us there and the people we meet along the way. Follow us on Facebook, Twitter, and Instagram.