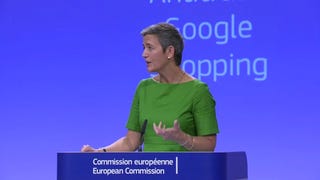 This morning, government regulators in Europe hit Google with a record €2.42 billion fine, roughly the equivalent of $2.7 billion US. The search engine company was found to be manipulating search results to favor its own shopping service, a violation of antitrust laws. And if it doesn't fix the problem within 90 days…
Nine chip makers—including heavy hitters like Samsung and Hitachi—have collectively been fined $404 million by the European Commission over DRAM price fixing. Cartels: they're not just for drug lords anymore.
Microsoft has agreed only to hold your personal information (read: darkest secrets] for six months, while Google and Yahoo will continue to keep them much longer to "improve search quality." By which, of course, they mean "ad revenue."
Proprietary chargers are supremely annoying, but they're also an affront to consumers and the environment, according to the European Commission. They want a universal charger, and surprisingly, manufacturers are happy to oblige. UPDATED
• Warner Bros. set up a hotline to replace HD DVDs found in Harry Potter: Goblet of Fire Blu-ray packages. I love Harry Potter news. [HD Digest]
• British drivers caught using their cellphones may be sent to jail for two years and face an extremely scary sounding "unlimited fine" under new laws published today. […