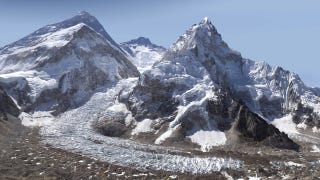 Not only has filmmaker David Breashears climbed Mount Everest on five different occasions, he's visited the world's tallest peak 15 times in his career as he works to document the effects of climate change on the mountain. And fortunately for those of us who will never have the chance to see Everest in real life, let…
Suppose you've been given a few weeks to live, but you've decided you don't want to spend your last days in a hospital bed. What if you decide, "Today is a good day to die," in a suitably stentorian Klingon voice? And you want a method of self-annihilation that's both interesting and nearly pain-free?
Even though four people died trying to climb Mount Everest last weekend and even if reaching the summit costs more than a Porsche, it's not stopping people from attempting to scale the highest point on Earth. In fact, there's so many people trying to climb Mount Everest that it's causing a human traffic jam.
Alan Arnette has an excellent post on Outside detailing the costs of reaching Earth's highest summit, Mount Everest. I've never thought about it before but it totally makes sense that there are a lot of things that go on to make that climb, right? And all those things cost a lot of money! Like $83,000 a lot of money.
There aren't many sights in nature more breathtaking than Mt. Everest—especially when put against the unexpected backdrop of these stunning rainbow clouds. Captured by photographer Oleg Bartunov on a recent journey through the Himalyas, the phenomenon is the result of light reflected off of minuscule ice crystals in…
Instead, photographer Anton Jankovoy spent months camping out at the foot of Mount Everest, waiting for the right moment to capture the "star trails" with his camera in a single shot. The photograph itself takes hours to capture, as the stars move slowly through the sky. [Daily Mail]
If I had $1,000 spare, I'd buy one outfit for the winter months: a First Ascent Peak XV down-suit. I could save money from not having to heat my house, I suppose. Sorry, visitors. [EddieBauer via DoobyBrain via Likecool]
Apparently it isn't cool enough just to climb Mount Everest anymore. Once Rob Bader reaches the summit, he will attempt the world's highest cellphone call.