We're all psyched for The Lego Batman Movie. It's Lego, it's Batman, and the trailers have been wonderful. At CinemaCon 2016, Warner Bros. showed a nice long clip from the film, and it centered on the genius way Robin is introduced to this world.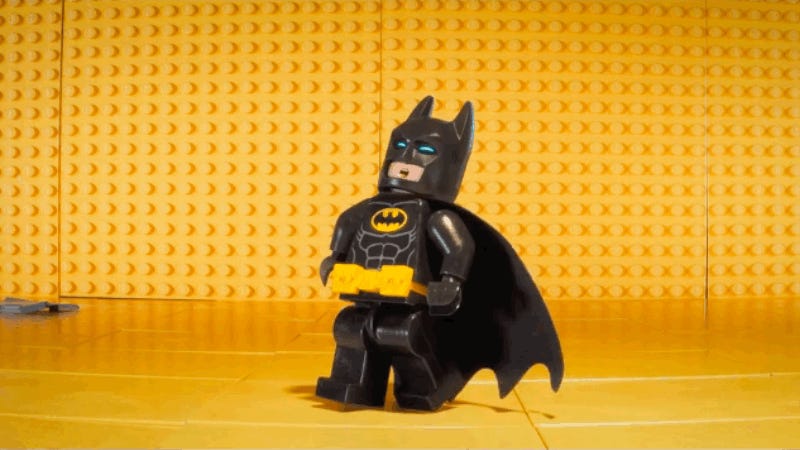 Not content to give us just one teaser trailer, The Lego Batman Movie has graced us with a second one in a week, this time featuring Alfred confronting Batman as he talks to the giant portraits of his dead parents.
A plastic Dark Knight was arguably the best character in The Lego Movie and it would seem that fans everywhere agreed. According to the Hollywood Reporter, the first spinoff of the film will be a Lego Batman feature that could be in theaters in a little over two years.
Final proof that monsters are among us! A video from 1983 shows the Missing Link, voiced by Will Arnett, terrorizing the Boogiecise aerobics crew. More evidence of a monster-coverup conspiracy?
The old K.I.T.T. is apparently dead in the new Knight Rider television movie. He'll be seen in glimpses by keen-eyed viewers, and referred to by the characters, but his motherboard is buried in the guts of the new K.I.T.T. That means he's inside an entirely new body, which serves as a sort of morbid living, driving…
Is it super-lame once you see it in motion, or did that sentient A.I core in the heart of the car accidentally activate a suck circuit? If you want people to get excited about an upcoming show about a supercar, you'd better damn well show us the car. Now, we could understand the secrecy if no one had any idea what…