If you hate your life, pause, and consider that it could be much worse: "I get calls at quarter to 12 on New Year's Eve," says Ralph Ammirati, who tends to the maxed out aquariums of New York's megarich.
The NY Times paddles into the at once incredibly cool and incredibly grotesque world of people who have enough money to agonize over which tint to colorize their $600 fish: "Not pink," muses one TriBeCa resident. "Alan, go to the turquoise." Her 450-gallon aquarium, controlled by a remote touchpad, can be filled with a variety of lights—though blue is the favorite. "I think they like that," quips her husband, as he stares into the deep. The lighting gear runs on the same software that powers Broadway performances and rock concerts, Alan likes to tell guests.
Mega-aquariums are supplanting expensive cars, attractive children, and ugly art as the go-to status symbol of the conspicuously consuming, according to Christopher Stevens, a Manhattan-based interior designer. "They have a collection of cars, of motorcycles, of art, they have three dogs," Mr. Stevens said. "It's like, 'What else, what's the next thing to wow my friends?'" This sounds like a serious problem!
G/O Media may get a commission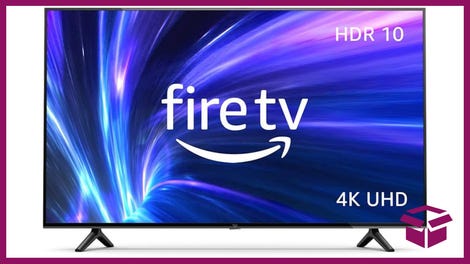 42% Off
Amazon Fire TV 50" 4K Smart TV
The serious answer? Vast volumes of imported saltwater, $6,000 pet sharks, and increasingly daring designs. Case in point: a 700-gallon (enough to fill midsize car) tank, weighing 6,000 pounds, suspended from the ceiling of a West Village townhouse. The setup is so large that the requisite pumps and filters occupy an entire walk-in closet and part of the building's rooftop.
But, whatever, that's just a rectangular tank. Even from the ceiling, that's so pedestrian. Those looking for more aquatic oomph might choose to install the also ceiling-mounted Spacearium—available in sizes from five to eight feet long—which conceals its own pumping and filtration machinery and offers a 360 degree view of its insides, like a floating LCD screen. Only, you know, more expensive by an order of magnitude.
Who is buying these supertanks? Not sea creature enthusiasts: "I would say 95 percent of our residential customers never had an aquarium before," says a luxury aquarium purveyor, "and weren't even considering one in the first place until they bumped into our product in a magazine or shows." Let this put your most recent impulse buy in perspective.
And now, back to my apartment hunt. Does anyone in TriBeCa have room for me in their tank? [NY Times]
Photos by Robert Presutti and Trevor Tondro for The New York Times