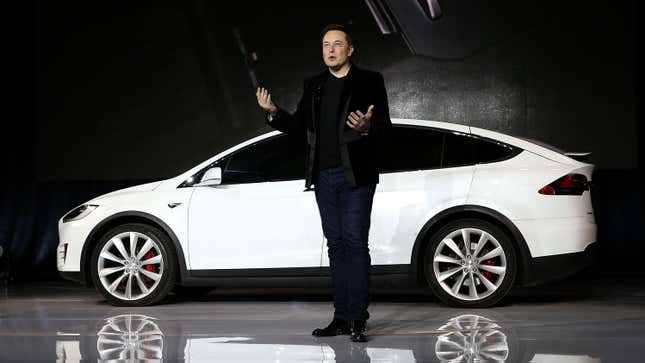 Tesla CEO Elon Musk, known as "Mr.Tweet" by some attorneys, resumed testifying Tuesday before a nine-person jury in a securities fraud trial stemming from his 2018 tweets proclaiming his intention to take Tesla private at $420 per share. That figure, Musk said under oath the day before, has absolutely nothing to do with cannabis.
Tesla Investors Not Happy With Mr. Tweet's Tweets
Lawyers representing angry Tesla investors want to prove Musk's infamous "funding secured" tweets were "indisputably false," and wound up costing shareholders tens of millions of dollars in losses. Musk told the jury he'd never had trouble raising money before, so he didn't think he would at the time he sent the tweet.
The stakes are high. Musk, on the other hand, wants the jury to believe funding was in fact secured, at least in his mind. If the jury sides with the shareholders, Musk may have to pay out billions in damages.
"I said exactly what I felt to be true," Musk added. The CEO hedged that statment by saying he was "considering" taking the company private, which does not necessary mean the deal was guaranteed to materialize.
"I'm making it very clear that either scenario is possible," he said. "We may go private or we may not."
Musk began his testimony Wednesday on a combative note, firing back at the law firm representing the suing investors.
"I do not believe they actually represent the shareholders," Musk said. Those comments quickly drew the ire of the investors' lawyer and Judge Edward Chen, who asked to have the fiery comment stricken from the record.
The CEO doubled down on his claims that he absolutely intended to take Tesla private when he penned his fateful tweet. Must claims he pushed out the funding secured tweet to his millions of followers to inform the largest number of shareholders possible about the plans to go private rather than a select few Tesla board members who knew at the time.
"I intended to inform them [shareholders]" Musk said "I thought I was doing the right thing."

The CEO claims he ultimately decided against taking Tesla private because small investors told him they would prefer to remain public. Musk claimed he speaks to those so-called small investors regularly on Twitter. He then said he invites small investors to ask questions on earrings calls.

The investors' change of heart, he claims, wasn't because he lacked necessary funding. Musk went a step further and said there was actually more than enough funding available, due in no small part to his self-professed skill in raising money.
"Every financing round I've had has been oversubscribed," he testified. "It's not a problem for me to raise money. I've done a good job for investors and if you do a good job, they give you money." Must went on say he has "one of the best track records" for raising money of anyone in the world.
Lawyers representing the Tesla shareholders cast doubt on that narrative. While Musk previously said the head of Saudi Arabia's Pubic Investment Fund "unequivocally" wanted to take Tesla private, Musk revealed the two did not settle on an actual specific dollar amount.
In response, Musk once again said he could have personally taken Tesla private by selling his shares in SpaceX. Musk compared this hypothetical move to his recent decision to sell Tesla stock to help fund his $44 billion purchase of Twitter. It's unclear if Musk had previously disclosed any intention to sell SpaceX stock to finance the Tesla take private deal.
"It's not something I would like to do, but it's something I could do," Musk said, comparing the financing option to selling a home. "I really didn't want to sell SpaceX stock but I could have done so."
In his two previous days on the witness stand, Musk and his lawyer Alex Spiro tried to paint a picture of Musk as a "rushed, reckless," tweeter who nonetheless still had his shareholders' best interests at heart. Musk says he had every intention of taking Tesla private and even consulted with tech heavyweight like Dell founder Michael Dell and Oracle co-founder Larry Ellison, who both said they thought the move was a good idea. Musk claims one of the the primary reasons he wanted to take Tesla private was to stave off an "unprecedented attack" from short sellers.
Tesla, of course, never ended up going private, despite multiple tweets and even an official Tesla blog post claiming Musk had secured the necessary funding to do so. On his second day on the stand, Musk blamed much of that double take on Yasir Al-Rumayyan, the governor of Saudi Arabia's sovereign wealth fund, who he accused of "ass covering" and going back on the funding deal. The Saudi PIF, Musk claimed, would have provided roughly $10 billion in funds to take a minority stake in a private Tesla had Al-Rumayyan followed through. Musk says he thought that was "done deal." Speaking on Wednesday, Musk said Saudi Arabia had enough funding to take Tesla private, "several times over."
Still, even with Al-Rumayyan out of the picture, Musk and his attorney repeatedly tried to assure the jury that he could have still financed the Tesla privatization effort by selling his stock in SpaceX, where he is also CEO. Spiro, Musk's attorney, repeatedly tried to persuade the jury that Musk's ill-prepared tweets didn't contain "lies" as the shareholder lawsuit alleges, but rather, more convoluted "technical wordsmith inaccuracies." The CEO's sloppy tweets, in this telling, were actually a sign of Musk's radical transparency to shareholders. Musk himself said he kept on tweeting about the supposed dead even when he knew Tesla was working on crafting its own formal statement about going private, because he was "worried that shareholders would think I was trying to exclude them" if he stayed silent.
The shareholders suing Musk claim his tweets pumped Tesla stock price up but eventually led to huge decline once it was clear the deal wouldn't go through. Those shareholders want to hold Musk accountable for the tens of millions in stock value they lost during those trying weeks. Musk, however, repeatedly tried to throw water on this argument by claiming there was no "causal link" between his tweeting and fluctuations in a company's stock performance. Tesla's stock and various cryptocurrencies have skyrocketed and plummeted plenty of times after Musk's tweets.
"Just because I tweet something does not mean people will believe it or act accordingly," Musk said during his first day of testimony.
Updates, 1/24/23, 12:15 and 2:52 pm EST: Testimony from the trial added.