There are plenty of things to worry about while traveling, without adding being brutally murdered into the mix. But it happens more often than you'd think, even in places that seem like paradise. Read on for terrible tales of vacations gone nightmarishly wrong.
1. Michael and Thelma King
Michael and Thelma King weren't typical tourists. Though they hailed from Mount Pleasant, South Carolina, just outside of Charleston, the successful restauranteurs, who were both in their 50s, owned a condo in St. Maarten, where they were building a rum factory. They weren't just visiting; they lived part-time on the island and were by all accounts very well-liked. In September 2012, their Caribbean happiness met a brutal end at the hands of three assailants in an apparent robbery gone awry. The young men, who'd just held up a nearby Chinese restaurant, entered their home, tied them up, and cut their throats; they made off with $80,000 in cash and jewelry, and spent some of the night's spoils at a local brothel.
At their joint trial, the apparent ringleader received the maximum sentence of life, while his accomplices got sentences of 22 and 28 years. In delivering her ruling, judge Tamara Tijhuis had sharp words for the killers that addressed the impact the dual murder had not just on the friends and family of the victims, but on the entirety of St. Maarten, per the South Carolina-based Post and Courier:
"These acts of unnecessary and excessive deadly violence have caused feelings of fear and unsafety to the direct environment of the victims but also to the whole of St. Maarten. Furthermore the murders have triggered a wave of indignity and fear for St. Maarten's economic stability, even though this is of a different magnitude in the context of the unspeakable sorrow it has caused to the next of kin. The victims Michael and Thelma King were guests on the island, and with the murders St. Maarten has been hit in its economic heart, the tourism industry."
G/O Media may get a commission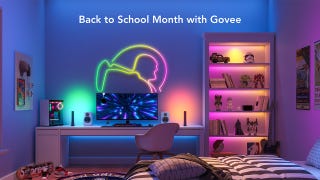 Back to School
Back to School Month with Govee Sale
2. Yosemite National Park murders
Cary Stayner had a rough childhood. His younger brother, Steven, was kidnapped and held captive by a child molester for seven years; the made-for-TV movie that brought the case to widespread attention, I Know My First Name is Steven, aired the same year Steven died at age 24 in a motorcycle accident. But a lot of people endure family tragedies. Most people don't become serial killers, like Cary Stayner did—though he later admitted he'd dreamed of killing since he was just seven years old.
His original plan was to kill his girlfriend and her daughters, but when he lost his nerve, he targeted strangers, tourists who were staying at a motel where he lived and worked just outside of Yosemite National Park, the Cedar Lodge. The Merced, California native had spent many nights in the park on camping trips and was familiar with the area. His victims were 42-year-old Carole Sund, her 15-year-old daughter, Juli, and 16-year-old Argentinian exchange student Silvina Pelosso. Stayner's actions, explained in the words of his confession (which was played at his trial) were nothing short of monstrous:
The weekend before the February 1999 slayings outside Yosemite, his murderous fantasies had become so intense that he prepared a murder/rape kit containing a rope, a roll of duct tape and a serrated kitchen knife, and later a gun and camera.

...He zeroed in on Carole Sund and her two teenage charges. He tricked them into letting him into their room by posing as a maintenance man. Brandishing a gun, which he would later tell Juli Sund was unloaded, he bound and gagged the three on the room's two beds. He took Carole Sund into the bathroom, strangled her, then put her in the trunk of his car.

Then, according to his taped confession, he ripped the clothes off the teenagers and sexually tortured and assaulted them for some time, including trying to get them to perform sex acts on each other.

After six or seven hours, Stayner said on the tape, he was frustrated by the girls' lack of cooperation and his own inability to maintain an erection, and he took Pelosso into the bathroom and strangled her. He put her body in the trunk with Sund's.

Then he again sexually assaulted Juli Sund, then took her to a point near Lake Don Pedro where he slashed her throat and threw her off the roadside.
After the killings, Stayner burned the car which held Carole and Silvina's bodies, and toyed with authorities, sending a letter to the FBI with a map indicating where Juli's body had been dumped with the caption "We had fun with this one." He also dropped Carole Sund's wallet in Modesto, 80 miles away, in a bid to further confuse law enforcement.
But his "fun" wasn't over. Stayner continued working at the Cedar Lodge, having escaped suspicion in the triple murder case. His urge to murder boiled up again in July 1999, when he came upon Joie Armstrong, a 26-year-old naturalist who worked at the Yosemite Institute and who happened to be alone in the isolated cabin where she lived. In his frenzy, he decapitated her.
Stayner was captured thanks to a witness who'd spotted his truck near Armstrong's cabin, and he soon confessed. He was found guilty of the four killings and is still on California's Death Row.
3. Sara Kuszak
Savannah, Georgia resident Sara Kuszak hadn't been in Puerto Rico more than two days when she went for a jog near the city of Fajardo in February 2009. She was excited for her upcoming Caribbean wedding—and for the birth of her first baby. She was five months pregnant. But her condition didn't stop 36-year-old Eliezer Marquez Navedo from grabbing the avid runner off the road and forcing her into his car trunk.
Incredibly, she was able to telephone her fiance from the trunk of the car—telling him "I'm going to die"—but also offering a description of the car. Authorities traced the cell phone signal of the call to Marquez, who still had bloodstains on his clothing when they arrested him. It was too late to save Sara, whose throat-slashed body was found an hour after she placed her frantic last call, and Marquez—who claimed he didn't realize she was pregnant—confessed. He was convicted of kidnapping, rape, and first-degree murder and received a 105-year sentence.
No motive was ever established for the random crime, though NBC reported this oddity that seems too strange to be coincidental:
The killing was carried out in the same fashion as murders that Marquez's mother, Ines Navedo, was convicted of committing in 1992. She slit the throats of two young siblings aged 2 and 3.
4. Cassandre Bouvier and Houria Moumni
In August 2011, French tourists 29-year-old Cassandre Bouvier and 23-year-old Houria Moumni went hiking in Argentina's Quebrada de San Lorenzo, a nature preserve near Salta in the northern part of the country. They never returned. Two weeks later, their bodies were found. Both had been raped and then shotgunned to death.
The case didn't get much coverage in the English-language media, but it caused a sensation in Argentina and France. At one point seven people were detained as suspects in the case, and a high-profile re-enactment of the crime (pictured above) was held as part of the investigation. The trial, held last year, called over 200 witnesses trying to determine exactly who was guilty of what. The Argentina Independent reported:
Gustavo Lasi was found guilty for double homicide, with aggravated sexual assault and theft. He was sentenced to 30 years in prison. Two of his co-defendants, Omar Darío Ramos and Antonio Eduardo Sandoval, were found guilty of helping to cover up the crime by hiding the murder weapon. They each received sentences of two years.

Two other defendants, Daniel Vilte Laxi and Santos Clemente Vera, also facing charges of of double homicide, with aggravated sexual assault and theft, were found not guilty.Lasi had already confessed to being at the scene of the crime and sexually assaulting one of the women, although he claimed it was Vilte Laxi and Vera who shot the girls.
Cassandre Bouvier's father told the Buenos Aires Herald that though he was haunted by the image of seeing her dead body in the morgue, he didn't feel ill will against the country where his daughter had fallen victim to fatal violence: "I don't blame Argentina. I know that my daughter was well aware that the country has a lower crime rate than most."
5. Victims of Charles Sobhraj

A serial killer so scary he had multiple nicknames, including "the Serpent" (because of his escape-artist tendencies) and "the Bikini Killer" (based on a garment that was left behind by one of his victims), as well as "the Proofreader." His preferred targets were Western tourists traveling the "hippie trail" in Asia in the mid-1970s; his preferred method was drugging them first, robbing them, and then killing them. (He didn't have a preferred killing tactic, though he "bathtub drowned" at least one victim.)
Highly intelligent and fluent in multiple languages, he was finally captured after an unknown number of victims when he tried to upscale his operation, Vice reports:
Sobhraj was finally arrested in 1976 in New Delhi, after drugging a group of French engineering students at a banquet in the Hotel Vikram. He tricked them into taking "anti-dysentery capsules," which many swallowed on the spot, becoming violently sick minutes later. The hotel desk clerk, alarmed by 20 or more people vomiting all over the dining room, called the police. Entirely by chance, the officer who showed up at the Vikram was the only policeman in India who could reliably identify Sobhraj, from the scar of an appendectomy performed years earlier in a prison hospital.

Tried in New Delhi for a long menu of crimes, including murder, Sobhraj was convicted only on smaller charges—enough, it was assumed, to ensure his removal from society for many years.
Though other countries where he'd committed murders wanted to get their hooks into him, he escaped prison in 1986, cunningly insuring that he'd be sentenced to more jail time in India and maybe avoid some of those steeper charges elsewhere (like Thailand, where he could be put to death).
He became a free man in 1997 and moved to France, where he was allowed to charge fees for doing interviews. In 2003, he traveled to Nepal, where he was still a wanted man—and a journalist recognized him. As Biography.com reports:
He was arrested in Nepal in 2003 and was later tried and convicted of the 1975 murder of American backpacker Connie Jo Bronzich. Sentenced to a life term, he tried to escape from prison in 2004, but failed. In 2014 he was convicted in a Nepal court of the 1975 murder of Canadian tourist Laurent Carriere, who was a friend of Bronzich.
Still, though he's now over 70 years old, he expects he'll be free one day. Though this report from the Independent came before his second murder conviction, it still speaks to his celebrity status behind bars ... and his surprisingly bright future:
He is known as 'Charles-sahib', a term of respect. Prisoners and wardens obey him. He gives money from his mysterious overseas bank accounts to help the children of the poorer prisoners and of the under-paid prison guards. He recently tricked two officials into signing a document admitting that they were shaking down inmates for bribes. The two jailers were sacked.

After the 1986 escape, Sobhraj was swamped by book and film offers. His autobiography, commissioned by a French publisher, is nearly complete. When he is released, he will be a moneyed celebrity.
Images from top: Police crime scene tape marks the location where the body of murdered US tourist Sara Kuszak was found Wednesday, south of Fajardo, Puerto Rico, Thursday, Feb. 5, 2009. (AP Photo/Brennan Linsley)
An exterior sign at Topper's Restaurant & Bar displays a message about Michael and Thelma King of Mount Pleasant, South Carolina in Simpson Bay, St. Maarten, Tuesday, Sept. 25, 2012. (AP Photo/Judy Fitzpatrick)
Suspect Gustavo Lasi, third from right, walks close to Judge Martin Perez, second from right, and others in Quebrada de San Lorenzo, near Salta, Argentina, Friday Aug. 26, 2011. Suspect Lasi was taken to the area for a re-enactment of the murders of French tourists Cassandre Bouvier and Houria Moumni. (AP Photo/Agencia Foto Magna)
Confessed international serial killer Charles Sobhraj, 59, being escorted by armed policemen outside a district court in Katmandu, Nepal, Thursday, Oct. 16, 2003. (AP Photo/Binod Joshi)