Got plans this Saturday? You do now. It's the 2014 Free Comic Book Day, when publishers give out their wares to the masses, and we can assure you their offerings are going to be worth far more than what you (didn't) pay for them. Here are the 16 comics you need to be looking out for when you arrive at your local comic shop!
Project Black Sky
The best superhero comic this Free Comic Book Day is Dark Horse's Project Black Sky (above), and by a large margin. It sets up the publisher's summer event, in which their heroes like Captain Midnight, Brain Boy, Ghost and more. But you don't have to know these characters at all to enjoy this offering, thanks to Fred Van Lente's massively entertaining writing and Michael Broussard's excellent art. Plus, it contains a telepathic monkey who speaks in a font made to accurately represent American Sign Language, created specifically for this comic!
Uber
Keiron Gillen's Uber offering isn't a comic as much as it is a guide to his sprawling World War II opus, where Hitler and Germany were saved at the last minute by terrifying superhumans called Ubers who can annihilate entire armies with ease. Presented as a selection of interview transcripts, file documents and photos, it catches anyone up on where Uber is so far, and it's a fascinating story. If you think you might be at all interested in Avatar Press' Uber, definitely pick this up.
G/O Media may get a commission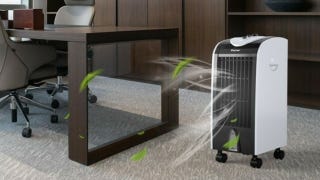 Save $10
Evaporative Portable Air Conditioner Cooler with Filter Knob
Uncle Scrooge and Donald Duck
You may have heard about Carl Barks, the man responsible for the acclaimed and beloved Donald Duck comics of the 1940s and '50s. Don Rosa is Barks' successor, and Fantagraphic Books is offering his story "A Matter of Some Gravity, which shows Barks at the top of his game. In the comic, Magika DeSpell turns Scrooge and Donald's gravity horizontal, and what results is a tale that exemplifies what comic books can do better than any other medium.
Gossamyr/Pass the Last Mountain
These two previews from Th3rd World Studios are short, but they'll definitely leave you wanting more. Gossamyr is a fantasy tale that will seem familiar — a boy who wants to become a blademaster like his father, but is stuck on a farm instead. What sets it apart, however, is Sarah Ellerton's beautiful art, which is just screaming for an animated movie adaptation. Pass the Last Mountain is a beautiful but somber story where mythical monsters have been unleashed on the modern day, but both the army and the monsters can only see each other as threats. Both are well worth a look.
Steam Wars
Antarctic Press' Steam Wars isn't even trying to hide the fact that it's a steampunk retelling of Star Wars, with just enough changed — maybe — to avoid a hefty Lucasfilm lawsuit. That said, the retelling is imaginatively done, and seeing the C-3PO analogue with a giant metal handle-bar mustache or a Millennium Falcon-shaped ship with propellers is still good fun.
Hip Hop Family Tree Two-in-One
You're not going to find a more unique comic on Free Comic Book Day than this Fantagraphics offering, as Ed Piskor offers a variety of great essays and tales: The first, about the weird thematic connections between superheroes and hip hop artists, would be worth the price of admission alone (if it had a price, of course). The rest is a wide variety of comics, containing everything from the origin of the Sugarhall Gang to the adventures of Grandmaster Flash. Good stuff.
Defend Comics
The Comic Book Legal Defense Fund's yearly offering is, as usually, packed with great stories, the highlight being Fred Van Lente and Ryan Dunlavey's shockingly fair history of the infamous Fredric Wertham and his book Seduction of the Innocent, which includes his past accomplishments, his weird obsession with comics, and even what he sometimes got right. There's a short but perfect explanation of what the freedom of speech really means, and a variety of "tales of comic book censorship" from Groo's Sergio Aragones and Mark Evanier, which would hilarious if they also weren't all true.
Guardians of the Galaxy
Serving more as a prep for the upcoming movie than as an actual story, Marvel's free Guardians of the Galaxy tale is still a good read, mostly because it ends with Tony Stark forcing Venom (who is currently spec ops soldier Flash Thompson, former Spider-Man bully turned good guy) to join their team as a representative of the Avengers. Plus, there's a preview of Jim Starlin's new Thanos tale The Infinity Revelation, as well as the next Spider-Man saga, where the crazy vampire Morlun starts murdering Spider-Men throughout the multiverse. Good times!
Avatar: The Last Airbender
If you're an Avatar fan that hasn't been reading Dark Horse's Avatar comics, shame on you, because you're missing the same quality storytelling, humor and pure entertainment that the cartoon offered. The free issue is a perfect example, which contains a story of Sokka's girlfriend Suki getting hassled in a "collectible shell" shop because girls are "fake shell collectors." It's not a subtle metaphor, but the story is fun, charming and completely enjoyable (suffice it to say, Suki takes care of business and Sokka laughs at the jerks). Plus, a Li'l Hellboy adventure and some ants-in-pants craziness from Juice Squeezers.
2000 AD
The best value this Free Comics Book Day has to be 2000 AD, which is offering a full magazine-sized issue which contains all the 2000 AD greats: Judge Dredd, Rogue Troopers, Slåine, Absalom, Durham Red and even a classic Judge Anderson story. The two best are Dredd and Absalom, as the former advises a young new Judge how to survive his first five minutes of the job, and Absalom, who's like John Constantine's grumpier, bitterer grandfather.
Top Shelf Kids Club
Top Shelf is excited about their upcoming graphic novel Maddy Kettle: The Adventure of the Kettle Witch. Reading this preview, I am too. A witch has turned young Maddy's parents into rats; while her parents would rather safely stay transformed, Maddy is determined to fix the situation… until a goblin appears on the train they live on. It's crazy, quirky, beautifully illustrated and frankly looks like it's going to be an instant classic. Don't miss it. The second sotry is Monster on the Hill, a fun story about a town whose nearby monster isn't monstrous at all — and is giving the town a bad name.
Transformers Vs. GI Joe
You should already be planning on picking up IDW's Transformers Vs. GI Joe comic this August, but if somehow you're on the fence, make sure you pick up this preview. Tom Scioli's vibrant, manic art is perfect for the series; it feels like the '80s are exploding out of every page. It's simultaneously awesome, crazy, silly and brilliant. If you have any kind of nostalgia for generation one Transformers of GI Joe: A Real American Hero, you absolutely have to pick this up.
Rise of the Magi #0
All magic in the universe is contained in one small black sphere. When young Asa sneaks in to see the orb, he discovers a small chip is missing, the guards have been murdered, and a horde of monsters only he can see can also see him. It's just the beginning of Marc Silvestri's Rise of the Magi, which starts a little slow but is clearly going places quickly when it probably begins in issue #1; if nothing else, the fantasy world is remarkably fun, with bizarre magic, wild environments, and even in-world comics. It's definitely one to watch out for.
The New 52: Future's End #0
DC's sole offering is a prequel to their major summer event, Future's End, where Batman Beyond comes to the present to stop Brother Eye from destroying all of the world's heroes and villains… except Batman Beyond didn't go back far enough. If terrifying, Clive Barker-meets-the-Borg assimilations of the DC pantheon doesn't grab you, let me assure you that this event — or at least this comic is insane in a disturbing way, but in a good disturbing way. When Frankenstein reveals that… no, I can't spoil it for you. You have to see it for yourself.
Shigeru Mizuki's Showa: A History of Japan
Legendary manga artist Shigeru Mizuki's autobiographical memoir of his time in the Imperial Japanese Army in World War II is not for everyone; for one, this preview is harrowing, even though it only involves his training and the Doolittle Raid, which he wasn't it; two, Mizuki draws the most cartoon-y of figures, which can be disconcerting when matched with historical photos or when he reminisces about the beatings he used to receive in the army. But Showa is still a powerful tale, powerfully told, and worth giving a chance.
Raising a Reader!
Less a comic and more a lengthy explanation of why comics and graphnic novels can not only teach kids to read but teach kids to love to read, this CBLDF pamphlet is essential reading for anyone who doubts that comics can be awesome. Admittedly, if that's your opinion then you're probably not heading to Free Comic Book Day, but take an issue for the doubter in your life and help prove them wrong.