In May 1980, Taiwan-born, Minnesota-raised Ming Sen Shiue acted on a sick fantasy he'd been having for 15 years, kidnapping and sexually assaulting his former high-school math teacher, Mary Stauffer. The crime would have been nightmarish enough with just those facts ... but it was worse.
First, there was the length of time Shiue had put into planning his crime. Over 15 years his crush—stoked while a ninth-grade student in Stauffer's algebra class at Roseville's Alexander Ramsey High School—became an obsession, and he wrote stories detailing his violent daydreams about her. He even broke into her in-laws' house in Duluth in 1975 in a failed attempt to find her.
By the time he tracked her down, she was 36; she'd left teaching and done a stint with her husband and two children as a missionary in the Philippines. The family returned to Roseville for a brief furlough, and her eight-year-old daughter Elizabeth was with her on May 23, 1980, when Shiue made his move in a beauty-salon parking lot. They'd been scheduled to return overseas just five days later.
And he didn't just grab Mary Stauffer and her daughter. He also snatched a six-year-old boy who happened to spot Shiue checking on the pair in his car trunk. Reports TwinCities.com:
Shiue drove to what is now the Carlos Avery Wildlife Management Area, where he killed Jason [Wilkman] with a tire iron and dumped his body before driving the Stauffers to his Roseville home ... Over the next seven weeks, he held the mother and daughter in a dark closet outfitted with a pail and toilet paper. Shiue repeatedly raped Mary Stauffer and videotaped some of the attacks.

The Stauffers eventually escaped after removing hinge pins from a closet door while Shiue was at work.
G/O Media may get a commission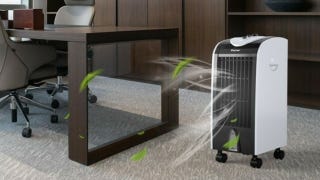 Save $10
Evaporative Portable Air Conditioner Cooler with Filter Knob
After Shiue's arrest, he led authorities to Jason Wilkman's body. But though he was in custody, he wasn't through terrorizing Stauffer; during his trial, as his victim testified about her ordeal, he lunged at her and slashed her with a knife he'd somehow smuggled into the courtroom. (It took five men to subdue him; when the attack was over, she needed 62 stitches.) He also swore that if he was ever released, he'd find both mother and daughter and kill them both.
Shiue was sentenced to life federal prison but made headlines again in 2010, when he became eligible for parole (he was turned down). Last year, the Star-Tribune offered this update on his release efforts:
When Shiue, now 63, became eligible for parole in 2010, Anoka County officials filed a petition to have him committed indefinitely to the Minnesota Sex Offender Program in Moose Lake if he was ever released. For a federal life sentence like Shiue's, parole can be denied only if the offender frequently violated major prison rules or if the U.S. Parole Commission in Washington, D.C., believes there is "reasonable probability" the person will reoffend if released.

In her 40-page ruling to commit him, Judge Jenny Walker Jasper raised concerns that several key questions pertaining to parole weren't clearly answered during the seven-day commitment trial. She wanted to know if Shiue could receive sex offender treatment in federal prison if he wasn't paroled or if and when he might be paroled.

Shiue doesn't have an approved release plan, and he can't be considered for parole until a plan is approved, the judge wrote. He's eligible for parole every two years, but his most recent request for parole was denied.
Read the full 2010 court document, which delves into the various evidence supporting Shiue's status as a "Sexually Dangerous Person," here.
Top image: This May 23, 1980 photo shows Ramsey County, Minn. Sheriff Chuck Zacharias pointing to a map and photos of Mary Stauffer, top left, her eight-year-old daughter Beth, top right, and six-year-old boy Jason Wilkman. AP Photo by Jim Mone, File