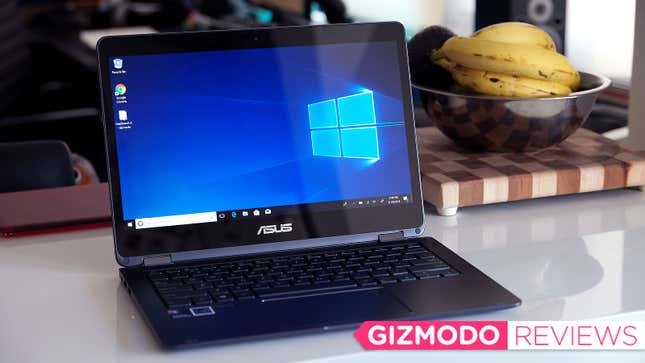 On the outside, the Asus Nova Go looks like a typical 2-in-1. It's got a pleasant but not super exciting 13.3-inch touchscreen, a spacious touchpad with a built-in fingerprint reader, and a 360-degree hinge that lets it transform from a laptop to a tablet on a whim. But inside, this $600 hybrid has the raging heart of… a smartphone?

The Boogeyman's Sophie Thatcher Reveals What Draws Her to Dark Characters | io9 Interview
Yeah, that's right, and it's not even the mobile's world's latest chip, the Snapdragon 845. Instead, the Nova Go features a Snapdragon 835 from 2017, which first debuted on the Samsung Galaxy S8. But don't let the age of the silicon fool you. By combining an ARM-based processor (instead of your traditional Intel or AMD x86 chip) with Windows 10, the Asus Nova Go represents different path for the advancement of the good 'ole laptop.
That's because by taking a processor that's already built for power efficiency and putting it in a laptop, Windows on Snapdragon systems are trying to redefine what great battery life really means. Longevity isn't the only bonus either, since with its smartphone origins, all Windows Snapdragon PCs also come with 4G LTE connectivity, so you don't need to be the annoying person that pesters people for the Wi-Fi password everywhere you go. Now, how do these two factors actually play out?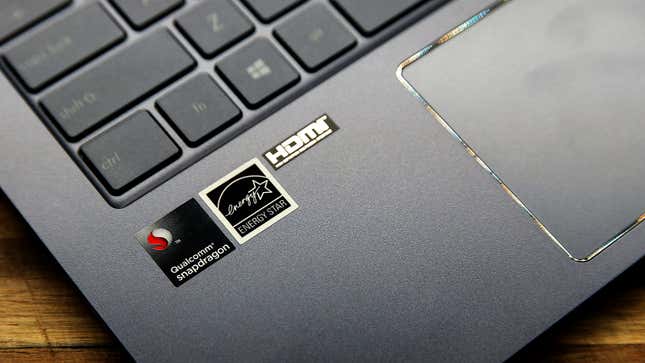 Actually, quite well! But only if you understand the platforms limitations. As some of you are guessing, with a processor that's essentially the same as what you get in a phone, performance on the resource intensive Windows OS isn't spectacular.
In fact, when I ran our normal host of laptop benchmarks, the Nova Go turned in some of the lowest scores we've seen in recent history. In WebXPRT 2015, which tests web browsing performance, the Nova Go scored just 84, which is the lowest score we've seen in a laptop yet, and a far cry from the 267 we got from the $550 Samsung Chromebook Pro (with an Intel m3 CPU) we reviewed last year.
That kind of gap sounds really scary and makes you question the entire point of this project in the first place. Until you realize that while these Snapdragon-powered Windows PCs can sort of handle your traditional Windows programs, the system is really designed to work best with native UWP (Universal Windows Platform) apps installed from the Microsoft Store.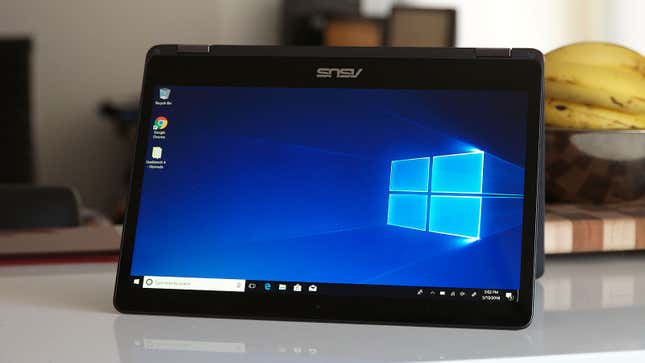 So I ran WebXPRT again in Edge, and the Nova Go's score doubled from 84 to a 163; still shy of Intel Core m3, but much more acceptable. And in real life, the difference in horsepower is even less of an issue. Sure, you'll run into the occasional hitch or a bit of input lag, but those are the kinds of things that you see on a lot of budget and mid-range systems. It's frustrating, but not deal breaking.
And those budget and mid-range systems based on Intel silicon don't have the promised battery life of a Qualcomm Snapdragon device. In our traditional battery rundown test, where we stream a YouTube video over Wi-Fi until the computer dies, the Nova Go lasted just 13 hours and 49 minutes. I just say because that time only puts the Nova Go battery life 15 minutes ahead of the 13:24 posted by a non-touch XPS 13 with an 8th-gen Core i7 CPU. But when I did the same test in Edge, battery life shot up another hour and a half to 15:16, which is the best battery life we've seen on any laptop in the last two years. It's not quite the 20+ hours Qualcomm is teasing elsewhere, but still pretty great.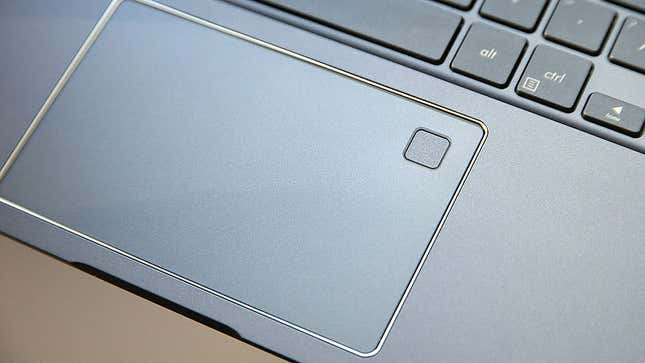 But those are just tests design to drain the battery quickly. Oftentimes, in real life, the Nova Go's longevity is even better. Over the course of a weekend spent testing the system, I was surprised at how many times after 45 minute browsing sessions spent trying to find non-sold out Avengers tickets, looking at stupid memes or whatever other inane shit people use computers for when they aren't working, the battery percentage dropped just one or two percent. This thing truly sips juice.
And then there's the Nova Go's built-in 4G LTE modem. If you want internet, it's always available. Just pop-in a SIM from your carrier of choice, add the correct access point (APN) info into Windows and off you go. No longer do you feel like a Wi-Fi addict, hunting for your fix when you're away from home. You just open the computer and with the Nova Go's near instant wake times and persistent background connection, you're always ready to browse. This is kind of the always-connected dream people keep associating with the coming of 5G, and it's a treat. Though it's also true that this isn't even close to the first laptop with 4G LTE, Microsoft even just released a Surface with 4G connectivity earlier this year.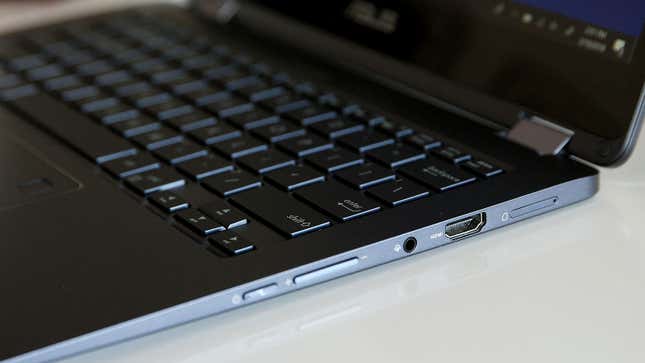 Back to the Asus Nova Go. As much as I like it, I'm not sure it's for me personally. It's not the computer, it's me. I need the ability to edit photos or videos on the go, and while the Nova Go can do both of those things, I wouldn't exactly call it speedy. I'm also worried that with all the various devices that need internet, such as your phone, tablet, even cars, people's mobile data bills are going to balloon up uncontrollably now that your need to pay for laptop data too. Then there's its price tag. For $600 you only get 4GB of RAM and 64GB of storage, which seems a bit steep. If Asus were to bump both of those up a bit without increasing the price, than suddenly things could get a lot more interesting.
In a way, the Asus Nova Go is almost an ideal laptop for students. Its fantastic battery life turns forgetting to recharge the system at night from a disaster into an issue you might not even notice. And its built-in modem means the internet is always available and its CPU is more than enough to handle web browsing or working in Google Docs or Office 365. Even the abomination that is Windows 10S—which comes pre-installed by default—isn't that big of deal, since you can upgrade to normal Windows 10 whenever you want, for free.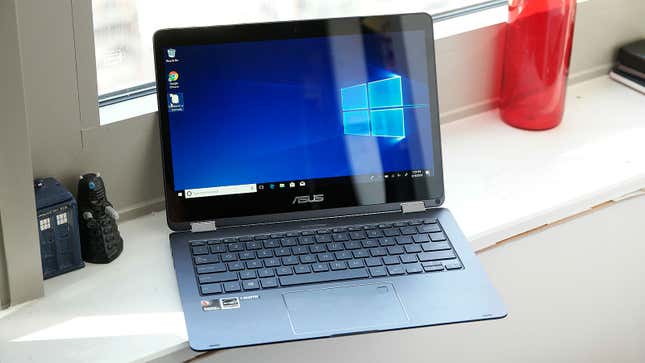 Windows on Snapdragon chips might not be a full on PC revolution,but it's nice have more choice when it comes to different chips strengths and weaknesses. And based on how much effort Qualcomm has invested making Windows work on ARM, this is only the beginning.
README
Battery life is sick—the best we've seen on any laptop in the last two years.

Performance isn't great, but it's enough for everyday stuff, and noticeably better when using UWP Apps.

Unlike Windows RT systems of old, Windows on Snapdragon is compatible with almost every Windows program.

Now I kind of want every laptop to have always-on internet.

The Nova Go could be a great buy for students, though it slight price drop would be nice.