Black Friday, Schmack Schmriday: here are the best Android apps for shopping all year round.
Is AI Moving Too Fast? | Future Tech
GOLD MEDAL: Shopper


If Google Goggles and a barcode scanner hooked up, we'd get Shopper: a barcode scanning, voice and image searching, product finding, makes-you-a-smarter-shopper shopping assistant. It's a damn good one, and ties nicely with Google because well, it's made by Google. Finding products is a cinch and it'll give you pricing comparisons and where to buy to get the best deal (online and brick and mortar). If you want to get fancy, you can star them as a favorite, email them to your sugar momma and keep track of your searching history. It's not good at offering local stores, doesn't scan QR codes and works better with CDs, DVDs, video games, books-type searches, but it's so easy (and fun!) to use and so versatile in its searching that it's hard to top. Free, Android
SILVER MEDAL: ShopSavvy

G/O Media may get a commission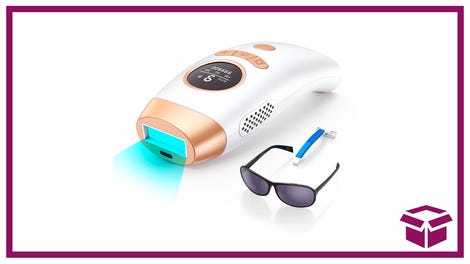 58% Off + Coupon
IPL Hair Removal Device

ShopSavvy was one of the original wow apps on Android that has just kept on getting better. More feature rich than Shopper after the search, ShopSavvy offers local listings for products, price alerts and QR code support. However, it's going to get even better when it updates to ShopSavvy 4 (maddeningly already available on the iPhone): there'll be a new deals section, a new crowdsourced, Wikipedia-type database on the products ShopSavvy users scan and the app will be prettier and faster to use. Free, Android.
BRONZE MEDAL: Key Ring Rewards Card


Key Ring Reward Cards isn't your typical shopping assistant-type app, but it might be the most useful. It's an app that combines all your loyalty/rewards/membership cards into one database and recreates those cards on your phone. Just show the card you need on the screen and ask the clerk to scan it. You'll love the puzzled WTF look you get when using the app. Free, Android.
OTHERS TESTED:
• Barcode Scanner: Better as a strict barcode scanner than something you rely on for shopping.
• SnapTell: Has an image recognition feature too.
• Grocery iQ: Great grocery list app, that's editable online.
• Smart Shopping List: Mark items off your list as you pick them up, the next list will be "smartly ordered".
• Price Book: A shopping list app that gives you ballpark prices on the items you add
• DealsDroid: Keeps you in tune with all the popular deals sites (FatWallet, Slickdeals, etc) on your phone.