Man has been augmenting his culinary efforts with technology since the advent of the skewer (which, as we all know, immediately followed the advent of fire and burned fingertips). From on-demand Morton's to whatever chicken nuggets are actually made from, these mouth-watering stories from 2011 will have you looking at your dinner in an entirely new light. 

Deadly Mississippi Tornado Kills More Than 2 Dozen | Extreme Earth
---
This side of installing a Krispy Kreme shop in my apartment, I can't think of a better way to kill myself than this Automatic Mini Donut Factory. "It mixes, shapes and cooks batches of mini donuts in minutes."
G/O Media may get a commission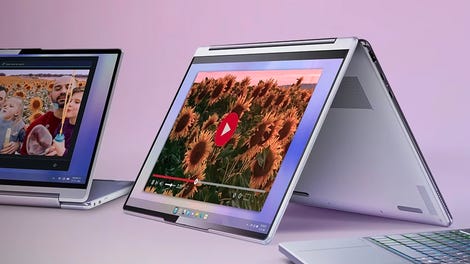 up to 70% off
Lenovo Spring Clearance
---
Researchers and confectioners alike have known for years about sugar's finicky melting point, but have always attributed it to either impurities or their equipment. University of Illinois scientists, however, have discovered that the real reason is because sugar doesn't melt, it decomposes.
---
Photographer Mark Menjivar travelled across the US for three years and talked to people from every walk of life about food. He also took pictures of their refrigerators. Dirty or clean, empty or full.
---
This is a poopburger. As in, made from shit. I'm not even kidding, Japanese scientists extracted protein from human poop, mixed it with soya, added steak sauce and called it hamburger patties. Are you throwing up yet? Cause I did.
---
The secret recipe of Coke has been hidden and locked down for 125 years. But apparently, not anymore. This American Life says they've found the ingredients that make up the delicious bubbly cola and have revealed it to our delight.
---
Sure, it's just egg. Who cares. Crack 'er in a skillet, let it fry. Why bother caring? It's not like there are better options out there—oh wait, your entire goddamn life just changed. Waffle iron eggs. Yeah.
---
Nineteen year old Vitaliy Sulzhik was doing what teenagers do, looking for party fuel at the bottom of an oversized energy drink can. What he found instead? A big ol' dead mouse.
---
If I was going to start a new blog, it would be nothing but food under attack, shot with super slow-motion cameras.
---
I thought I'd seen a lot in my 24 years on this planet. Some shocking things. Startling things. Things that've given me a home, then taken it right away. But I've never seen anything like this: the Popeyes Dip'n Chick'n. Revolution.
---
Hot dogs. Juicy, succulent, mouth savoring meat. A pink mixed mash of deliciousness. See hot dog, want hot dog, eat hot dog. That's what I think, at least. I might have to think twice though. Some truly disgusting stuff is sometimes found in a hotdiggity.
---
Peter Shankman, an angel investor, was hungry right before he boarded his flight. So he fired off a tweet jokingly asking Morton's Steakhouse to meet him at the airport with a porterhouse steak when he landed. They did.
---
It would totally ruin Taco Tuesdays if you reached into your bag of delicious shredded cheese and it had all congealed into a giant yellow-orange clump. But that never happens! Ever wonder why? Food companies add wood pulp, that's why.
---
Been under a rock? See what else happened this year in our Best of 2011 series.