New Zealand's Air Force has just released over 2,000 pages of previously classified documents pertaining to UFO sightings and alien encounters. Including descriptions of aliens that wear "pharaoh masks," and a sample of alien writing.


After weeding through hundreds of pages of the New Zealand Air Force's alien goodness, we've rounded-up a few choice entries. First up is a video recording of an alien sighting (picked up by the Telegraph):
Next is a collection of alien writing, or some sort of communication technique. One thing is for certain: these aliens have sloppy penmanship.
Drawings of alien abductions and UFO encounters:
G/O Media may get a commission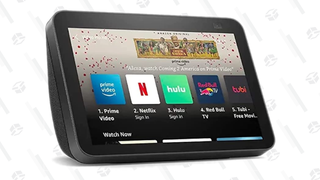 Interviews with people involved in the 1978 Kaikoura sightings, which can be accessed here , thanks to UFO Eyes.
Aliens sporting Pharaoh masks, and a separate species that wears over 440 (UK) size shoes. The large-shoe-wearing alien also had a message: that "You will remain in hydrogen form for 150 years. Then it will change to sodium." Read into that what you will.
Check out the entire collection of files over at UFO EYES.
[via Telegraph and Geekologie and TG Daily]