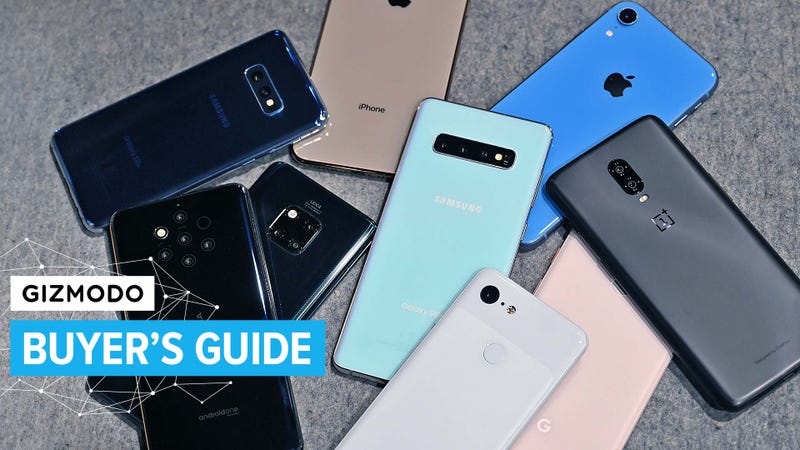 Following the announcement of phones from Samsung, Sony, LG, Nokia, and others, the first batch of 2019's flashiest new handsets are going to be available soon, if they aren't already. So which one should you get? And to make things even more daunting, with several phones pushing the $1,000 mark, making a hasty purchase could quickly turn into an expensive mistake.

But don't worry, we've got your back because we've tested and reviewed all the most important phones so you don't have to. So here are our top picks for the best phone you should buy right now.
Buying forecast for March 2019: The spring phone release season has just started, and while the Galaxy S10 has recently joined our list as the best phone on the market, if you're looking for something different, you may want to hold off on buying a new phone right now.
This is especially true for people considering a new mid-range phone, because with the Moto G7 and Xperia 10 due out soon (and rumors of a Pixel 3 Lite later this spring), there should be a lot more potential handsets priced between $300 and $500.
The best all-around phone
After somewhat lackluster sales in 2018, there have been some big expectations hoisted upon the Galaxy S1o. However, by adding a number of new features including a triple rear camera module for both the S10 and S10+, an in-screen fingerprint sensor, nifty punch-hole selfie camera, ridiculously good battery life, and Wireless PowerShare tech, Samsung has really delivered.
The Galaxy S10 is also one of the first phones sporting Qualcomm's new Snapdragon 855 chipset, and for 2019, Samsung even upped the S10's base storage to 128GB across every model. With the new dynamic AMOLED screen on the new S10, Samsung has also once again proved its displays are without a doubt the best in the business.
That said, at $900 and $1,000, the new Galaxy S10 and S10+ aren't cheap, but if you want one phone that has it all, Samsung's latest flagship is the easy pick. And if you don't mind having a smaller screen and one less rear camera, the $750 Galaxy S10e offers a great balance between high-end features and something with a more reasonable price tag.
Also consider
What Google's Pixel 3 lacks in sheer specs, it more than makes up for in software thanks to incredible features like Night Sight, a built-in call screener, and all the other Pixel-specific tweaks that make Google's homegrown phones the smartest and most considerate handsets on the market. And with things like Google's AI-powered appointment booking service Duplex, the Pixel 3 is only going to get better.
---
The best mid-range phone
Thanks to an increasing number of $1,000 phones, mid-range handsets have never been more important. And year after year OnePlus keeps pumping out affordable devices that are far and away the best handsets you get for around $500. And with the 6T, OnePlus is actually pulling further ahead thanks to a partnership with T-Mobile that puts OnePlus phones in carrier stores for the first time ever. And unlike previous handsets, the OP6T is the company's first device with support for Verizon's network too. You also get specs that match the best flagships out right now, an in-screen fingerprint reader, and a gorgeous OLED display with a notch that isn't offensively large.
Also consider
If the OnePlus 6T doesn't suit your fancy, consider the Xperia XZ2 and XZ2 Compact instead. With a Snapdragon 845 chip, 6GB of RAM and 64GB of storage, the standard XZ2 has all the specs you want in a flagship phone for just $500. And featuring Sony's super powerful haptic vibration engine, the XZ2 has the power to add a rumble to pretty much any content you watch or listen to on your phone. Meanwhile, the XZ2 Compact might be the last bastion for people who still like small phones but don't want to compromise on specs or performance. And unlike it's bigger sibling, the XZ2 Compact is certified to work on GSM carriers like AT&T and T-Mobile, and Verizon's CDMA network as well.
Note: We considered putting the Pocophone F1 here as well due to its flagship specs and incredible value, we haven't had a chance to spend as much time with it as we'd like. Also, due to its very limited support for 4G LTE here in the U.S., it's difficult to recommend.
---
The best budget phone
For years, Motorola's G-series phones have been the kings of the budget phone world, and the G6 is a latest and greatest example of Moto's dominance. Critically, the G6 boasts compatibility with all the major carriers, is available both unlocked and from brick-and-mortar wireless stores, and still retains important features like microSD card expandability and a headphone jack. Whether it's for a young teen getting their first phone, or someone who just wants something simple and reliable the won't blow your finances, the Moto G6 has got you.
Also consider
Starting at $350, the Nokia 7.1 typically costs $100 more than the Moto G6, but it's totally worth it. Because for the extra money, you get more base storage and RAM, better cameras, a bigger, brighter screen, and a much nicer design. And since the Nokia 7.1 is part of Google's Android One program, that also means its software and security updates are managed by Google, and you won't have to put up with any unwanted bloatware either. The major downsides to the Nokia 7.1 is that unlike the G6, it's only available as an unlocked device from third-party retailers, and it doesn't support CDMA networks like Verizon or Sprint.
---
The best hyper phone
Like hypercars, hyper phones are handsets that are big, fast, and defined by excess. But if you want a phone that can handle everything home and work can throw at you, the Note 9 is it. It's got a big, gorgeous 6.4-inch display, ridiculous battery life that lasts upwards of upwards of 14 hours on a charge, built-in iris scanners and a secure folder to hide sensitive documents, and of course Samsung's S-Pen. The phone even comes with 128GB of base storage (and a microSD card slot), which is twice what you get from a similarly priced iPhone XS. And just in case that's not enough, you can even turn the Note 9 into a mini desktop by hooking up a USB-C to HDMI cable to a nearby monitor.
Also Consider
While this phone isn't really an option for folks in the states since Huawei isn't making a U.S. specific variant, the sheer technical superiority of the Mate 20 Pro can't be denied. That's because even though it lacks a stylus, it has pretty much every other feature you'd ever need, and maybe even a few tricks you didn't even know you wanted. We're talking about full-on 3D face scanning tech, a fingerprint sensor that's built into the screen, a new 7-nanometer chipset with dual NPUs, and even wireless charging that can be reversed in order to power up other devices.
---
The iPhone most people should buy
With three new iPhones for 2018 along with two older models still on sale, choosing the right phone from Apple is actually a bit trickier than normal. However, with a somewhat reasonable (for Apple) price of $750, the same A12 processor, FaceID tech, and 64GB of storage you get from its more expensive siblings, the iPhone XR is our top recommendation for people who want a new Apple handset. As an added bonus, the iPhone XR also boasts battery life that's about an hour longer than the $1,000 iPhone XS, and it comes it a bunch of fun colors.
Also consider
For people who want a little more, the iPhone XS or XS Max are the clear upgrades to the XR, just know that you'll need to shell out at least an extra $250 to get one. The main benefits when moving up to the iPhone XS and XS Max is a significantly more vibrant and higher resolution OLED screen that'll make all sorts of content look better, and a second rear camera with a 2x zoom to help bolster your mobile photo toolkit. Also, thanks to new stronger glass backs and an IP68 rating for water-resistance (versus the XR's IP67 rating), Apple's high-end iPhones should also be slightly more durable than the iPhone XR.
---
How has this list changed? Read back through our update history:
3/11/19: Added the Samsung Galaxy S10 as the best phone overall, moved the Pixel 3 to "Also Consider."