Former Gizmodian Brian Lam has a site called The Wirecutter, whose singular goal is to decide which gadgets to buy or not to buy. Today, it looks at the best room fan money can buy, just in time for summer.
If I wanted a fan to help keep my office or any other full-sized room cool this summer, I'd grab the $90 Vornado 660.
Granted, when it comes to cooling actual people, all electric fans work the same way, creating what's essentially a wind chill effect that evaporates sweat on your skin making you feel … cooler. Of course, a good fan can also be used to promote air circulation if placed in the right location. The air stream that a sufficiently powerful fan produces can either help equalize the overall temperature of a room (i.e., eliminate hot and cold spots), or be used to move cooler air from another part of the house/apartment/outdoors into your room, pushing the hotter air out the window. It's important to remember that a fan alone will not cool a room. In fact, electric fans introduce heat to a room. (Although you could use a fan to make a home-made air cooler.)
Unfortunately, pretty much no one "reviews" fans. And those that do tend judge them purely on their aesthetic qualities. There are, however, thousands of user opinions online, and we based this recommendation on those. While it's true that in many ways a fan is a fan, hours of research showed that there are some distinct advantages that certain models have over others–advantages that, depending on your needs, are worth paying a little extra for.
G/O Media may get a commission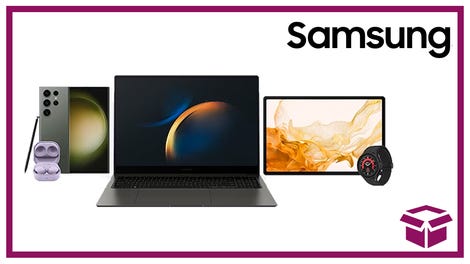 24 hour deals
Discover Samsung - Daily Deal
As opposed to other dedicated floor fans, which come in either skinny tower form factors or ultra-wide industrial ones, the Vornado 660 has both a design and footprint that makes it suitable for use on a floor or a desk. At about a foot wide and 13" tall, it's shaped like a tradition desk fan, but is slightly larger and a hell of a lot more powerful. Yes, it's also more than twice as expensive as many other floor and desk models, but users reviews almost universally say the 660 is worth its $90 pricetag.
Timothy on Amazon notes that the 660 "has better air circulation on the lowest setting than many of the smaller $40 fans did on their highest setting." That lowest setting also happens to be one of four speeds, and it's whisper quiet, another important factor for many people. Hardly any commercial manufacturers measure the sound output of their fans in decibels, so again we're relying on user impressions here. We will say that even when quiet operation was touted as a major selling point for a given fan, the 660 and other Vornado models tended to have the most user agreement. It's also worth noting that in addition to being much louder, most other fans in the $40-100 price range (and even higher) have only three speeds.
Engineering-wise, plenty of users note that there is essentially no vibration or mechanical noise while the 660 is in use. "This is my first Vornado fan," says K. Hayworth on Home Depot's site, "and I'm already planning to buy a second one for elsewhere in the house. It's so quiet when it's on the first couple of speeds that you can barely hear it." The 660 easily tilts between horizontal and vertical airflow positions along a nice looking chrome glide and has push-button controls instead of flimsy switches, like other fans.
Most importantly, though, this fan moves some serious air. The industry standard for measuring this is in cubic feet per minute, or CFM. The air speed (feet per minute) x area (square feet) = CFM. Other factors inform the amount of air a fan can move too, such as the diameter, the shape of the blades, the speed at which the blades turn (revolutions per minute), the horsepower of the motor, and the overall fan design. These usually aren't listed by the manufacturer, though. In general, a high CFM is a strong indicator of a fan's ability to move a bunch of air. The 660 has a CFM of 584, more than enough for whole room air circulation. Compared to other fans in its price range, this is one of the highest CFMs we could find. In fact, on its highest setting, the 660 can create an air stream 100 feet long. That, and it also has one of the lowest power-consumed-to-air-moved ratios in its class.
If raw power and placement flexibility aren't priorities there are, of course, plenty of other fans that'll do the the job. The Lasko 4924 is a tower fan that consistently earns high ratings on Amazon and other sites. It has only three speeds and a CFM of 334, but costs between $20 and $30 less than the 660. It does have a handy carrying handle built in for easier transport. Me, I'd rather have the Vornado.
A more standard floor model from Lasko, the 3520, is a full 24 inches wide, but is also only $32 and can produce a metaphoric hurricane in your home (CFM= 1,987). That's a lot of air being moved for not a lot of money. Again, this comes at the sacrifice of placement flexibility and quiet operation. There are also more design-oriented models, namely Air Multipliers from Dyson. These bladeless fans aren't actually bladeless, though. You just can't see the nine asymmetrically-aligned blades, which are hidden behind the fan's pedestal. It's a neat trick, but they do the same thing: pull air into the device. According to Dyson, these blades can pull in up to 5.28 gallons (about 20 liters) of air per second. But as Cliff Kuang at Fast Company notes, Dyson has always been more about the sizzle than the steak when it comes to fans. And the air multiplier are no exception, and it shows in user reviews.
After the Air Multipliers came out, Vornado went so far as to call BS on the whole gallons/second metric that Dyson more or less invented for these fans. Kuang relays their basic claim: "The Vornado 660 fan costs $90, compared to Dyson's $330. And while Dyson's reported figures of blowing 118 gallons of air per second sounds pretty impressive, Vornado says their fan produces 283 - basically hard enough to circulate air in the entire room, and allow you to raise your AC by eight degrees." If you want to buy a Dyson for its looks, fine. Just remember you'll be paying in some cases a 400 percent premium and losing a good deal of performance. Again, I'd rather have the power and the extra cash in my pocket.
Bottom line? The Vornado 660 is definitely not the cheapest fan you can buy. But it is impressively powerful for its size, it's super quiet, and it's more flexible than any other fan in its price range. Even better, it comes with one of the best warranties (5 years) of any fan we could find, regardless of cost and size.
---