"What's the best smartphone?" It's a question I hear at least once or twice a month.

That's fine. It comes with the territory, really. I write about all kinds of technology all day, every day, but none so much as smartphones. I've reviewed many of the major ones released in the past year, from the dirt-cheap to the metal and glossy. They all have something to add in their own way, but only a handful really stand out.
And as you'd imagine, the answer is complicated.
---
The funny thing about buying a smartphone in 2016 is that it's hard to go wrong. Not too long ago, even great phones could have terrible battery life, be bogged down by gobs of unwanted software, have an awful camera, or be missing a crucial feature or two. Now, we find almost every major handset will last till bedtime, take decent photos, display them on an excellent screen, blaze through apps with a speedy processor, and browse the web with fast LTE connectivity.
If you want a great smartphone, all you really need to do is avoid phones that pretend to be excellent, but aren't.
G/O Media may get a commission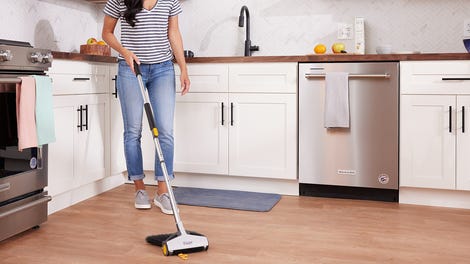 BOGO 50% Off
Flippr - BOGO 50% Off
So if all good phones are great phones, what makes a phone The Best? It simply had to be better than every other phone at providing something people crave. That was the bar we set.
---
The Best Overall: The Galaxy S7 Edge
The Galaxy S7 Edge (and its smaller sibling, the S7) are two remarkable phones. In 2015, the Galaxy S6 held our Best Smartphone accolade for many months until it was eventually dethroned by the impressive Nexus 6P.
But Samsung improves on the S6 in all the right places. It keeps the classy glass-and-metal design but adds on impressive waterproofing without compromising design. It actually makes you wonder what the Galaxy S7 Active, Samsung's "rugged" Galaxy lineup, will have to offer. But the Galaxy S7 camera is also a cut above what's come before it. With an f/1.7 aperture so you can take phenomenal photos in lowlight, and a redesigned photo sensor means the S7 is almost always in focus.
The reason I'm singling out the 5.5-inch Edge over the 5.1-inch S7 isn't for it's Edge-like features (which are ok but whatever). The bigger Edge device also means a bigger battery and I saw noticeable differences in how much time I would get out of the S7 and S7 Edge comparatively. If you're not the biggest fan of large phones, Samsung packs in a lot of screen into a relatively small frame. It's the smallest 5.5-inch phone I've ever held.
Factor in a great processor, display, and build quality, and it's almost a no-brainer that the Galaxy S7 is the best phone you can buy right now. However, many companies like HTC and Apple, haven't shown what's in store for 2016 quite yet, so who knows how long the S7 will remain on top.
The Best For Android Purists: Nexus 6P
Huawei and Google's team-up on the Nexus 6P has created a smartphone that's built for everyone, and it's the real good. The 6P fixes everything wrong with 2014's Nexus 6 and creates something that's the perfect vessel for pure Android.
The 6P is Google through and through—from the hardware design, to the operating system, and even to the very carrier if you so desire. It leverages everything new in Android, like a fingerprint sensor, and includes new hardware like the Android Sensor Hub that can turn that usually terrible battery life into a guaranteed full days worth (and beyond).
Although it's only $500, which is definitely expensive but not quite "premium" prices, it still retains the look and feel of an luxe piece of gadget. It's a Nexus phone cloaked in metal, and its design fits nicely with all other smartphones of its caliber. But in a sea of Android that's still full of sub-par skins and ROMs, the Nexus 6P shines with its bloat-free software. It's incredibly fast, great-looking, and an all-around solid choice.
The Best Small Phone: Apple iPhone SE
The iPhone 6s used to occupy this hallowed position as best smartphone in a tiny package, then Apple packed all the best bits from the 6s in an even smaller, 4-inch frame. The same speedy processor and 12 megapixel, 4k-shooting camera all make an appearance, and while some tech like the arguably useful 3D Touch doesn't make the cut, Apple still brought on its best feature—live photos.

That's not to say the iPhone SE isn't without its blemishes. For one, that small display has a sub-720p resolution and it's not nearly as bright as the 6s. But the iPhone SE's biggest sell is to people who cry foul at smartphones' steady climb to bigger and bigger dimensions. The iPhone SE is a nostalgia throwback that puts modern technology into what was the undisputed King of small phones in 2013, the iPhone 5s.
But the iPhone SE is like voting for a local city councilman when only one candidate is running—there's not much there to compare it to. But if your chief concern is going as small as possible without giving up the technological convenience that comes with bigger phones. Congratulations, you've arrived.
The Best Big Phone: Samsung Galaxy Note 5
Yes, the Nexus 6P is big but the Galaxy Note 5 is a different kind of big. Samsung's been through five iterations of the Note series, trying to build an OS that takes advantage of that huge screen real estate, and the Note 5 is the best yet.
TouchWiz is the often bemoaned skin of Android that's historically cluttered up the Android experience to a point of annoyance, but with the Note 5 and its included S Pen, some of those added software features are actually quite useful. Small tweaks have made the Note 5 better of the last year's Note 4, including a quick launch feature for S Note and Samsung Pay, which uses NFC and MST technology to create the most widely accepted mobile payment system out there.
The premium Note 5 adopts the same look as our old smartphone champion the Galaxy S6, so it definitely looks the part and it also includes other forward-thinking features, including a YouTube livestream application build right into the camera app. Oh, and it also takes some of the best photos around. If you want to leverage every single inch of your smartphone display and don't mind Samsung toying around with Android to make that possible, the Note 5 is a great, great pick.
The Best Modular Smartphone: The Moto Z Droid and Force Droid
This category is somewhat strange thanks it part to the weird gadgets themselves, and that right now, there aren't many contenders. Really, the Moto Z's only real-world competition is the LG G5, and when making that comparison, there isn't much competition at all. Where the Moto Z really pulls ahead is that its modular components, known as MotoMods, work so much better than the LG G5. The MotoMods just snap on with magnets and immediately get to work. The G5 on the other hand needs to reboot every time you want to switch out a modular component.
But the category could be growing quickly. Google announced during its I/O conference this year that the long-awaited Project Ara smartphone, a modular device that has been in the works for years, will finally be available for purchase in 2017. It's uncertain if these three phones will be enough to spark a whole new category of mobile devices or not, but if you want to get in on the ground floor, the Moto Z Droid is currently your best bet.
Unfortunately, as of July 2016, the phone is only available through Verizon, though a GSM capable variant is coming, and glimpsing the future will also cost a pretty penny around $624 to $730 just for the phone and the mods costing anywhere between $60 and $300. Turns out the future is expensive.
The OnePlus 3 is, by almost every degree, an upgrade over our former Best Cheap Smartphone champion, the OnePlus 2. After two years, OnePlus has finally outpaced the growing pains of making new hardware and combined powerful specs, smooth software, and a compelling price to form the new OnePlus 3.
For the purpose of this list, this phone exists to entice you to a price that might be just outside of what's typically considered cheap. After all, $400 is nothing to sneeze at. However, compared to iPhones and Galaxies that can reach upwards of $1000+, it is significantly discounted for a premium phone. It also no longer uses the painfully terrible invite system, so this year you might be able to actually buy one.
The two big winners here are design and software. The OnePlus 3 fits comfortably as one of the best-designed phones out there with an all-metal design and a slimmer body. For software, OnePlus sticks with its own version of Android, Oxygen OS, and because the software is in-house, OnePlus has made several optimizations across the OS to make the phone feel faster. Seriously, compared to the Galaxy S7 or iPhone 6s this thing holds its own or even exceeds when it comes to speed. In every sense of the phrase, OnePlus has finally created a true "Flagship Killer."
If you want a few more cheap options, check out our Cheap Smartphone Bests.
---
iPhone 6s/6s Plus (demoted 4/2016)
A fantastic smartphone. If you want iOS and don't want something small, this is your guy. But newer Android phones slightly edge out Apple in performance. I expect this to change with the iPhone 7 this fall. Read the full review.
---
LG G5
The LG G5 is by no means a terrible phone. But it's biggest selling point—it's modular ecosystem—is half-baked at best. Also it's industrial design is a step in the wrong direction. Read the full review.
---
OnePlus 2 (demoted 7/2016)
This used to be our favorite cheap smartphone, but the OnePlus 3 outshines it in almost every way. Better camera, battery life, and software. You had a good run OnePlus 2, but your time is up. Read the full review.
---
Huawei Honor 5x

The 5x comes in at an impressive $200 with an all-metal build quality. But its operating system, though designed to look like iOS, is only a mere shadow of Apple's software when it comes to functionality and style. Read the full review.
---
Nextbit Robin
This guy is one of the most stylish phones available, and it's got a processor that's only a year out of date to keep the price down. It's also has a feature to store you apps in the cloud. Read the full review.
---
LG V10

This guy is basically a powerhouse G4 in phablet form, a serious contender for big phone enthusiasts. But some of its hardware experiments border on gimmick-y than being genuinely useful. Read the full review.
---
Blackberry Priv
Blackberry made the move it should have made about 4 years ago and is now on Android, but it still has some issues to iron out. I'd pass on this first generation phone. Read the full review.
---
Moto X Pure Edition
A totally great smartphone for $400, but there are equally great phones for cheaper and better phones for only slightly more, so it kind of gets lost in the shuffle. Worth a look if you prefer a clean Android UI. Read the full review.
---
Nexus 6 (demoted 11/2015)
This phone held the Best for Pure Android (and Movies) category for its big screen and stock Android OS. But with the more manageable 6P, the Nexus 6 need no longer apply. Read the full review.
---
Sony Xperia Z3
The Z5 is out now, which is still tricky to find in the US but not impossible. You can even get the 4K-equipped Z5 Premium but that seems like the definition of overkill.
---
Lumia 950 and XL
Windows 10 on a phone doesn't quite convert all the magic of the desktop experience to the palm of your hand. If you're a Windows phone acolyte, sure, go for it. But for most others, there are better options.
---
Galaxy S6 (demoted 11/2015)
Still a fantastic smartphone with a swiss army knife of features, like a great payment platform and wireless charging capabilities. It's just not quite as great an experience as the 6P in our opinion. But if you're giving all the front runners due consideration, the Galaxy S6 still belongs in that group, benefiting a smartphone once considered The Best Overall.
---
Galaxy S6 Edge

The Best for Showing Off, perhaps. The Samsung Galaxy S6 Edge is a fine phone, and it looks slick, but you're paying an extra $100 for worse ergonomics while everything else stays the same.
---
Galaxy S6 Active

We tried it. Not bad, but you'd get better protection by simply buying a case.
---
HTC A9
The HTC A9 is impressive in many ways. It's incredibly thin and has great build quality that's synonymous with HTC, but man, it looks just like an iPhone. If you want the iPhone look running Android, this is a good pick, but if you don't meet that exact definition, you're almost certainly better served elsewhere.
---
Droid Turbo 2
The Droid Turbo 2 makes advancements in some areas, such as a better processor and a shatterproof display. But it doesn't look very great, and it is absolutely filled with bloatware and branding from Verizon.
---
Sony Xperia Z3 Compact
Take everything awesome about Sony's Z3, and shrink it down for smaller hands. Give it even better battery life—and, yeah, a lower res screen. Then tease poor Americans by only selling it off-contract, on GSM networks, for less than a year. We called it Android's Best Kept Secret.
---
Microsoft / Nokia Lumia

Despite Microsoft's latest woes, hardware's never been the problem with Lumia devices. In fact, they have some of the best cameras you'll find. But that software is just not as good as iOS and Android. Not even close. If you actually want to use lots of apps, look elsewhere.
---
HTC One (M8) for Windows

The HTC One M8 was great, sure—over a year ago. And while Windows Phone actually suits this device pretty well, a neglected app store as well as a neglected mobile OS means you're much better off with practically any alternative.
---
BlackBerry

Not a chance. Even the best BlackBerry isn't good enough. The BlackBerry operating system is a dead end. If you buy one, you'll be sorry when BlackBerry moves to Android instead.
---
Amazon Fire Phone

---
UPDATES:
7/16/15: Original post
11/2015: Nexus 6P awarded Best Overall; iPhone 6s awarded Best Small Phone; Galaxy Note 5 awarded Best Big Phone; OnePlus 2 awarded Best Phone on a Budget. Xperia Z3, BlackBerry Priv, Moto X Pure Edition, Nexus 5x, Nexus 6, Droid Turbo 2, HTC A9, Lumia 950, and Galaxy S6 added to The Rest.
2/16: Nextbit Robin added to The Rest.
4/16: iPhone SE awarded Best Small Phone; Samsung Galaxy S7 Edge awarded Best Smartphone Overall; Nexus 6P awarded For Android Purists; iPhone 6s/6s Plus demoted to The Rest; Huawei Honor 5x added to The Rest
7/2016: Moto Z Droid awarded Best Modular Phone; OnePlus 3 awarded Best Cheap Phone; the OnePlus 2 and LG G5 added to The Rests.
Photos by Michael Hession and Alex Cranz