You've got questions, we've got answers. Or at least we've got the tools that are part of the answer. But ultimately, you're the one who needs to wield the tool in order to make it work. So when you try this at home, you're to blame for whatever happens.
---
iOS 5 dropped today, which is fantastic, I guess—if you own an iPhone. However, if you're like me and, well, don't but still want the same bells and whistles on your phone, might I suggest the following?
G/O Media may get a commission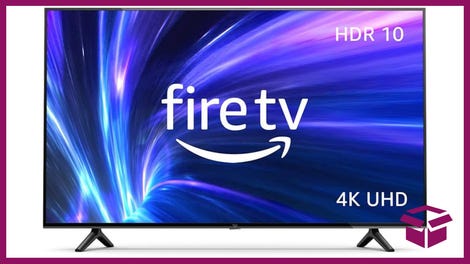 42% Off
Amazon Fire TV 50" 4K Smart TV
---
Happy Mabon! Isn't Mabon just your favoritest holiday of the year? Well, maybe not, but perhaps it would be if you were a pagan. Today marks the Autumnal Equinox. Days and nights are of equal duration, so here's seven tools to help get crunk!
---
Out here in Northern California, tomatoes* are cheap and abundant. But that's unfortunately not the case in many other parts of the country. These seven tools will let you grow tomatoes* in the privacy of your own home.
---
Ahh, a nice three day weekend. The weather was good. You've been outdoors, active, having fun, eating well. Now you're back in your sterile, loveless office. Here are a few tools to make the transition back slightly less brutal.
---
The sun sinks. The air, warm. You're with the guy or girl of your dreams. Or maybe they're just the best thing at the moment. The time to fornicate is nigh—but where? How about this cockpit? Or closet?
---
Getting old is terrifying. What if we could stay 21-years-old forever? There are plenty contraptions and substances out there which can do just that. Here are seven that will help you maintain your youth. [At least, that's the pitch.
---
Ah, the Great Outdoors—how I loathe your Wi-Fi-less expanses. But if I must be forced to bask in your natural beauty, you can be damn well sure I'll be doing it with a laptop in my hand.
---
Today was a rough day for the American spy community; spy captures in Lebanon only reinforced the fact that are operators aren't always all that smooth. In fact, you could probably do better! Here are seven spy tools to get you started.
---
Images via Seregam/Shutterstock Joe Hamilton Photography/Shutterstock, CREATISTA/Shutterstock, auremar/Shutterstock, Zhukov Oleg/Shutterstock, Peter Kim/Shutterstock, Petr Malyshev/Shutterstock
---
Been under a rock? See what else happened this year in our Best of 2011 series.