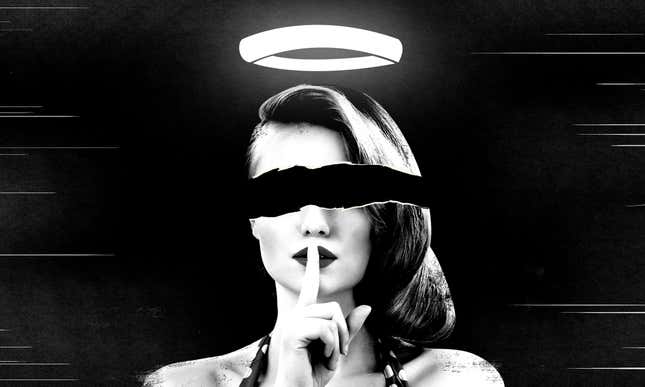 Now we know that almost none of the woman in the Ashley Madison database ever used the site. The question is, was this a deliberate fraud? Or was it just a dating site gone wrong?
Apple's Vision Pro Seems Powerful, But Who Is It For? | Future Tech
Editor's Note: The number of female users reported in this article are based in part on a misinterpretation of the data. We've done a thorough analysis of the source code and offered a new interpretation here.
Yesterday I published the results of my analysis of the Ashley Madison member database, which contained 37 million profiles of people seeking discreet affairs. What I discovered was that, at most, about 12 thousand of these profiles seemed to belong to women who were active on the site. The rest of the 5.5 million women had profiles that appeared to have been abandoned directly after they were created.
How could this have happened? To find out more, I searched the data dump of Ashley Madison corporate emails that hacker group Impact Team released last week.
Ashley's "Angels"
There are many reasons to call fraud on Ashley Madison's parent company Avid Life Media, including the fact that they forced men to pay to delete their profiles—and then kept their personal data anyway. But I would argue that Ashley Madison's fraud goes beyond the paid delete scam. The real scam is false advertising. In commercials and on the site itself, the company promises men that they will meet real women who want to have affairs.
Men can even pay a premium rate for a "guaranteed affair." To email women, men have to pay extra, and then they have to pay more still if they want to send a "gift" of a silly gif or picture. Using the site as a man is a little bit like playing Farmville, except instead of blowing your money on fake cow upgrades, you're blowing it on messages to fake women. At least Farmville is up front about the fact that you're burning money for a dumb fantasy.
Still, the business model worked. According to CNN, Ashley Madison's parent company Avid Life Media made $115.5 million in revenue in 2014.
Ashley Madison never promised men that they would find women easily, but they did promise that real women inhabited the site and were active there. Eventually, if a man paid for enough messages, he'd meet his match. But instead of talking to real women, men were mostly fielding robo-mails from the system that say things like, "Sexicindi has indicated she is interested in someone just like you. You should send her a custom message to connect."

Of course, the "custom message" costs money. When he hits reply, the man is redirected to this page, below.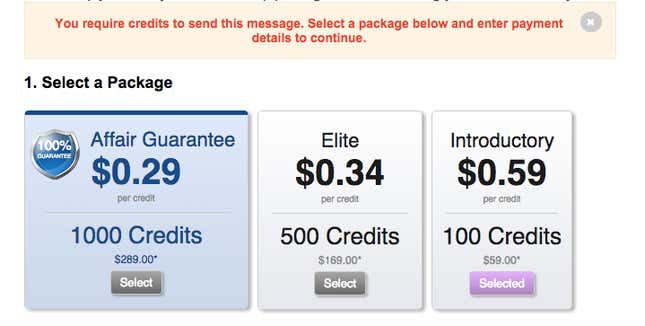 So the man has to pay to send a message to what is undoubtedly a dead profile. At which point the cycle starts again, with another robo-message from another inactive profile.
In the data dump of Ashley Madison's internal emails, I found ample evidence that the company was actively paying people to create fake profiles. Sometimes they outsourced to companies who build fake profiles, like the ones Caitlin Dewey wrote about this week in the Washington Post. But many appear to have been generated by people working for Ashley Madison. The company even had a shorthand for these fake profiles—"angels." Perhaps this is a tip of the hat to Victoria's Secret models, also known as angels.
Ashley Madison created their angels all over the world, and the dump contains dozens of emails where Avid Life Media management arranged to generate more. Here you can see a July 4, 2013 email from Avid Life Media's director of internal operations, Nora Abtan, to CEO Noel Biderman and other managers, with the subject "summary angels status":
After the last launch meeting I just want to confirm on a few points to ensure that we are all on the same page.

Please confirm the below:

*India (June 11)*: 500 Angels complete (298 photos)

*Japan (June 24)*: we hired a new resource who will focus on this. Keith confirmed that the angels will be ready for June 24.

*Netherlands (July 15)*: Keith sent files to translation.com and confirmed that angels will be complete hopefully by July 15, but no later than the start of the media tour July 22

*Portugal (July 15):* Keith needs help from Carlos team. Carlos confirmed that he can provide Keith with resources. Keith can complete the Angels hopefully by July 15, but no later than the start of the media tour July 22 using Carlos' resources

*Hong Kong (August 1):* Keith, please put together a plan for this as well and share with us.
In another email from October 27, 2012, with the subject line "profile builders," Biderman wonders whether they should contract with some more companies to create additional profiles:
Wonder what countries they cover?

* SalesProfiles.com

* Evercurrent.com

* Saledatingprofiles.com

* Saledatingprofiles.net

* Buyprofiles.com

* and Profilenetwork.com
An email chain between Sandra Simpson and an employee named Eduardo Borges, dated July 30, 2012, suggests that quality control on the angel profiles was actually pretty rigorous. Borges asks whether it's OK to reuse photos if they are in different states, and Simpson says no—she notes that many members travel and they might spot the duplicates. Then Simpson writes more about how to make angel profiles realistic (emphasis mine below):
There needs to be some personal content written in the details along with the preselected choices. It doesn't have to be a lot, but there should be something personal in most of them.

[In the profiles you provided] the Ethnicity were all set as Rather Not Say, they must be selected as multiple profiles all looking the same is an issue.
There are dozens of other emails where employees share profiles using database ID numbers, and request for them to be reviewed to see whether they are up to snuff. Apparently the company had a lot of trouble with creating angels in Japan, as one email from Avid Life Media employee Simon Pawlowski suggests on June 3, 2013:
This is really a comedy of errors for Japan. So the girl that was supposed to do the Ashley angels (a person Dave "knew" and recommended to Carlos), is not responding to Carols' emails on whether she can do the work. I told carols he should just use the people he interviewed himself.

Madoka is doing the engager profile creation (username/captions) at this moment.
On June 27, 2013, in an email thread with the subject line "how angels are made, "Noel Biderman scolded some of his employees for failing to create a decent automated process for making angels:
I will tell you what the flaw is—simply listening to hourly employees complaints and then building an unmanageable system around their so called "creativity" block when all that needed to be done was to hire a group of language related individuals to manually build X number of profiles over the span of y month(s) and then have someone on the photo side add relevant and reliable images.

What has been created now is a bureaucratic convoluted nightmare of a process that not only takes longer, costs more money, involves more "management" and ultimately produces a worse product.

Over a year and half ago I approached the two of you to try to automate this system as I did not want to have a CSR level rep making mistakes that lead to transparency issues that they could not comprehend the impact of.

Our ability to productize this approach failed but this nightmare of a quagmire stops now. We just need to learn how to properly staff up for a project and then staff down ...
It appears that as much as they tried, Ashley Madison was unable to create a process that was more automated and efficient than simply hiring people to generate fake profiles by hand. There's definitely something dark and hilarious in Biderman's huffing about profile-makers' "creativity problems." But generating thousands of real-sounding fake profiles is hard work.
These emails make clear that the company engaged in a deliberate, elaborate, multi-year campaign to create fake profiles for audiences all over the world. And it was something that many senior employees know about. Indeed, earlier this week, the Daily Dot's Dell Cameron reported that former Ashley Madison spokesperson Louise Van der Velde threatened to expose the "false data" on the site, writing in an email to the company's general counsel that there are "really no women."
In a possibly deliberate irony, Ashley Madison's logo is nearly identical to the poster for the remake of The Stepford Wives, a movie about a gated community where all the men replace their wives with beautiful, cheerful robots.

And yet somehow, Ashley Madison kept growing and luring more men into its house of mirrors. Two software auditors who looked at the recent dump of the site code told me that you could see that the company's main technical struggle had been with scaling. The original database appears to have been dumped into a newer, bigger schema at some point, and admins kept stretching the database beyond its limits, adding more and more profiles to keep up with demand.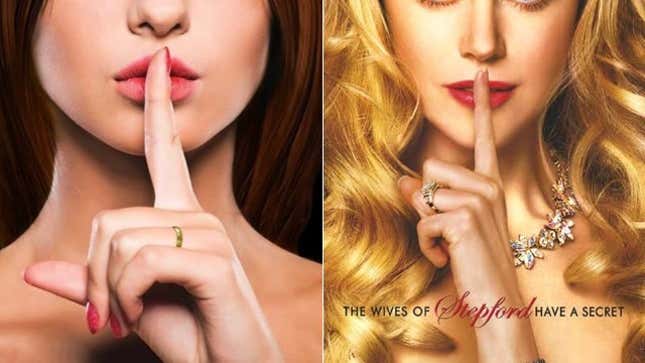 "A Female-Focused Brand"
A lot of lingering questions remain, but a major one is whether the site was deliberately conceived as a honeypot to snare men, or if it grew into that by the time these emails were sent in 2012 and 2013. Biderman, who created the site in 2001, said in an interview with Bloomberg News that Ashley Madison was focused on attracting women, not men:
Ashley Madison is what Biderman calls a "female-focused brand." Everything from the site's girly colors to the name is meant to entice those elusive XX chromosomes, the target of ladies' night two-for-one drink specials the world over. It was a particular dilemma, in this case, trying to appeal to the very demographic—married women—who were most likely to be disgusted by the nature of the goods being offered. "I was very confident that men would gravitate towards a service to conduct these otherwise anonymous affairs. They were seemingly doing it already," says Biderman. "I was much less confident that women would behave that way."


According to the research he cites, women are most likely to have affairs in one of two places: at the office with a "work husband," or within their social circle, with "a friend's partner, a sister's partner," or someone else they are close to. "For them to go and have anonymous affairs, I was almost gonna have to create that paradigm," Biderman says. "And to do that I felt that women were going to have to feel that there was...I don't want to say a woman behind it, but definitely that they were the focal point."
Is it possible that Biderman built a site hoping to attract women, but failed miserably, then tried to hide that fact by creating all those fake profiles?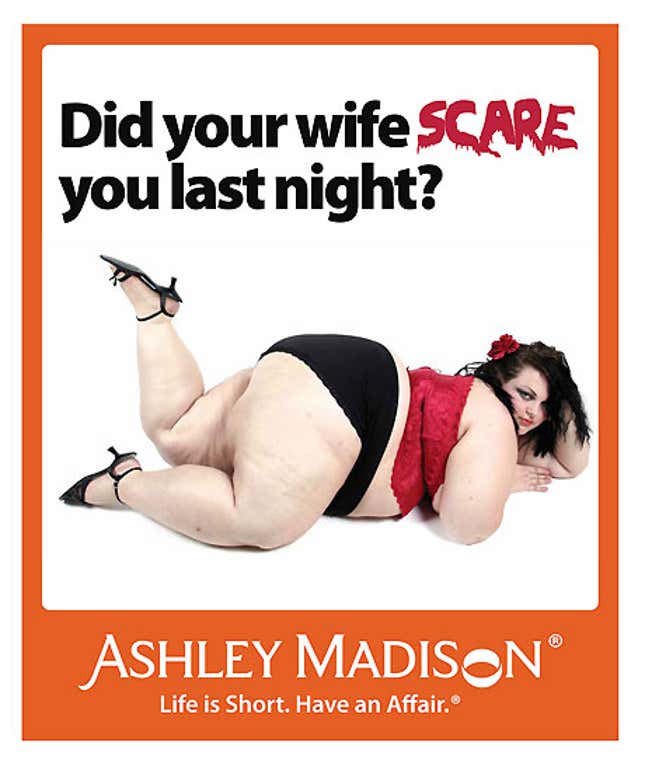 Just looking at Ashley Madison advertisements, it's unclear how exactly he tried to target women. All the ads are aimed at men, and many depict wives as repulsive and terrifying. What woman (especially a married woman) would feel drawn to a site that depicts her that way?
Plus, it's kind of a pain in the ass to create an account on Ashley Madison if you're a woman. When I was researching this article, I opened several fake Ashley Madison accounts — one male, and two female (one straight; one bi). I posted fake pictures and information in all three. But within seconds, my fake picture and self-description were erased from the straight female account, and when I tried to replace them I was told they would be posted later, "pending approval." Meanwhile, my fake male picture and profile remained undisturbed — it even attracted two robo-emails from women who "indicated they are interested in someone like you." My female account, despite having no picture and information, was flooded with emails and chat requests from men who seemed pretty real, including one who helpfully sent a dick pic, complete with stained underwear.
In the profile I created as a woman seeking other women, I found that the site is so heavily focused on heterosexual pairings that their software developers hadn't even bothered to create dialog box for women interested in women. Instead, when I was promoted to fill in my personal details, I was asked to "let the men on Ashley Madison know" what I'm interested in.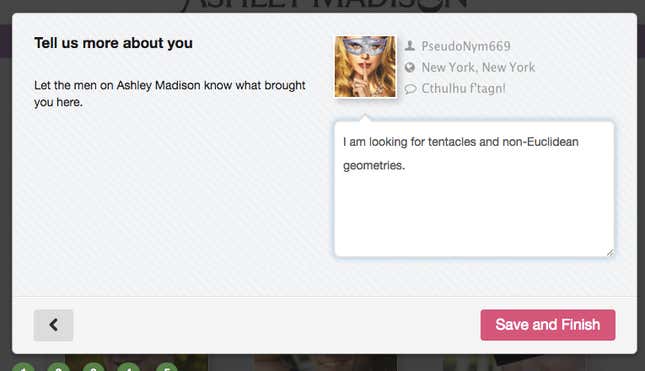 But after my profile was created, I did get listings for women in my fake hometown. And I had to pay to message them, just like a male member of the site would.
Not to put to fine a point on it, the site seems unambiguously geared toward straight men. Even if I had wanted to create an account that reflected who I really am as a woman, my profile information would be purged. Or I would be asked to gear my profile toward men, even if I was trying to hook up with women. And that meant I would be contacted by men who had no idea what I looked like, or what I wanted sexually.
Compare this setup to, say, Tinder, an app that many women use to find casual sex. When a woman creates a profile there, it is not trimmed of personal information "pending approval." Moreover, a woman on Tinder will never be forced to interact with a man she hasn't already identified as attractive by swiping right on his picture. On Ashley Madison, I got nothing but guys I hadn't chosen, who didn't know anything about me other than my nickname (which was PseudoNym666) and my fake location (New York City). It's no surprise that very few real women use Ashley Madison.
So either Biderman is a terrible marketer who has deluded himself that women will use Ashley Madison despite all evidence to the contrary; or he's a brilliant fraudster who knows exactly what he's doing with his marketing and site design.

That said, I think it's crucial to keep in mind that my research does not suggest that no women used Ashley Madison. Jeremy Smith has written a moving essay at San Francisco Magazine about the site's female users, and I have received about a dozen heartfelt emails from women who used (and enjoyed) Ashley Madison since I published my article yesterday. But this anecdotal evidence actually fits what I found in the member database. There were probably thousands of real women active on Ashley Madison at any given time, but they were lost in a sea of lifeless profiles.
I cannot emphasize enough that my findings do not prove that women are uninterested in casual sex. Nor does it prove anything about how many women have extramarital affairs. All it proves is that Ashley Madison was a site designed for men, by men. And it hit its target market very well.
Instead of looking at Ashley Madison as a dating site, I think it's more accurate to call it an anti-community—a hugely popular social site where it's impossible to be social, because the men can't talk to each other, most of the women are fake, and the only interaction available is with credit card payments. It is one of the purest representations of dystopia I've ever seen. Or, as one of its more famous users put it, Ashley Madison is like something straight out of Hell.
Art by Tara Jacoby
---
Contact the author at annalee@gizmodo.com.
Public PGP key
PGP fingerprint: 85E3 8F69 046B 44C1 EC9F B07B 76D7 8F05 00D0 26C4