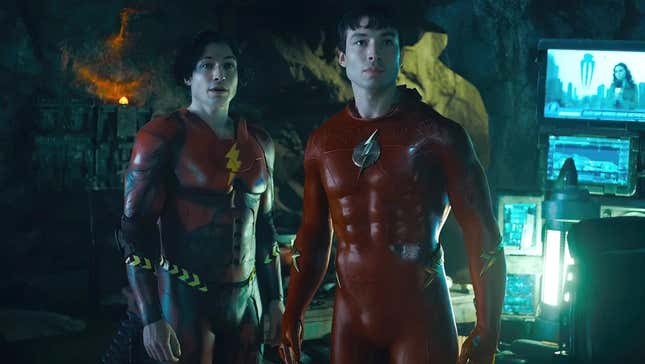 First it seemed like The Flash would never come out, for a variety of reasons. Then when it did actually see the light of day, its time in theaters was...kind of a mess. Now, after being an NFT and getting a surprise VOD drop in-mid July, the DC Comics movie is coming to Max about a week from now.
Spoilers of the Week March 7-11
Next Friday on August 25, The Flash will hit Warner Bros.' semi-premier streaming service. Saying it's had an eventful lifetime would probably be underselling things. Despite what were initially glowing social media impressions and fairly solid reviews, the movie just couldn't find an audience—and while the growing list of lead actor Ezra Miller's pre-release controversies (and WB's subsequent choice to simply not talk about any of it) definitely played a hand in that, that only tells some of the story. Not long after its release, it didn't long for folks to get slices of The Flash on Twitter, and the scenes that were often released and shared around didn't paint the movie in a particularly flattering light. Whether it was the Flash stuffing a baby into a microwave, the deaths of several principle characters or its cameo-heavy ending montage (and more specifically, who was included), all those clips flying around basically sunk the movie and anyone's interest in it.
So for those who didn't watch The Flash when it was in theaters or through any other means (like that one time it was put on Twitter), you'll finally be able to see what all the fuss was about with this movie. Was Warner Bros. right to bet pretty much everything on Miller and the return of Michael Keaton's Batman? Or was this just an average superhero movie—possibly even a secretly good one?—that just couldn't get out of its own way and was basically doomed from the jump? That'll be up for y'all to decide. At least until it gets yanked from the service in about six months because Warner Bros. needs to save about $20.
For those who are physical media fans, The Flash will come to Blu-Ray and DVD a few days later on Tuesday, August 29.
[via Deadline]
---
Want more io9 news? Check out when to expect the latest Marvel, Star Wars, and Star Trek releases, what's next for the DC Universe on film and TV, and everything you need to know about the future of Doctor Who.