Increasingly, the image of a "sports nerd" is a pasty weakling with a laptop and a spreadsheet. It's Moneyball's fault, or something. But for more fluid sports like soccer, deep statistical analysis has proven challenging. Not anymore. Adidas is tracking every movement of every player in the MLS—and soon, maybe all of sports.
A new system, which Adidas calls "micoach," debuts at the MLS All-Star game on July 25. And in 2013, the whole MLS will use use the system. The future of it is genuinely exciting—this is the kind of thing that every sports stats junkie would love.
But cool as that tech is, the very premise leaves you asking: Why the hell didn't we have this before?
The Science
Adidas has spent the past two years working with clubs like Bayern Munich, Chelsea, Ajax, and AC Milan to create the micoach Elite System, its new player tracking system. It's actually pretty simple, built almost entirely on existing technologies.
G/O Media may get a commission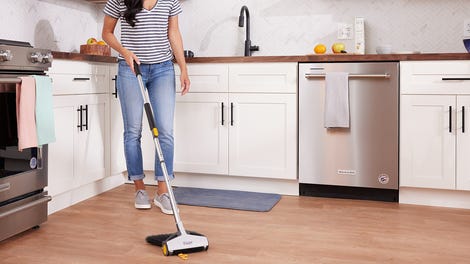 BOGO 50% Off
Flippr - BOGO 50% Off
It works by inserting a "player cell" into a pouch located in the shoulder blades of the base layer of player uniforms. That unit uses a 3D accelerometer, RF radio, GPS unit, magnetometer, gyroscope to gather the data, and is complimented with conductive fibers throughout the rest of the shirt. The RF device communicates with all the other player cells as well, piggybacking with the others to strengthen the signal.
The hope is that it will let coaches and trainers "better understand optimum level of performance, player fitness level, and physical activity's impact on the body." It seems like a reasonable reality. Seeing how hard each player is pressing in real time could show whether he's slacking, or just totally burned out and in need of rest.
The system tracks "heart rate, power, intensity of play, speed, distance covered, and acceleration," and uses the RF radio in the cell to route that information to a central computer on the sideline, which then ships it to an iPad app. The coaches will have live-updated data about basically everything going on in all of their players' bodies.
We've tracked how far soccer players run over the course of a game, for instance (about seven miles), but never at this level. While player metrics in general have grown, but the advanced metrics we track trend toward the qualitative. Good decisions for quarterbacks, or "taking plays off" for wide receivers, being total pants for soccer players. Solid data on player condition and performance is something totally new—especially in real time, so a coach can use it in in-game tactics.
Adidas will eventually commercialize micoach to other teams, but no idea on cost per team yet. It would be great if this was the kind of thing made available to high schools and youth programs.
The Guinea Pigs
The MLS still makes perfect sense as the guinea pig for something like micoach. It's a league in desperate need of attention, so it would more readily acquiesce to a publicity tour like this.
But it's also in need of legitimacy. The image of the MLS worldwide is that of inferior athletes, inferior players, and inferior play. With quantitate measurements of player movement, at least, the league could posture itself as every bit as fit, fast, and well-organized as the rest of the world. There's no accounting for skill, but that's a start.
The Inevitable Letdown
Fan interest in this is going to be huge. That heart rate reading especially would be especially interesting if you could look at the overall heart rate of a player, and the rate during clutch situations. Heart rate isn't the only indicator of nerves, but it's a strong one. Imagine watching LeBron running down the clock for the final shot of the game and watching what his heart rate does. That's the end game here.
The data as a whole being made to fans is where everyone wants this to go. But it's not happening. Not yet, at least. Before anyone even thinks about being able to watch how fast a winger made his run or how tired Lionel Messi is after weaving his way through 10 men, the networks get first crack.
At an event in New York today, MLS commissioner Don Garber said the league "will work with broadcast partners and our commercial division in a careful rollout." Translation: You're not going to see this any time soon. And when you do, it'll probably be a paid subscription.
That's lame. Yeah, the MLS has to make sure it monetizes this thing properly, and it's got to address player concerns, like no one wanting the public to know if they crap their pants in big game situations. But those are debates you should hammer out before launching. Because until then, drumming up excitement over this right now, without fan involvement, is like everyone going nuts over coaches getting new clipboards.